Sameer Kulavoor is a magpie. Obviously I don't mean that he goes about engaging in light-fingered behaviour, but that he has qualities similar to the bird's proverbial sharp eye—whether it is isolating the little details of human gestures in his latest exhibition Please Have A Seat or his own idiosyncratic collection of curios amassed through the course of his travels.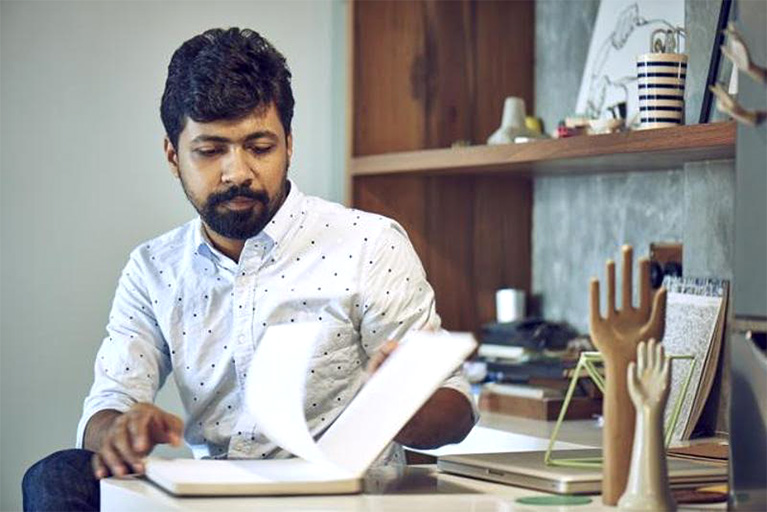 Sameer Kulavoor. Photograph by Jimeet Pawaskar.
Please Have a Seat was particularly partialistic towards the human body, narrowing the viewer's gaze through extreme, forced perspective to focus on the feet and hands. Sameer owns a collection of dismembered limbs of his own, in an impressive variety of materials. "I like to collect things, objects, prints, toys, etc. It rubs off on the kind of work I do myself," he says. When asked whether this fascination with limbs ties into his work for the exhibition, he replies, "Probably. It's a reminder to myself to not let go of analogue, you know? Hand-lettering, hand-crafted objects, things like that." He also collects scissors, again showing his preference for a tool that is expressly configured around the hand, but which also has strong design and stylistic influences. While he admits to occasionally using the scissors for their intended purpose, these objects mainly serve a totemic function for him, reminders of the place or moment he came across them.
Here are Sameer's picks from his collection of oddities (scroll down for pictures)—
Metal Backscratcher
"A metal backscratcher from Contemporary Arts and Crafts in Bombay. It was a very random find. I don't use it to scratch, it's just for display."
Wooden Hand
"This wooden hand is from Le Mill. It is originally a European design; I'm not too sure about the designer."
Ceramic Hand
"This ceramic hand was a gift. A friend got it from Fish's Eddy, New York City. I began this hand collection about three years ago and my collection of scissors about two years ago."
Brass Scissors
"These scissors are from HAY design. I bought it from the Museum of Modern Art in New York City. I look for craftsmanship and something unique about each of them. I don't have too many though."
Black Metal Scissors
"This pair with black metal is from MUJI. I got it from Tokyo. New York and Japan are both very cool places to make random discoveries!"
Scissors from Kyoto
"This tiny pair of scissors is from a local shop in Kyoto and it is super fine, amazingly crafted."
Wooden Lego Blocks
"These wooden Lego blocks I randomly found at Kyoto are from a Japanese brand called MUCU. The set is insanely well-crafted."
[metaslider id=11204]
While some of the above are gifts given to him by people who clearly understand his penchant for the unusual, Sameer also finds himself picking out a strange object or two for his friends and family. "It's especially great when I happen to chance onto something, and I know that a certain person will love it. I have found sketchbooks that are particularly well made, well bound; my sister loves them. Found a lovely paintbrush in Berlin for a friend; you know, things like that. I make it a point to keep an eye out for cat related books/ ephemera for my sister. She is a total cat lady."