Acclaimed British spoken word artist and jazz alto saxophonist Soweto Kinch just concluded his three-city tour of India. His brief tour of the country included collaborations with Indian musicians, music workshops for public school children from Dharavi, and performances with In the Further Soil, a new arts project inspired by the works of Rabindranath Tagore, that uses spoken word, music, and dance to tell stories based on urban themes. The Mercury Prize nominee and two-time MOBO award winner spoke to us about some of his most memorable experiences from touring around the world.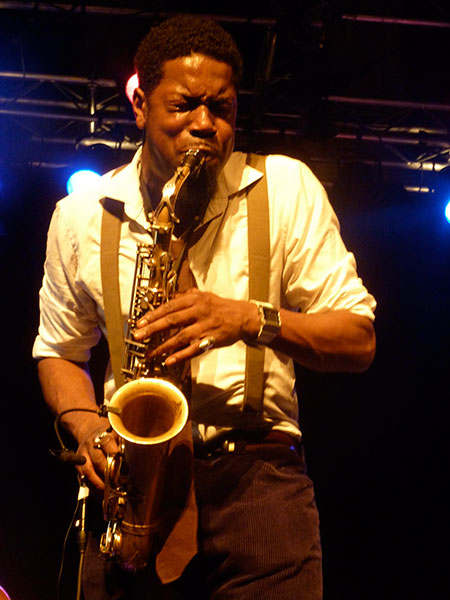 Soweto Kinch: Live and loud.
Seeing Stars
I won the MOBO award for Best Jazz Act in 2003 and 2007. It was a great experience. It was a really big, star-studded event, but I didn't really feel star-struck at the time. It was a great moment when I was presented the award by Shaggy and Jamelia. I also met a few friends at the events, which was great. Being nominated for the Mercury Music Prize and being a part of that event was a memorable experience as well.
Rajasthan Roots
It was great to play with the Rajasthani musicians in January this year at the Literature Festival in Rajasthan. We actually put up a theatre performance in the morning. Later in the day, I met a musician friend of mine from the U.K., who put me in touch with Adi, the leader of Rajasthan Roots. All of a sudden, I was told that I was performing live that evening (laughs). It was a lot of fun performing in Jaipur, jamming with Adi and Co., and being exposed to Rajasthani folk music.
Mixed Signals
Four years ago, I played at a really loud—but fun—bar in Santa Teresa in Rio de Janeiro. That was very exciting. It was exhilarating for reasons good and bad—I've never played a gig where everyone was having such a great time, but at the same time, there were so many fights breaking out just around the corner from me. I felt like I should play and enjoy myself as much as possible, and then get out of there as quickly as I could (laughs). Brazil is a great country, and I would love to go there again.
Out of This World
Playing with Ernest Ranglin, the jazz reggae guitarist, and getting to see Nusrat Fateh Ali Khan live at WOMADelaide in Australia was another memorable moment. The experience of being exposed to different kinds of music—"world music"—was exhilarating. I have an issue with the term "world music", actually. I think we should just call it music, instead of identifying it based on where it's from. "World Music" is just a tag that the West puts on things.
London Calling
Getting to play with Wynton Marsalis at the Barbican Centre in London was another memorable experience. The Barbican in London is a huge venue—one of the largest venues for the performing arts in Europe. I had a great time playing there, and Wynton just made me feel just like family.