Bangalore-based Thermal and a Quarter are one of the Indian rock scene's biggest names. The band has garnered a reputation as a trailblazer, writing original music when the nascent local music scene didn't extend beyond amateurish covers of '80s classics.
They were also one of the first bands to realise the potential of the Internet as a game-changer; for the music industry in general, and the local rock scene in particular. Among the first bands from Asia to put up their music for free under a Creative Commons License, they have always been in favour of pushing forward, and using innovative techniques to get your music out there. Of course, the fact that they make great and diverse music doesn't hurt.

Inside Taaqademy. Photograph courtesy of Thermal and a Quarter.
Now that the pedigree of these three Mallus and a quarter Mallu (If you didn't know already, that's how they got their name) has been established, let's talk about their latest venture. The boys in TAAQ have started 'Taaqademy', a music school and rehearsal studio in Bangalore. Now, music schools are mushrooming all over the place, and people interested in picking up an instrument have more options than just the guy who plays in the city's best known cover band and takes classes in his living room. But Thermal and a Quarter believe that with 12 years of experience in the scene, they can offer something that few of their competitors can. At Taaqademy, the focus is not only on teaching you how to play an instrument, but also on what it takes to play in a band. Students are taught different approaches to songwriting, and will learn the skills required to make music in a collaborative environment.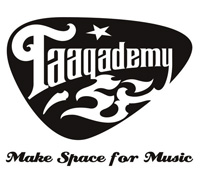 Taaqademy: Make Space for Music
Taaqademy is a product of the band's experiences with irate neighbours, sky-high rents, tight schedules and commuting worries, spread over some 14 years, according to the band's drummer Rajeev Rajagopal. Looking for a good place to jam, the band decided to splurge on a rehearsal space. They had the idea of sharing their jam space with other musicians after bassist Keith Peters commended their efforts in putting together the hi-tech jam room. This idea eventually evolved into Taaqademy.
"No matter what your style is, there's a lot that needs to go into bringing the music out in the best possible way."
Their 300 sq. ft. rehearsal studio is soundproofed, air-conditioned and kitted out with a P.A. system, mixers, an assortment of amplifiers, microphones and effects processors, and a drum kit. Prasanna, Karl Peters, Something Relevant, and the Galeej Gurus are some of the artists that frequent this jam space. "There are few places in Bangalore city that would qualify as fully equipped, professional, well thought-out and efficient practice pads. From space management to lighting to soundproofing to equipment — Thermal and a Quarter have it all figured out," says Galeej Gurus vocalist Nathan Harris.
Apart from state-of-the-art equipment, bands also have the option of recording their rehearsals. They have tried to get as close to the stage environment as possible in a jam room, and Rajeev, or singer/guitarist Bruce Lee Mani stick around, helping musicians understand how to work the mixer and tweak their sound. Rajagopal says, "No matter what your style is, there's a lot that needs to go into bringing the music out in the best possible way." And that's where experience with the stage gear comes in handy.
Taaqademy is offering drum and guitar lessons, as well as special packages for corporate professionals to use music as a tool to bolster team integrity and confident interpersonal interactions. Their wards vary from teenagers to corporate workers looking for an outlet for their creativity. They also hold regular workshops, such as their recent ensemble workshop for junior musicians, which resulted in a song and a music video by a new band called Kand. The oldest member of the band is 14 and the youngest is nine years old. The rehearsal studio can also be rented out at Rs. 500 per hour.
So, if you're in Bangalore and are interested in learning music, improving your songwriting skills, and working together in a band, or if you just want to jam in one of the city's best rehearsal studios, get in touch with Taaqademy.