One of the earliest bits of film shot in India (in 1899) is of the ghats of Banaras. It is a moving shot from the river that captures the tableau of Brahmins bathing and cleansing themselves, clothes being washed, boats ferrying passengers and even a couple of women, but not the ritualistic burning of bodies that is a cornerstone of the Hindu faith.
The people who burn the bodies at the ghats are the Doms and they also are the keepers of the sacred flame, so all Hindus burnt there can escape the endless cycle of life and rebirth. Doms are considered to be outcasts because of this proximity to human flesh and mortality, and are not allowed to enter the homes or to drink the same water as upper caste Hindus.
In Neeraj Ghaywan's recently released film Masaan, there is one scene where after a calamitous accident, we see these men working on the ghat that is dotted with countless pyres and smothered in the smoke and heat of burning bodies. Masaan doesn't belong in a world of stark blacks and whites or good and evil. The film concedes what the incessantly burning bodies on the ghats of Benares are emblematic of: we all return to either ash or dirt no matter who we are or what we have done.
Masaan comprises two narratives: the first is the story of two young students named Devi Pathak (Richa Chaddha) and Piyush Agarwal (Saurabh Chadhary). The second story is that of Deepak Chaudhary (Vicky Kaushal) and his romance with Shaalu (Shweta Tripathi).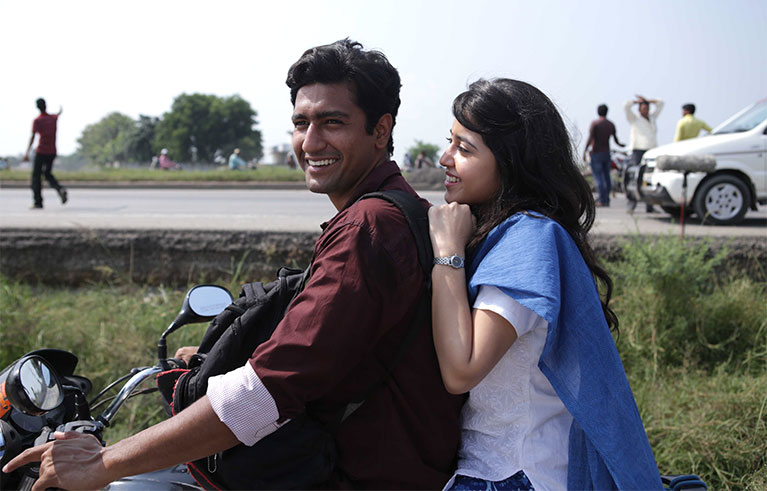 A still from
Masaan
.
Twice in the film, an accusation is flung across the screen—of jigyasa, or curiosity. The first time is when Devi is curious about sex and so arranges an assignation in a dingy hotel room with a boy named Piyush, with whom she has probably spoken twice before. The second time is when Shaalu wants to know where Deepak lives. Deepak, perhaps correctly, assumes that she wants to know the answer to the question of where he comes from. Love is not without an insidious knowledge of caste and parity, and it is this that is evident in films like Masaan and Fandry (directed by Nagaraj Manjule). Fandry is more knowing and less optimistic about love—there Jabya's heart is ruthlessly broken when the girl simply turns away from him. In Masaan, fate does the job of breaking hearts by snatching Shaalu away from Deepak. Shaalu, who believes in garlic and shayari and love and cheekiness. Nishant Roy Bombarde in his article on Roundtable India does an exceptional job of tracing the many Shaalus who have stepped over the forbidden line of intercaste love and marriage, and those who didn't or couldn't.
Deepak and Shaalu share a steamy kiss in the film, when their lips tremble simply to have found each other (can we pause for a moment to congratulate an Indian film for getting kissing right?). Sex is young and brand new in Masaan, it is curiosity and desire all wound up in wires and technology and Facebook and computers. Death, in contrast, is old and ceaseless and long. That is perhaps why we are often reminded of Sangam, where there is a meeting of two rivers and one unseen river. There is no forgetfulness in Masaan. Pain and grief linger and creep around, and yet, surprisingly, it is a light film buoyed up by the sweetest anthem to love made in recent times—'Tu Kisi Rail Si Guzarti Hain' is based on a poem by the poet Dushyant Kumar and set to music by Indian Ocean.
What Masaan does powerfully are character sketches—you get a sense of what each individual knows and feels through their senses in their tiny and yet full and idiosyncratic worlds. Like Devi who doesn't say much but speaks volumes with the chaste 'V' of the dupatta across her chest and each time that she slings her ordinary bag over her shoulder. Or her tortured father Pathak and his sweet and odd companion Jhonta, played by a boy (Nikhil Sahni) who lives on the ghats of Benares. And Deepak with whose aching heart we soar and crash through the film. Perhaps there was no need for some of these narratives to intersect, but many characters shine and glint even in the sidelines. Like Sadhya Ji, a well-mannered, genial man, whose voice seems to be the coagulation of every railway station announcement ever made, each syllable clearly formed and rolling off his tongue. Like Deepak's friend with his fashionably streaked hair, who truly knows how to hug an inconsolable friend.
We will perhaps always wonder about how Shaalu's parents, the Guptas, would have dealt with a Dom as their daughter's lover or son-in-law or how Shaalu would have dealt with the implacable caste system that keeps Doms in their place. In the last moments of the film when both Devi's and Deepak's spiral into grief seems to be stilling, they are thrown together by chance. Their attraction seems inevitable, like rivulets rushing down mountain slopes, but it is the likelihood of their compassion for each other that makes the ending hopeful. We could still wonder how Devi's father would react if Devi brought Deepak to meet him—which face of Pathak would we see then? Would it be that of a patriarch who doesn't and can't understand, or the gentle man who weeps when the small boy Jhonta almost drowns? Masaan doesn't provide us with these answers; repeatedly it provides us with tragedy to cope with rather than the impossibility of living.