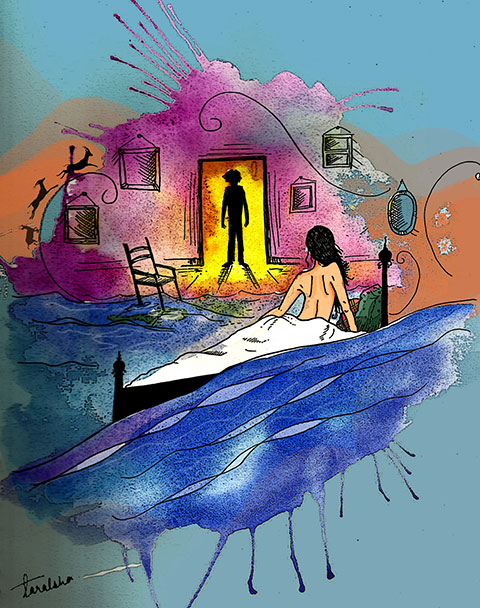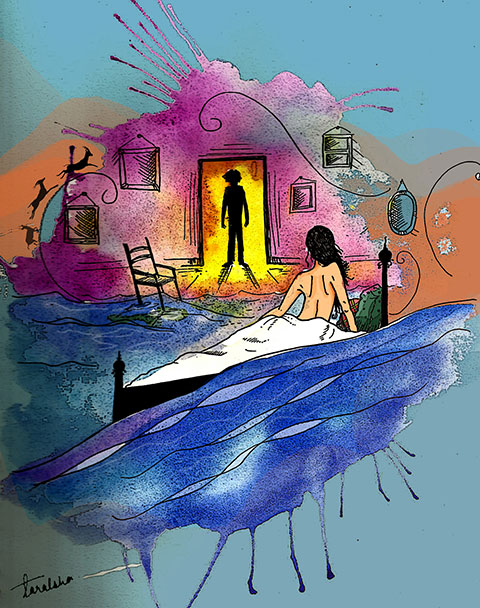 He tells himself he must relax, that he is in safe environs. He looks around. The one wooden chair in the room is too bent to cause him any harm. The photos on the wall look away from him into a blind distance. He has nothing to fear here.
She reclines on her bed, stretches her body like a coil he is afraid to touch, and settles her head on a pillow. She wants to listen to Madonna today, she says. Her eyes light up like distant stars, her teeth break forth in a smile she has never shown when she has opened the door for him. He mumbles some remembered fragment about the immaculate nature of the Virgin, the sacrality of the Mother, before the music breaks and he forgets himself in the languid movements of her limbs.
He imagines a sea around himself; he imagines gills into his neck. He sees her arms cut the air like silent knives; he sees her turn like a whale. He turns his gaze to the wall and finds her bared legs are in the way. He wants to remember gazelles but finds it silly to compare a woman to a beast. He resists the longing to watch her breasts and stares fixedly at the flaking patterns on the wall. She asks him if he sees her legs; she grins smugly when he says no. There is nothing to be said. The hour is past, and he should leave.
Home beckons but she is smiling. The hour passes and time distends itself in the silent gasps of the cushion she hugs into herself. He imagines roes pressing themselves into the gossamer fabric of the grasslands and he dismisses it as excessive, hyperbolic, ridiculous. But she lies there, her lips bared into a smile; her eyes hollow like stars that have seen too deeply into themselves; the shape of her like a desert he cannot keep away from. He sees the swell, the ebb, the illusion. He parts his lips and sucks in the air that has passed through the channels, the rivulets, the shadows he has marked in her. He tells himself this is enough. He sees the lines under her eyes, the tired settling of her lips. He watches her hair fall over her like a veil. Silence settles around them, while outside, branches stop their listless shuddering; tides slide in and kiss the sand; the moon yawns at passing clouds. He yawns in response. She reads auguries in the shape of his tonsils. She tells him he is not meant for her. He watches her body curve like dunes in a distant desert and longs for home.

Krishnakumar is a writer based in Mumbai. His work has been featured in nthposition, Pyrta, nether, and other online and offline magazines in the past.

Tara is an aspiring artist/illustrator from New Delhi. She's not good at much else. Literature and sporadic post-hardcore obsessions keep her doodling.