BOMB Thursdays is a new series of events started by artist and event management company ennui.BOMB that aims to address the lack of good venues for indie rock gigs in suburban Mumbai.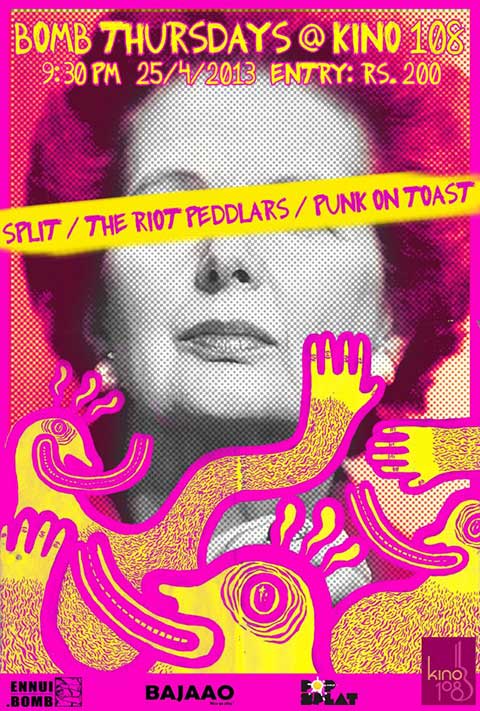 BOMB Thursdays from ennui.BOMB and Kino 108.
"BOMB Thursdays started as an idea to bring live music events back to Bombay's suburbs without shying away from the fact that things can sometimes get loud," says Rishu Singh, founder of ennui.BOMB. "There is no genre restriction and we hope to be able to accommodate as many forms of music as we can, right from hip-hop to punk rock to maybe even fusion."
Held at Kino 108, a "retro restro bar" in Andheri, Mumbai, the first edition of BOMB Thursdays saw performances by the Shakey Rays (Chennai) and the Lightyears Explode (Mumbai). You can catch Punk on Toast, the Riot Peddlers, and Jack Daniel's Annual Rock Awards 2013 nominees Split live tomorrow at Kino 108, as part of the fourth BOMB Thursdays event.
Details:
Venue: Kino 108, J. P. Road, Opp. Apna Bazar, Nr. Indian Oil signal, Dhake Colony, Andheri (West), Mumbai, India (Phone: +91 95 94 522228)
Date: Thursday, April 25, 2013
Time: 9 p.m. onwards
Entry Fee: Rs. 200
Click here to R.S.V.P. and read more about the event.