I have always wanted a tattoo. Nascent pictographs created from the controlled symbiosis of needle and ink on nothing but bare skin—yes, it has held a certain allure for me. But, of course, it was off limits. Read: strictly forbidden by my parents.
My mom: "You will get A.I.D.S.!"
My dad: "You want to be like those hippie kids?"
Me: *silent* (As usual—you know, eyes down, serious face with the occasional nodding? Yes, that is me. I am usually in the happy place in my head.)
But I have always wanted a tattoo. And, I usually get what I want. Eventually.
So, this was me in Bangalore, earlier this year. I'd recently had an irreconcilable tiff with a boy I liked back then. I was also discovering new facets to my personality, being away from home for the first time. And not just away, mind you, but away in a different continent altogether.
It's almost afternoon. I am alone in my friend's apartment. Her friend, Swati Kejriwal, calls me up.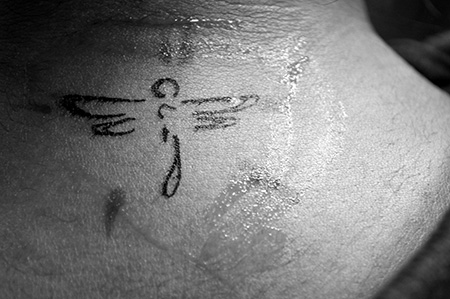 Imprint. Photograph by Swati Kejriwal.
"Dude, it's my day off. Let's do something!"
"Yes, let's. I want to get a tattoo. Can you take me to your guy?"
'Her guy' referred to her tattoo guy who she went to for the numerous tattoos she already had. I mean, if I was going to immortalise a part of my body with body ink, the least I could do is go to a place I could trust.
"Do you know what you want?"
"Yeah."
It was a dragonfly. I liked what it signified. Maturity. Awareness. Independence. Renewal. Not to mention that Konkona Sen's portrayal of an aspiring writer (like me) in Wake Up Sid also had a dragonfly tattoo just where I wanted it.
We fix up a time, she shows up in an auto, and we leave.
The parlour, Dark Arts Tattoo Studio, is a part of a nice little bungalow in Frazer Town.
The owner, Pradeep Menon, is sitting in front of the entrance, sipping on beer. Swati and Pradeep greet each other like long lost friends.
"This is my friend, Sanchari. She is the one who wants to get a tattoo," I am introduced.
He glances at me, "What kind of tattoo?"
I hesitate, "A… a dragonfly."
He asks one of his workers to take me inside to help me choose a design.
I am surprised to see the inside of his studio. It's clean and brightly lit, cool with the air conditioner on. There is an Indian woman inside, waiting to get a large tattoo on the inside of her arm. I am too nervous to ask her what she's getting.
I choose my tattoo, and then am introduced to Anurag Pradhan, who's to be my tattooist.
"Here, do hers," Pradeep smiles. "It's a puchki tattoo."
This makes me giggle. It is indeed a tiny little thing I am getting.
So while Pradeep takes on the monster on the lady's arm, I am ushered inside to prepare my nape for my tattoo.
I deliberately choose the nape. Think about it. You can hide it with a collared shirt at work, and then flaunt it in a swimming costume. Or halter necks. Or low-cut blouses. Or to lovers, in moments of intimacy. Like your very own dirty secret.
Any-way.
The lady who helped me earlier, wipes my nape with an alcoholic solution, and then shaves the area. Then she sticks on a paper with my chosen design, pulling it off after making sure the design stays put on my skin.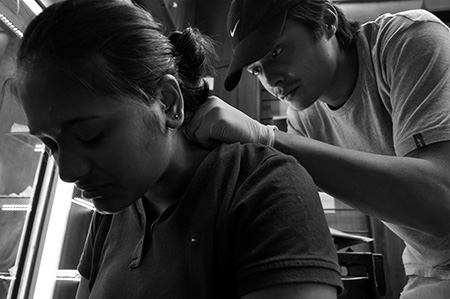 A twinge. Photograph by Swati Kejriwal.
"Ready?" Swati grins.
"Sure…"
I am not, though. I am having sudden second thoughts. I remember my childhood visits to the doctor.
Doctor (holding the injection with the evil, glinting needle on it): Ready?
Me: Won't hurt, will it?
Doctor: Not at all.
What lies! I would inevitably scream. Was this going to be a nostalgic reprise?
Here too, I surrender. I hand my camera to Swati and position myself as directed. Anurag is serious, his concentration elevating my nervousness quotient.
I hear the needle whirring. I wait for the pain.
I wait…
There is none.
"Well?" Swati asks as she clicks away.
"It doesn't hurt! I mean, I kind of like it…"
Everyone laughs.
In 15 minutes, tops, I am done.
I am given instructions on how to keep my wound clean for the next two weeks, and then, after throwing away the ink used on me, the lady offers me my needle.
"Do you want your first needle?"
"First needle?" I am confused.
"Yes. Everyone keeps their first needle."
She sounds sure of my desire to come back for yet another tattoo. I don't contradict her, even though I know I probably won't.
I accept the needle as my due.
Later, I ponder breaking the news to my parents. Eventually.
I touch my dragonfly for reassurance, tracing the wound with the tips of my fingers. The permanence comforts.
I remember Swati's mantra, "It's the only thing you can take with you to your grave!"
Amen.