"Sometime in the first half of 2009, on a Delhi-Guwahati flight, I read an article in the in-flight magazine about handmade paper being made somewhere in Rajasthan," says M. C. Bora, a retired Chief General Manager of Coal India Limited, about his initial foray into the paper-making industry.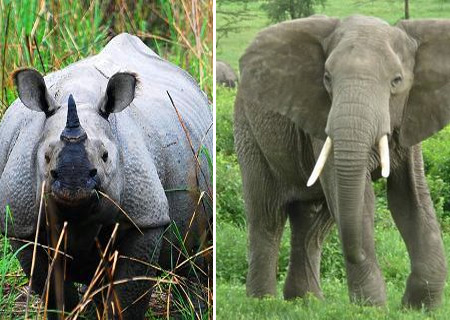 In rhino and elephant dung, Elrhino founder M. C. Bora saw a way to replace mill-made paper.
The kind of handmade paper in question, however, originated from elephant dung. The article, referring to Mahima Mehra of Haathi Chaap, a Jaipur-based company that produces paper made from elephant dung, left a lasting impression on Mr. Bora, who as a retired mining engineer had experienced first-hand the vast destruction of forests by mining operations. In elephant and rhino dung, he saw a way to replace mill-made paper, which required trees to be felled, as well as an opportunity to create an economic bond between humans and animals in Assam, a region in which the human-elephant conflict has assumed grave proportions. In November 2009, having received a loan under the Prime Minister's Employment Generation Program, Elrhino was registered as a micro industry with the District Industries and Commerce Centre in Kamrup, Assam.
The paper-making process begins with the collection of elephant dung from the owners of domestic elephants and rhino dung from the agricultural land that they stray into in search of food. The dung is washed in water, boiled and disinfected leaving only the cellulose behind. It is then dried thoroughly in the sun and stored someplace dry. 10 kilograms of elephant dung and four kilograms of rhino dung yield about one kilogram of dry fibre each. The raw material—including cotton rags sourced from tailors and scrap dealers that are chopped into tiny bits—is mixed with water and non-toxic chemicals and beaten to a pulp in a Hollander beater. Next, the pulp is transferred to a trough into which a mesh with a wooden frame is dipped, lifting pulp out with it to form a sheet of paper. This sheet is then put onto cloth such as muslin or felt, and a hydraulic press is used to remove the moisture. Drying the sheets in the sun eliminates any remaining moisture, thus creating a clean sheet of paper.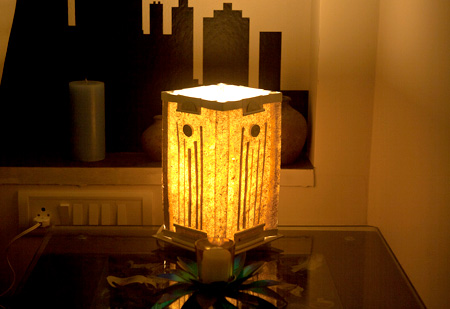 Elrhino's range of products include everything from office stationery to lampshades.
The three paper mills of Assam require 2,600 tonnes of bamboo per day, which is harvested from the forests near Kaziranga and the Karbi-Anglong hills. This results in a scarcity of fodder for elephants, causing them to raid crops in areas under human habitation. Using dung to manufacture paper reduces the need for mill-made paper, leaving more fodder for elephants. Villagers are often paid by poachers to assist them while hunting. Elrhino provides its workers, most of whom hail from the surrounding tribal areas, with an alternate livelihood, encouraging them to see elephants and rhinos as assets rather than liabilities.
Elrhino wishes to focus on showcasing the heritage of northeast India through its products that include paper embedded in Assamese silk, fossil paper, office stationery, cards, gift bags, lampshades, and wall hangings. They originally began marketing them by participating in a few exhibitions and the project gained momentum with the help of Facebook with more and more people beginning to write in to enquire about what they had to offer. For now, Elrhino products can be purchased from shopo.in although there are plans to introduce them in stores in Delhi, Bombay, Bangalore, and Chennai. "We want to stay small and special, so it will be just one store in each city. Our energy will be focused on selling online because we believe that's where the future is. It is less resource-intensive and it is more practical for us, given our manufacturing base in Assam," states Mr. Bora.
———
Visit the Elrhino web site or Facebook page for more information about the company.