Located in Khar, Bombay, Sanctum is a lifestyle store with a difference—it aims to bridge the gap between high-end luxury furniture, run-of-the-mill, everyday pieces, and those found at street stores, which more often than not are of dubious quality.
This is owner Sandhya Gorthi's second store, the first being The Shop at Pali Naka, which was begun in March 2011. "It gave me a lot of ideas, which I couldn't carry out there as the concept was very different," says Gorthi. Having graduated from National Law School, Bangalore, Gorthi is a lawyer by qualification but has held a variety of jobs including that of an RJ for A.I.R. F.M. and Radio Mirchi and a content writer for a few websites. In addition, she has dabbled in theatre, corporate training, and writing. "Retail happened to me completely by accident because of the proposal I got for a partnership at The Shop," she says, "I took it up and initially just began by helping them to set up. I enjoy organising and putting things together but it turned out to be a lot more addictive. I did a lot of research and study because I knew nothing about it and realized that in a way, it tied together so many things I used to do in the past."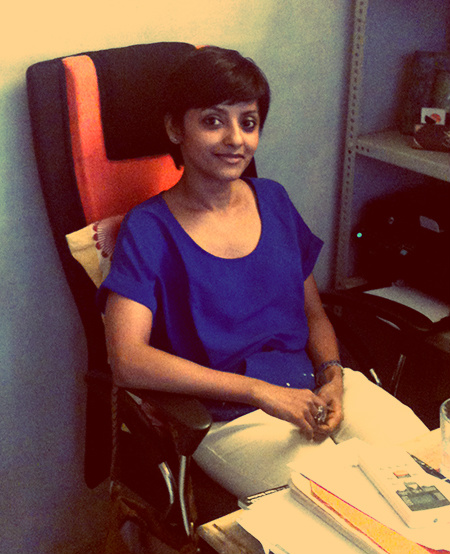 Sanctum founder Sandhya Gorthi in her office. Photograph by Arun Kale.
Loud, kitschy pieces with pop art and Bollywood motifs are conspicuous by their absence. Instead, Sanctum focuses on a more relaxed approach to creating and personalising intimate spaces, with pieces that are both comforting and timeless. "You reach a point where you're not out there to make a statement with your surroundings and say look at me, this is how cool I am—it's not about that," says Gorthi. The store embraces the concept of 'shabby chic' and features plenty of industrial and washed or distressed pieces of furniture with a vintage look to them.
Gorthi believes in 'up cycling' or giving a new lease on life to scrap material, which would otherwise be regarded as waste. Looking around the store, you will find plenty of examples in the form of cupboards with doors fashioned from old louvered windows, sideboards and cabinets which have been made from crates or wood from railway sleepers, a table made from an old sewing machine, and a lamp created from an old metal pipe. As you make your way around, you're likely to stumble upon various curios like an old railway lamp or a pasta maker, which has been turned into a flowerpot.
The store is also home to a collection of vibrant crockery and linen by Freedom Tree and a clothing line designed by Anaka Narayanan under the label Brass Tacks which includes cotton and silk dresses, kurtas, and tops. The aesthetics of both these labels are very much in keeping with the overall feel of the store, with unembellished, minimalistic designs. The few imported items available include an assortment of brightly coloured kitchen equipment from Home Collective. "I am constantly looking out for new designers. I travel, and sometimes, I go directly to the manufacturers and suppliers. Because I began with a story and I wanted to stay true to it, I curate for Sanctum and create a look based on how well it fits into that story," relates Gorthi when asked how she sources pieces for her store.
The variety of clientele, which ranges from traditional families who come in with the intention of buying objects for their children's homes to bachelors wishing to set up their apartments on their own terms, is testament to the fact that Sanctum's catalogue appeal to a wide audience. "The kind of person I'm speaking to has been through some years or experiences or growing up and are now in a space which fits into this mindset. They don't want to do up their space in the way their parents or friends might but are not quite sure what's out there. We do ugly-beautiful, something people instantly connect to," she adds.
Gallery: Inside Sanctum