Packing up my flat the night before my final flight home, I took stock of the physical remainders of my time living in India. I lost a lot of good shoes in the Mumbai mold wars; almost all my clothes were utilitarian at best. My toiletries were now mostly preventative or treatment-based; my baseline of appearance and health had plummeted.
Most of my "packing" just meant throwing out clothes, but even holding each item brought a sweat-filled, panicky memory. I threw out the pair of pants that a grasshopper had hidden inside until I was in the middle of a meeting. When he started to stir, my slap left a lime green puddle on the pale gray linen that never came out. I threw out the expensive work shirt that not only had indelible sweat stains under the arms, but down the back as well.
I left three heaps for my maid and her daughter: the red cotton, knee-length kurta that I was wearing when my landlord stared at my breasts and told me I should wear a nice, decent, good-Indian-girl top; the blue silk kurta I wore when I wanted to really impress at work; the white sleeveless kurta I wore when I gave up trying to cover my heat rash on the weekends. I left the gold earrings that my coworkers always said were looking very nice, na. Office Aunties had been pleased with those.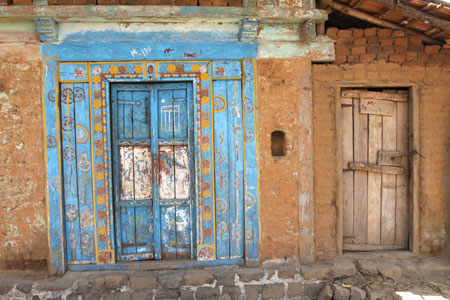 A little bit of Bandra clinging on for a new life in America? Photograph by
Girish Menon
.
I packed nicely wrapped bags of "Indian" jewellery, notebooks, bed linens, and other Oriental treasures for my family in America: jewellery, notebooks, and linens no Indian would ever use (they were very well-received).
I parted ways with my conservative pajamas; the ones I wore on the nights I curled up on the floor of my bathroom, waiting to black out from dehydration. As I microwaved an old towel to soothe my belly, I remember thinking that when they found my vomit-stained body, at least I wouldn't be dressed inappropriately. If you've never microwaved a damp old towel, you're missing out.
My collection of medicated talcum powders for my more aggressive rashes were coming with me for the time being. I said goodbye and thank you to: the giant ziplock bag of Pepto Bismol, the pill bottles of American antibiotics (thanks, azithromycin. No thanks, ciproflaxin), the packets of oral rehydration salts, and my industrial DEET bug repellant.
I did not pack my kitchen items; they would be worthless in America. If I really needed a tiny chapati rolling pin, or an idli-shaped microwave steamer, I'm sure I could figure something out.
At four a.m.—before my seven a.m. flight—the taxi company called to say something in Hinglish about how "taxi has problem". I would, one last time, be on my own for the great Mumbai transportation crush. A single, spicy tear slid down my cheek as I contemplated spending one more night in India, or Oh Bhagwan, the Chhatrapati Shivaji motherfucking airport. Was it the tear burning my eye, or was curry finally expelling through my pores?
Finally, I took my art down. Six 32" x 24" photographs taken by a photographer on site visits for my N.G.O. hung on my monsoon-pillaged walls: a collage of sari embroidery from a livelihoods training course, a tribal woman smiling in a financial literacy workshop, a young girl staring piercingly at a women's empowerment meeting, the silver anklets of a Rajasthani villager, the brightly patterned door of a Maharashtrian hut. These images represent everything I love and hope for my adopted home. I remember riding home from the framers when I had them framed, clutching them in the back of a rickshaw. Of all the junk in my apartment, this was the money junk.
The photographs did not come out of the frames easily. I was naïve to think that I could so simply extricate my pleasant, hopeful memories of India. The frames were glued, stapled, and sewed to my photographs. I ripped out the staples and stitches, and tore the photographs from chunks of recycled cardboard—a little bit of Bandra clinging on for a new life in America? Hands and feet bloody and splintered, I left a pile of debris for my landlord. It was hard work taking memories like that.
Finally, the photographs were out, rolled up safely and ready to be out of India. I zipped my bags, shut the door, marched out of my flat, and woke up a taxi driver.