In the lawless Bihar of the 1990s, a pregnant woman is raped barbarously, and yet again, justice is not delivered. Tuhin Sinha's latest novel—The Edge of Desire—accentuates the vices that prevail in the Indian government and the extent to which Indian politics and legal systems can be manipulated and altered.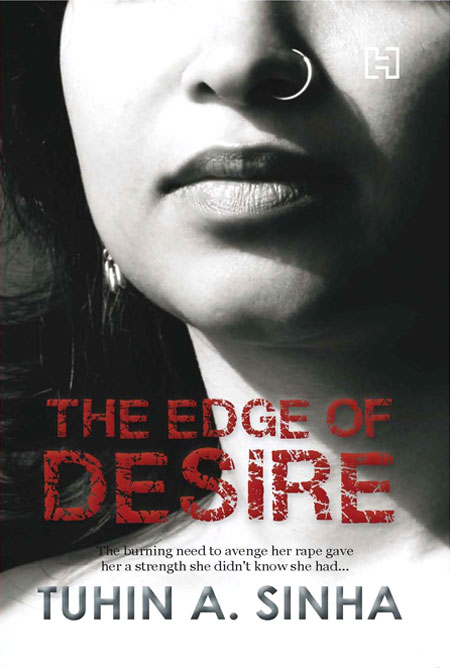 The Edge of Desire
book cover.
Haunted by memories of her boyfriend's infidelity, Shruti Ranjan, an ex-journalist in Delhi, is forced to move back to her hometown, Patna. After brushing aside any marriage plans for a long time, she eventually gives her assent to marry the Deputy Commissioner of Kishanganj, which, unfortunately, is a town that is monopolised by the local ruffians. As Shruti is beginning to get accustomed to her new life in Kishanganj, things take a drastic turn when she is brutally raped by these local goons and their leader, Salim Yadav. All her attempts at procuring justice are thwarted over and over again until she puts her foot down and sets herself on a journey she never imagined.
The book is based on a lot of research and gives its readers a chance to look deeply into what really happens in the government through the medium of politics. Although the book gives vent to a variety of emotions, the characters still seem to lack depth in a lot of places, making it hard for the reader to come to terms with the protagonist's experiences. The author often gets carried away, highlighting events that do not quite fit into the plot. The character of Rohit (Shruti's husband) is rather interesting: he is someone who constantly manages to retain his narrow-mindedness and insensitivity towards the issues at hand. One very important, powerful character is that of Sharad Malviya, who supports Shruti throughout her struggle.
Unflatteringly, the highly dramatic, filmi ending fails to do justice to the title of the book. In the first half, the content raises the reader's expectations in a gradual yet interesting manner. However, the second half is rather slow and disappointing. What keeps the reader going is the protagonist's constant battle with herself to be able to decide either in favour of her marriage or her ambition. The plot is not as powerful as one might anticipate from the back cover. Nevertheless, the amount of research that went into the making of this book is truly commendable, and makes it worth reading.
[Hachette India; ISBN 9789350094433]
———
Click here to purchase The Edge of Desire online.