"Don't judge a book by its cover," said one. "What's in a name?" asked another. Both statements may hold some weight in the philosophical sense, but I for one found it very difficult to follow their advice as I held the book Artist, Undone by V. Sanjay Kumar.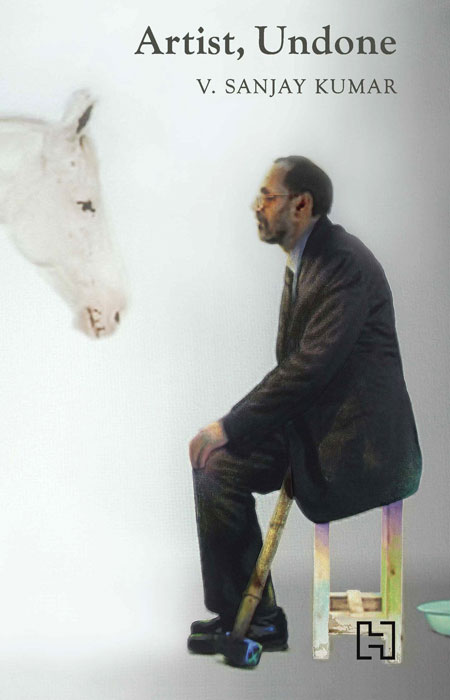 Artist, Undone
book cover.
The title of the book made it seem like the life story of, well, an artist. The cover didn't help give an idea of the book either, with a blurry picture of a man sitting with a sledgehammer staring at a horse, that quite frankly, looked like it was in urgent need of resuscitation. However, the intrigue did get me started on the book fast. And as it turned out, my preconceived notions of the book were totally incorrect.
The book is about a middle-aged man named Harsh who decides to buy a painting. This may seem simple enough but it is not. Incidentally, the purchase also marks the beginning of changes in Harsh's life. He decides to take a year-long sabbatical from work. His wife decides to leave him, only to begin a relationship with the neighbourhood artist who is famous for being unabashed with the theme of his works. This leads Harsh and his friends to try to understand art as a subject, and its relevance in modern life.
The book has a wide range of characters to choose from. Some are given more importance than others, yet each one is clearly defined. I wasn't surprised by how each of them was romanticised by the author. Even though it made them a little tough to relate to, it set the general mood of the book. What did surprise me though was how the author failed to do the same with the main character. One could interject that in this way, he depicted how he looked at a world he didn't understand, but such a purpose was not clearly conveyed. The story was satirical, yet the humour was too subtle.
The book did, however, get me thinking about the subjects it presented. The author conveyed how both art and life are very vast and mostly indefinable. And hence, they walk hand in hand. The most thought-provoking concept mentioned in the book was probably how art could never accurately answer the question of why it is art. The book does that, and it gives you many other things to think about.
If you look to purchase a book depending on its genre, if you need it to have a well-defined beginning and end, and if you revel in its plot; then this book will probably not be to your liking. However, if you enjoy glimpsing into the lives of others, watching from afar and analysing why they are the way they are, then here is another book to keep on your shelf.
[Hachette India; ISBN 9789350092569]
———
Click here to purchase Artist, Undone online.