The Oxford English Dictionary defines the word 'beguiling' as an adjective that means 'clever at attaining one's ends by indirect and often deceptive means, such as charm and enchantment'. If there could be only one word to describe British folk-revival singer-songwriter Laura Marling, it would be this one. With her third album A Creature I Don't Know, Marling has come up with a quirky, confident and restrained album that belies her meager twenty-one years in both talent and wisdom.
Marling may be relatively obscure outside England, but she's really done quite well for herself. Her debut Alas, I Cannot Swim, and the critically-adored follow-up I Speak Because I Can, were both nominated for the prestigious Mercury Music Prize in 2008 and 2010 respectively, eventually winning the Best Female Solo Artist at the 2011 BRIT Awards. And this is definitely not without reason. With her mysteriously personal nature and accessible folk sensibilities, she strongly evokes genre heavyweights such as Joni Mitchell and Bob Dylan.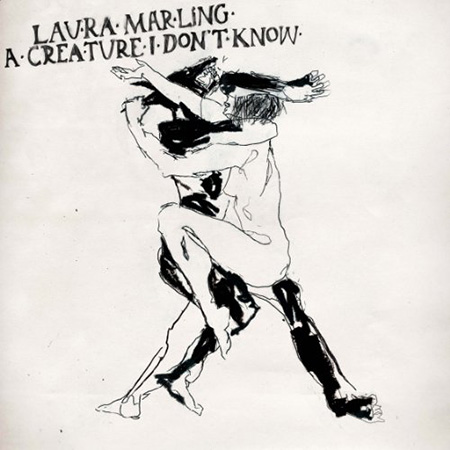 A Creature I Don't Know
CD cover.
The upbeat, impulsive 'The Muse' is a perfect album opener, introducing listeners to her strong but meandering voice, backed by jangling guitars, unruly piano melodies, and even a brief banjo solo. Lead single 'Sophia' has a lackadaisical whimsy that rivals the best of Joanna Newsom; and amidst deceptively bitter lyrics about an ex ("Where I've been lately is no concern of yours"), a soothing guitar builds, surprisingly, into folksy country/blues. It's magical.
Marling's lyrics are a colorful jumble of story snatches from different parts of her life. Stitched gingerly together, her lines allow different interpretations for each listener, and sometimes even during different listens. One lyrical gem is the wandering 'Salinas', which speaks vaguely of a mother figure who tried to control an unruly ruffian of a brother ("My mother was a savior of six foot of bad behavior / Long blonde curly hair down to her thigh"), and in the process did something unspeakable enough to question her eligibility in heaven any longer ("Ask the angels / Am I heaven bound?").
But enough of that. Anyone can pen pretty couplets and strum away on the guitar. What makes Laura Marling so special is her ability to soak into your brain, layer by layer. The whole album is centered on the Beast, presumably the 'creature' she doesn't know—maybe an ex, maybe her lover, maybe herself: Marling leaves that for you to decide. After a brief cameo on 'The Muse' ("I'm nothing but the beast / And I'll call on you when I need to feast"), the album's epicenter 'The Beast' speaks in depth about this monster. In the ambitious six-minute track, Marling transitions the song seamlessly from a melancholy lone guitar to the angry outburst of a lover scorned ("Put your eyes away if you can't bear to see / Your old lady lying down next to the beast / Tonight he lies with me"), ending in a veritable sneer of fury.
'Night after Night' continues the story of her love-hate relationship with the Beast ("I should just leave you / Instead of deceive you / But I don't"): and again, the Beast could easily be about her inner demons as much as about an addictive lover. Marling's lower register, accompanied by a modern-day folk interpretation of 'Moonlight Sonata' on guitar, chills you to your very bones. This is because of the story she tells, but also because of her startling talent.
It is this undeniable talent, coupled with that alluring intrigue, which really puts Laura Marling in a league of her own. Marling's albums always require a few more listens than your average folk record, but they are infinitely more satisfying. Laura Marling is a flawed person, just like any of us. She's not one to unlock her heart to you. Instead, she leaves you with subtle hints to find the key by yourself.
Give this album a few listens. It's worth it.