There are two kinds of sex comedies: one that flatters the pervert inside you through a bold, edgy concept and in some cases fine acting (Pineapple Express or The Hangover, for instance), and the other that simply puts you off with predictable, mindless gags and the glaring absence of a plot.
Enlisting films of kind this would be an incredibly exhaustive exercise and I shall resist. The great news is that Delhi Belly cannot be categorised as either of the two. It is a rare ensemble of cheeky dialogues, an enthralling cast, clever humour, and a reasonably entertaining storyline, among other laudable things.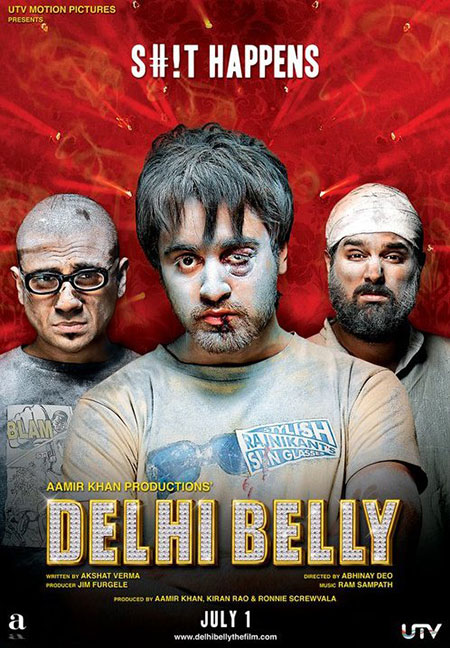 Delhi Belly
film poster.
The film captures the nerve of urban youth, reeking of madness and chutzpah in an attempt to deal with their daily existential crisis. The life of despicable flatmates couldn't have been shot in a more nuanced manner. The three roommates live in an enormously dilapidated room infested with cockroaches and other crawlies, unattended water-buckets, and a sprawled Nitin (played by Kunaal Roy Kapur) giving us an eye-sore view of his butt-cheeks. Amidst monumental garbage and decay, the garish Disco Fighter poster hung on the wall overcompensates for this colourless, prison-cell of a room. Such attention to detail, as expected from an Aamir Khan production, is precisely what engages one in this 102-minute, interval-free, idiosyncratic ride through the dingy by-lanes and crummy bazaars—including a brothel—located in Delhi's underbelly.
Tashi, Nitin, and Arup—the three roommates—are perennially broke and frustrated with their jobs and unhappy love lives—or in Arup's case, the lack of one. The film's brand of humour emanates from Nitin's belly, whose diarrhoea is emphatically smelly, noisy, and filthy, and perhaps gut-wrenchingly funny. Yet, gags are not what make Delhi Belly an entertaining comedy, an astute plot does. A freak mistake leads Tashi and his otherwise slacker roommates running for their lives, chased by the drug-mafia to the very catchy tunes of 'Bhaag DK Bose', accompanied by the sound of screeching tyre wheels, burqa-clad trickery, and a cinematic excess that exhibits a curious mix of road and slacker films a la Natural Born Killers or Pulp Fiction in their scale of spectacle. It takes balls to turn grotesque into cool and likeable, compelling you to flinch your facial muscles in ultimate disgust and then whistle the very next minute.
Accolades must rightfully make their way to the actors. The witty exchanges between Imran Khan, Vir Das, and Kunaal Roy Kapur present them as mavericks most naturally. They seem perfectly cool conversing in English when a host of other contemporary Bollywood actors are in dire need of accent-training and dialogue delivery. This may seem as Imran Khan's best performance, but it is quickly overshadowed by Kunaal Roy Kapur's brand of scatological humour. In this male-protagonist-oriented comedy, Poorna Jagannathan does a stellar job of a Page Three journalist with her I-don't-care if-I-am-perceived-as-a-lesbian attitude. Her flawlessly cocky screen presence confirms the non-hypocritical, coming of age status of this bold cinematic venture. In fact, the film has many such moments that capture the changing dynamics of a cosmopolitan city which is vivaciously opening up to idea of gender equality through campaigns like Slutwalk. The film, in this impulse, slams the right-wing orthodoxy through shots of a woman being given orgasms by her boyfriend, or kissed by Imran Khan, who is flung out of the window of a moving car. Brave indeed!
My only complaint is the lack of Delhi-ness in a film titled Delhi Belly. The madness and chaos could have been demonstrated in any metropolitan city that wakes up head banging to an AC/DC track; more aptly a place like Bangalore or Mumbai. The film fails to do justice to the uncouth, brash city life of Delhi as observed in films like Love Sex aur Dhokha and Oye Lucky! Lucky Oye! in the recent past. The 'Switty Tera Pyaar Chaida' track makes a humble point, which is taken in all admiration. Speaking of music, the Delhi Belly soundtrack leaves a strong aftertaste, likely to keep the tanginess of this nuanced sex comedy alive, even after it's disappearance from the box office.