Ukrainian dancers and Russian models aren't new to Bombay, but there is a new breed of foreign girl in today's Mumbai.
Her work isn't work at all. She is the highest paid unskilled labourer in the city, simply because she is a minority. These girls are paid for their light eyes and faces, their fair skin and their figures, their foreigness and firang-ness. Their presence at your function costs a lot of money, but it's money that many are willing to spend.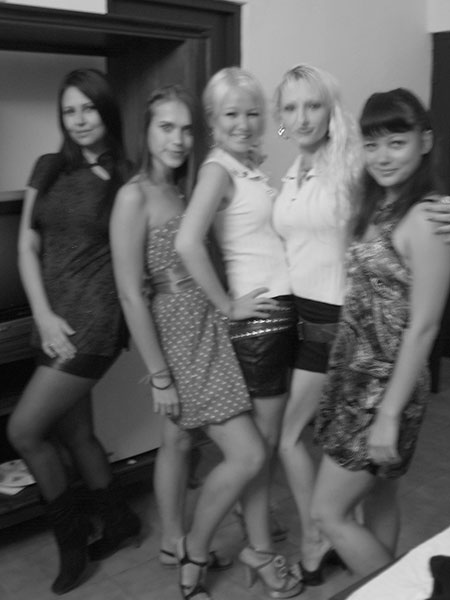 These girls are paid for their light eyes and faces, their fair skin and their figures, their foreigness and
firang
-ness. Photograph by Little Bird.
A girl coming from Ukraine or Russia to work in Mumbai is an all-rounder: generally a dancer, a model, an actress, a hostess or waitress or bartender, or whatever else anyone might pay for her to be—to a limit. Many of the girls come through proper agencies on work visas, especially in consideration of the recent trend of checks and raids on Bollywood sets. Police show up and demand to see everyone's employment visa, and must be paid off in huge increments if a dancer is found without one.
Other girls get their visas in other ways. Ana from Russia is not a dancer, but a model and sometimes actress, depending on what the situation calls for. Not on her skills, but on the work that might be available. "For the visa, I had one friend who knew a man who did visas. I gave him some money and he put a visa in my passport, that's all!"
She sends a standard text message: "Hello I am Ana, professional Russian model in Mumbai, have you any work for me?" to a list of numbers, some without names and otherwise labelled 'Nassir agent' or 'Shahid casting', numbers scraped from defunct websites and other girls's mobile phones. On a good day she'll pose with a refrigerator or couch for some medium-sized Indian company, and make 15-20,000 rupees. On another she'll model for a jeans catalogue, pulling forty pairs of jeans on and off over a period of five hours for eight thousand.
Girls who are not necessary more beautiful, but more well-connected to the right coordinators can easily make an average of Rs. 10,000 per day. Even a girl with no skills and with only the number of one coordinator can earn Rs. 5,000 per day in high season, though, just doing events every day. Some will go work a company gala during the day, do welcoming for an evening dinner, and then bartend a party at night, potentially banking Rs. 12-15,000 that day.
"Only be behind the real bartender, na?" the girls are instructed by the coordinators. The real bartenders know that the girls are there for decoration only, and flirt with them while they do the actual work.
— — —
Some girls have few skills to speak of, not having finished school in their Eastern European countries. Some do, but there is no work where they come from. Most come from smaller towns where there is not much in the way of opportunity. Some never took an airplane before they got to India. Once they arrive though, they become frequent flyers, travelling at least once a week from Mumbai to another Indian city for a job. They become so familiar with the airport that they show up only forty minutes before their flight departures, and leisurely smoke cigarettes before entering the airport while their coordinator harangues them in mixed English that trails into frustrated Hindi: "Still I am waiting for one more girls, and more three girls is already inside, hurry and finish, chaal jaldi kar na hum toh itna late already ho gaye…"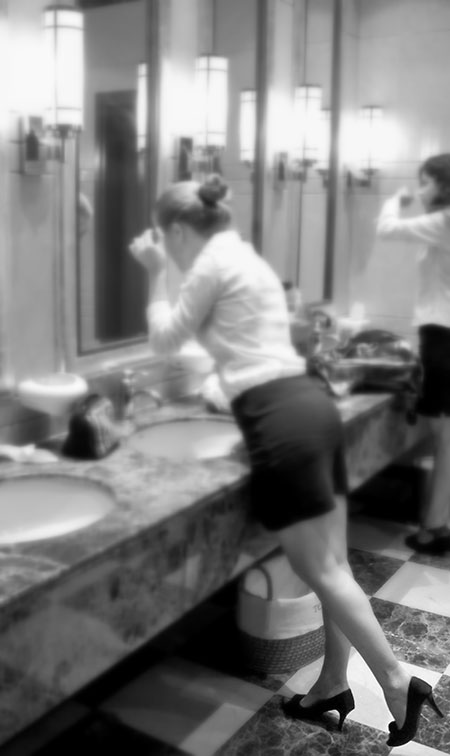 Have you any work for me? Photograph by Little Bird.
Girls with proper work visas are also occasionally sent to Colombo, to Abu Dhabi, or to Bangkok for other shows. Not all girls doing the jobs in other Indian cities have the proper visas, but enough girls in total do. As only a passport photocopy is required for domestic travel, the coordinators shuffle the passport photocopies in their binders and fly girls under different names.
Yulia Pikhienko might be at a Bollywood shoot in Kamalistan in Film City, where there is likely to be a police check: no problem, she's carrying her passport with her genuine employment visa. Yulia might simultaneously be enroute to Assam for a gig: another 'girls' but using Yulia's passport photocopy.
An agent might call a new girl who is needed to fill out the demand: he needs ten girls in Indore but is coming up short because most of his girls are dancing on film sets. So he'll call some unrelated A.I.E.S.E.C. trainee or even a pretty tourist picked up from Colaba and say to her "Achha, beautiful, today you are Olya. Okayfine, Olya?"
The girls take everything they can get for free. At hotel buffets where they're hostessing, they will strategically eat the most expensive food. Backstage at some gala, they'll sit in their skirts and badger the least assertive waiter to bring them some wine, and then blow him kisses when he delivers. At hotels in Kolkata, Indore, Jaipur, and Coimbatore, where they go for events, they sweep the courtesy shampoo and conditioner bottles into their Linking Road purses, even though at home in their Royal Palms flats they use Dove, influenced by Indian advertising. When they get paid (in cash, as most don't have bank accounts) they store their notes in their bras like bar dancers.
— — —
Some coordinators deal with girls day in and day out, their entire business is that of foreign girls and God, it is hard work. The girls and coordinators are a good match, existing in a peaceful love-hate relationship. Each gets frustrated with the other, but each needs the other to be successful, so they figure it out. When they're fed up with the girls's demands, coordinators complain: "Only two hours work in the whole weekend they have, and then even only standing smiling, rest of time they enjoy the hotel, eating drinking smoking and sleeping! And still girls is not happy! Then?"
The best and most loved coordinators spare no expense. "If girls is happy then I also happy!" they boast, not overlooking details like conveyance money to get from their flats to the event locations or the airport, and not neglecting to feed the girls: sandwiches, tea, coffee, idli, dosa, whatever they ask for.
The girls call the coordinators 'baba', and vice versa, because each has a name that is too hard for one another's foreign tongues to pronounce. The coordinators also call the girls 'darling' and 'beautiful', as in: "Hello beautiful, after so long we meet, how are you?"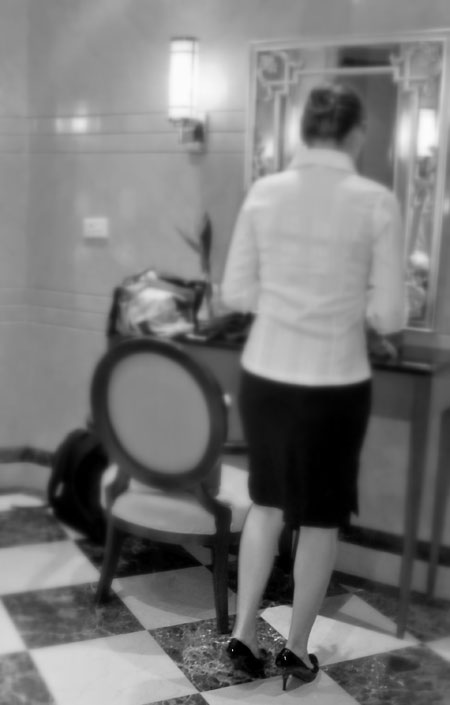 Girls who are not necessary more beautiful, but more well-connected to the right coordinators can easily make an average of Rs. 10,000 per day. Photograph by Little Bird.
The coordinators offer up the perks of hostessing jobs as though it they were bonuses that they themselves had arranged personally just to spoil the girls. "Only the best places I bring you, na?" they smile as they wave their hand around in an expansive hotel, as if they'd built it themselves. "Only the best food for you girls! Eating like raanis you are in this place!" when the girls sit down to a banquet buffet, tables piled high with kadai paneer, fresh naan, tandoori chicken, chow mein, ice cream, gulab jamuns, and bowls of almonds and cashews, as if they had paid for the lavish spread. Of course, it is all at the expense of those who decided to have foreign girls hostessing their event in the first place.
— — —
Why the demand for foreign hostesses at events all over India? Because they are 'something different' and make the event seem 'top-class'. Imagine a company party, gala or award ceremony at a fabulous hotel in the suburb of any Indian city. Imagine a gaggle of foreign girls with heels on gravel strategically placed at the entrance.
"Varnakum" one will coo in she's in or around Chennai.
"Jai Shri Ram" chirps another if she's in Udaipur. The flock is a vision in sequined skirts and tops, long legs, and blonde hair.
Each towers over Raj Sharma and his little wife and two children, everyone in their best clothes, but still very ordinary compared to these fantastic girls. "Hi hi, good evening, welcome, thank you, please!" stutter the guests, unable to think properly, stunned. The girls giggle coquettishly and offer long-stemmed roses or a printed card with the evening's programme.
This is why the girls were hired: for the impression they made on that man and the thousand other people who were welcomed via the same entrance, with marigold petals falling on them. If the budget for such a party is twenty lakhs, spending one lakh on the flights from Mumbai, hotel stay, and salaries for a gaggle of foreign girls is a worthwhile investment and a minimal expense.