The Fakir is a fictionalised biography of Lalan Fakir, the great mystic poet from Bengal. The famed novel, written by popular novelist Sunil Gangopadhyay, was recently translated into English by Monabi Mitra. The story takes us back to 19th century Bengal, a land that was once feudal and oppressive.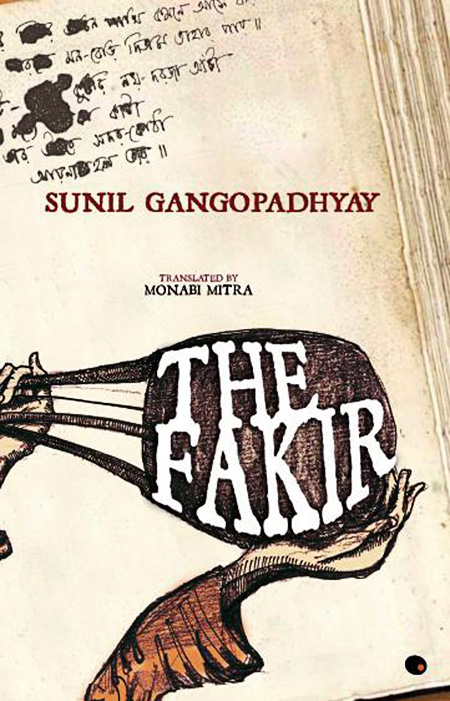 The Fakir
book cover.
A young man accused of stealing Kabirajmoshai's horse, is brought to the landowner after being caught untying the horse. It turns out that the man borrowed the horse from time to time and returned him after a ride. Kabirajmoshai, a zamindar and a man of prominence, gets him to carry out a difficult task of chopping wood from a jarul tree, which he carries out till late in the night. Kabirajmoshai also finds out that this young man, Lalu, is known to sing very well and has performed in a number of local plays. Winning the heart of the zamindar through his honesty and simple nature, Lalu becomes a part of his coterie. He accompanies the zamindar, at his request, to a pilgrimage to Behrampore, to take a dip in the holy water of the Ganges.
However, on the way to Behrampore, he is afflicted with smallpox and is understood to have died, when, in fact, he is only unconscious. Members of the pilgrimage party float his body in the river, before continuing on their journey. He is then rescued by an old woman, a Muslim, and is nursed back to health, thanks to her selfless care. Given his memory loss due to the illness, he stays on with the woman, who adopts him as a son. One day, he is recognised by a group of people from his village and is coaxed to come back home, where he has a mother and a young wife. On returning, he is cast out by his community and is socially ostracised. Kabirajmoshi refuses to believe that he is alive having declared him dead, and his mother refuses to let him enter the house, as having lived with a Muslim woman he has defiled his faith. His wife supports the mother and refuses to side with a distraught Lalu.
Heartbroken, he renounces the world, and goes to live in a forest where he is joined by other outcasts Kalua, Kasem, and Kamali. It is here that they take in and help others, mostly the socially oppressed lower classes, to rebuild their lives by working hard and being treated equally. Lalan accepts and respects the words and teachings of other religions, but puts humanity above everything, preaching peace, brotherhood, and understanding between people of different faiths through his songs, which number over a thousand. The result is an alternative social order, where the poor and downtrodden from nearby villages adopt the learning and the message of simple living by Lalan Fakir.
This is a well-woven narrative; a simple tale with an important social message in a world where material things define boundaries between human beings. For a man of no education, Lalan Fakir's message is evocative and calls for self–introspection in an increasingly globalised world, where material wealth, race, and power have defined a pecking order among human beings across the globe. However, it meanders a bit towards the end, and it seems a bit disconnected through the leaps of time. The second half of the novel is considerably more tepid than the racy first half. One wonders if this is a loss in translation or whether the author is unable to connect the loop that give it some much needed continuity. Read The Fakir for a good perspective on the message of peace between warring religions/sects; one that is free of social conventions and mores.
[HarperCollins Publishers India; ISBN 9788172239299]