In India, entire childhoods are spent listening to stories of Rama, Krishna, Hanuman, and Draupadi. Each night, children climb into their beds, nestling up against their grandparents, demanding a retelling of the adventures of their favourite religious heroes. Clearly, we are a society obsessed with its mythologies.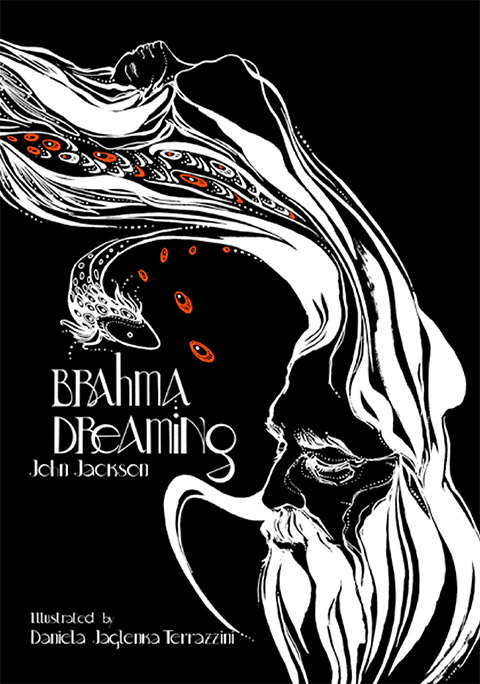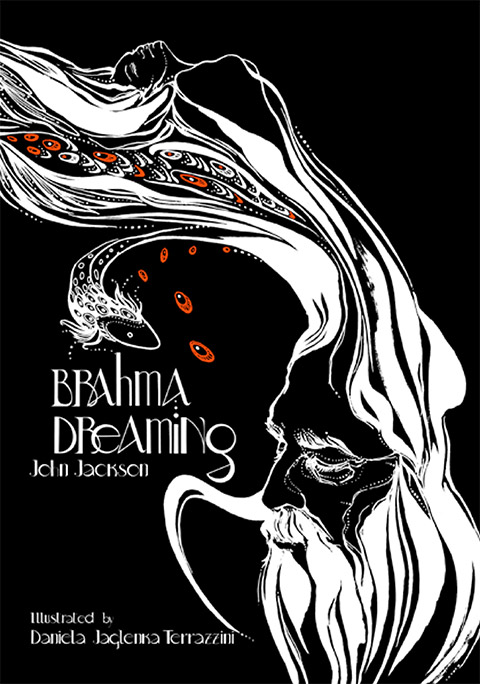 John Jackson's
Brahma Dreaming
.
As I began to read John Jackson's illustrated book Brahma Dreaming, I wondered what yet another book about Hindu legends could possibly offer. Quite a lot, as it turns out. Brahma Dreaming is a collection of Hindu tales, told without the usual religious ornamentation and fuss, accompanied instead by some gorgeous pen-and-ink illustrations by Daniela Jaglenka Terrazzini. Once the unnecessary devotional frills are done away with, the stories make for a rather interesting read, eliciting the same curiosity that books about superheroes do.
Jackson begins with Hinduism's Trimurti—Brahma, Shiva, and Vishnu, the trinity of creators who represent creation, destruction, and preservation respectively. The world is nothing but a dream Brahma is dreaming, he writes. We are all elements of this dream. Like most dreams, this one too gets more and more complicated as Brahma imagines new creatures, objects, space, and time. And so we have three sections—tales of creation, destruction, and preservation—that have their own sets of gods and demons, neither of whom are wholly good or bad.
The author has a pretty good grasp of Hindu mythology as he narrates stories of battles between magical creatures in the heavens and in the dark underworld. I particularly enjoyed the way in which he gave his characters depth, attributing emotions such as anger, anxiety, lust, and terror to figures who we tend to essentialise and see as unidimensional. Yama, the god of death, isn't scary at all in Brahma Dreaming; instead he comes across as a misunderstood and lonely character who only needs a friend. Sagacious kings, yogis, and gods are sensitive, temperamental, and flawed; a welcome change for a community that's started to take its religion far too seriously.
I thought the writing could have been a little more gripping—Hindu mythology is, after all, full of quirky characters and absurd stories that have made for some superb graphic novels and films. While the book can feel a little flat in places, readers won't want to put the book down in a hurry. Due credit must also go to Terrazzini, who has thankfully stayed far, far away from Oriental visual clichés and adopted a surrealistic approach to her illustrations for the book.
In Brahma Dreaming, there is a very clear othering of the 'demons' (non-Vedic populations), characters such as Manu aren't questioned, and Brahmins are simply called 'wise men', thus essentially erasing the caste context. The stories are presented in the book as a coherent text of 'Hindu mythology', but it is important to remember that that would in itself be a myth, given that each of these tales has several versions across the country. Ravana is vilified here but there are many Ramayanas in India that have hailed him as the hero while criticising Rama as a colonising imperialist.
Brahma Dreaming represents a very mainstream understanding of Hindu mythology, one that doesn't acknowledge that several gods, goddesses, and tales were, at some point, of non-Vedic origin and were incorporated into the Hindu pantheon much later in an attempt to achieve a hegemony over faith and knowledge. Such questions were perhaps beyond the scope of this book, which is largely meant as an overview of Hindu mythology catering to all age groups.
As an introduction to the world of Hindu tales for the uninitiated, Brahma Dreaming is a fascinating read, bringing to life a number of gods and goddesses in creative ways, leaving one thirsting for more. Hopefully, there will be a sequel in the near future, and one that isn't quite as elitist.
[J. J. Books; ISBN 9780956921284]