What do you feel when you're an eager arts student and you land up at the Mecca of the arts in India—the India Art Summit? You're completely awed, of course. Sheer, absolutely raw awe. The Summit featured almost one hundred of the most well-known galleries from all over the country and abroad, and of course the stars—the stars of paint, brush, and canvas—not to mention dozens of known and unknown media personalities. With the hottest names in the art circuit, along with the hundreds and thousands of artists, photographers, and celebrities teeming the place, all you could do was let out one big wow!
The four-day-long event (from January 20-23, 2011) was a wholesome package for artists, buyers, students, and everyone who wanted to witness first-hand how an elite mela functions. But if you thought that the Summit was solely about the arts in India, then you are very well mistaken. It was nothing short of a heady cocktail of art, personalities, intellectual talks, and moolah; not to forget the wine, of course, on the V.I.P. Preview day.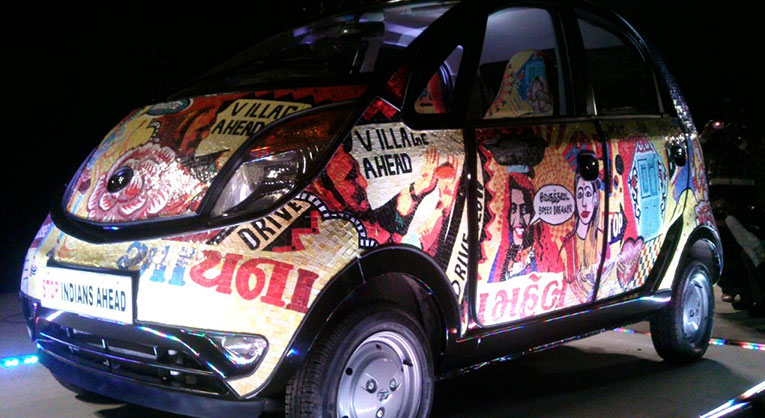 How do you value and label ingenuity? Photograph by Shaheen Ahmed.
The glam quotient was definitely a myth come true for me. We've all heard about India's uber-rich and swish set, the prospective buyers for the art on display (and probably the raison d'être for such a "mela"). Also present at the Summit were confounding and dumbfounding pieces of 'art' and the usual swarm of the intelligentsia that descended upon Hall 18 of Pragati Maidan—all these factors were enough to take my breath away.
There have been many such art and cultural fests in the past where I have been the quintessential flaneur, moving around and breathing in the multitudes of art and culture that, say, a festival like Kala Ghoda would offer to an art lover. What set this experience apart for me was my 'insider' role. I worked with a well-known gallery as an intern. I admit that the lucre of some pocket money was the driving force for my stint during the Art Summit, but as a student of arts and aesthetics, I thought it was about time that I worked closely with a gallery in order to understand how things worked. The experience turned out to be pretty close to what I had in mind, but a sense of disillusionment did creep in as well.
The quotidian existence of the galleries seemed to be all about selling art and networking with those who could afford art. Gallery owners appeared no better than salespersons at a high-end shop selling their wares to a haggling public. The air-kissing and the "dahlings" were reserved for that elite class who passed off as "connoisseurs" of art and who wanted a slice of the pie of high-art to adorn their living rooms. It wasn't surprising that the so-called connoisseurs were almost as dense as a first-grader would be when introduced to algebra. It was all mostly an exercise in who gets to flaunt the best artists and art that money can buy. Understanding art—you must be joking right?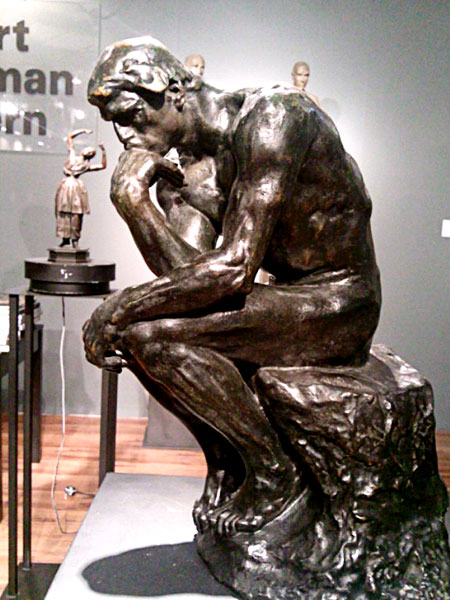 The Thinker, deep in thought. Photograph by Shaheen Ahmed.
This, for me, was undoubtedly the flip side of an event that many consider to be quintessentially intellectual. The perkier side, however, was my interaction with some of the biggest names in art, and observing some of my personal favourites from close quarters. Yes, Subodh Gupta is indeed drool-worthy. He is every inch the rock-star that the media has portrayed him to be. Not to forget the ethereal presence of Anish Kapoor, and the overwhelming intellectual heavyweight, Homi Bhabha.
For the first time ever in my existence, I got to see original artwork by M. F. Husain, S. H. Raza, Salvador Dali, and Picasso. Just viewing these works gave me goosebumps, my mind waltzing in a profound feeling of insignificance in front of these masters. It was almost as if I could just melt like hot gooey chocolate in front of these greats.
Where there is art, how can eccentricity be far behind? Some of the artists present at India Art Summit could actually give Lady Gaga a run for her money when it came to dressing outlandishly. A dhoti coupled with a top, with a gold belt and a bald head to boot—yes, Gaga can definitely take some tips from our desi quirks.
The Summit did make me think about a few things. Is art being created any more for art's sake? Who or what can determine the price of a piece of art? How do you value and label creativity/ingenuity? The journalist in me was raring to do get to the bottom of this mystery of art and its commercial trappings. Every art lover knows that Vincent van Gogh didn't sell a single painting while alive. I wanted some answers to these questions.
I turned to some of the artists who were floating around at the Summit, who were willing to answer to someone who was not from the press (but I did reveal that I was writing a piece for a magazine). Unfortunately, none of their answers were satisfactory. Some rambled on without making much sense, while others just gave politically correct answers. Oh, whither Wilde, so much for your "art for art's sake".
The whole four-day extravaganza did stir my creative juices, however, and I started thinking and believing that if so-and-so can be an artist, then why can't I? But I realised that my creative impetus lay only in words. So I have also decided to be an artist; an artist whose medium is a white background, upon which are printed words in black. And I have decided to sample one of my creative pieces right here—
"ARIS-TO-CRACY
ARTY-SO-CRACY
FARTY-SO-CRACY"
Anyone feel like offering up some green notes for my work?