Or, why I don't mind that my salary is "very less".
"Das hazaar for one month only? My God, so much, and only for you! Why don't you stay with some others? What do you need all of the space for? How do you manage?" say college students, young professionals, and Maharashtrian mothers of many, who talk with their hands.
"30,000 per month! My God, how could you have found a decent place for so little? Is it dirty? Are there bugs? How do you manage?" say returned N.R.I.s, corporate company-sponsored expats, and Italian and French tourist girls, who also talk with their hands.
These are the reactions that arise when the question of where I live comes up. How much do you pay for rent, ask wealthy expats, call centre workers, single mothers working as maids, art students, and rickshaw wallas. People from a variety of places, faiths, colours, backgrounds, families, and castes are all equally curious.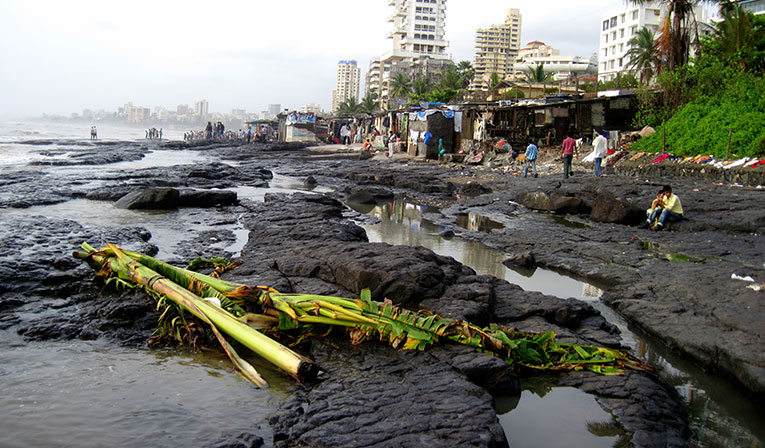 Both Shahrukh Khan as well as many migrant workers live at the edge of the sea, with the luxury of the view and the breeze. Photograph by Bronwyn McBride.
I admit that I don't tell the truth every time. For those in the lower income bracket, I offer "10k per month?" and wince a little bit, knowing that it sounds like a lot. For those in the (extraordinarily) higher income bracket, I say "30k per month?" and wince again, knowing that it probably sounds like nothing to them.
Each person in the Maximum City uses their salary earnings to pay rent on their homes, to eat, to move to and from work and around the city, and to enjoy themselves. However, each of those things is interpreted differently, depending on the salary that an individual earns and the socio-economic bracket that they find themselves in as a result.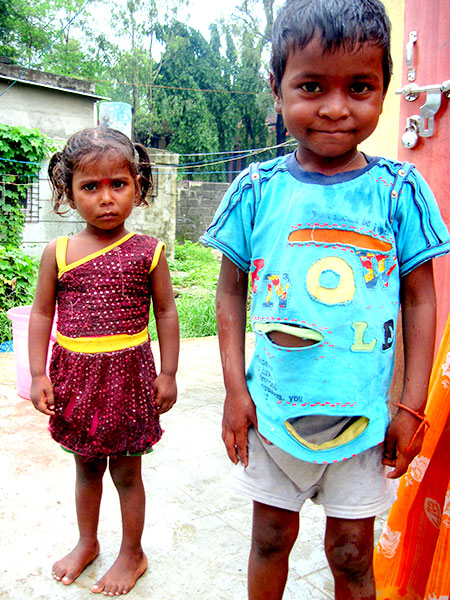 Kids, whether they grow up in big homes or on construction sites, make playgrounds out of whatever spaces they have. Photograph by Bronwyn McBride.
All aspects of life are defined by one's salary. The physical space that you live in, the way you move around the city, the food that you eat, and the way you entertain yourself. I'm no exception to this rule, but my case is a little different. Because I'm simultaneously an expat (read: used to being excessively pampered with a Canadian standard of living) and working for an Indian charity, earning in Indian rupees, my salary has become a discussion piece, which has solicited many reactions and interesting insights.
Viewed from a Canadian perspective, my salary is very low. Viewed from an Indian perspective, there is a range of reactions: It's too low, it's absolutely reasonable, it's really high! It just depends on who you ask.
The thing is, 10,000 rupees can pay for many different things in Mumbai, such as—
* 666 kilograms of rice or 200 kilograms of onions, or
* Six months rent for a two-room family home on the outskirts of Chembur, or
* A daily meal of paneer makhani and roti at a pure veg. A/C hotel for three weeks, or
* A teacher's salary at a school in Dharavi for three months, or
* Two evenings of high-end partying at a nightclub, or
* One night's stay at one of Mumbai's ubiquitous five-star hotels.
However, I'm as curious as the next person and would like to know: Apart from what money can buy, what does it mean? Does a person's salary determine their value, their importance, their ability to contribute, to give and take from life?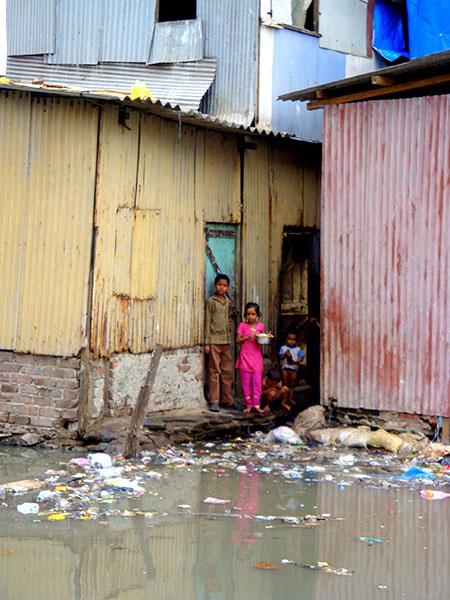 Families live practically on top of one another in the highest area of human density in the world— everything they do, they do together. One is hardly ever alone: A curse and a blessing at once. Photograph by Bronwyn McBride.
I know a person in Mumbai who makes a monthly salary of Rs. 1,700 and lives with his family in a tin home in Dharavi. I know another who lives in a company-sponsored flat that costs over a lakh per month in rent, and almost half of that again in salaries for maids and cooks and gardeners. Both of those people are equally important to me, and both offer me valuable insight into life and how it should be lived, what things are important and what things aren't. But does one work harder than the other? Is one worth more? And most importantly, do the very different salaries of these individuals also define their overall happiness and satisfaction?
Despite my salary, I have the impression of being one of the richest people in the city, because I can cross over the socio-economic lines and spend time with every person, and learn from that. I'm relieved to be able to observe a common and unavoidable human experience. Regardless of vast differences in salaries and resulting lifestyles, unavoidable emotions like grief, loneliness, hope, love, doubt, and desire apply equally to every person.
Mumbai's Dharavi is the largest slum in Asia. There are also more millionaires living in Mumbai than in any other city in the world. There are moments in this city where I feel impossible, irreconcilable differences between the different groups of people. I also savour the moments when we're all stuck in unavoidable heat, or unavoidable traffic together. Between the taxi wallas spitting paan out the windows, the socialites in their sunglasses, and the strawberry salesmen weaving through rows of cars and animals, everyone, despite their differences, is made the same.