Tattoo Tales
"Idiot tattoos are my bread and butter," proclaims Naveen, the owner of Irezumi tattoo parlour in Nungambakkam, Chennai. "Of course, I feel obligated to warn costumers, tell them to think about it, come back later, but these absurd ideas — you know, butterflies, stars, fairies and what not — are fifty per cent of my clientele."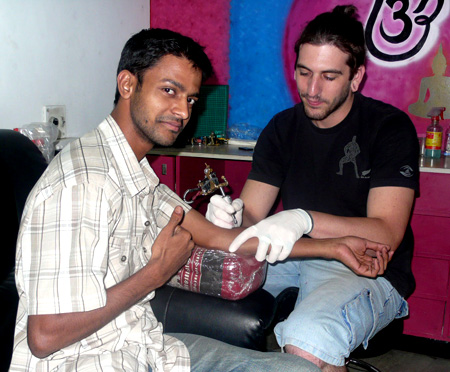 Irezumi owner Naveen Kumar gets his latest tattoo.
Naveen Kumar trained in a university in America and as an apprentice to an artist in Thailand. As a student, human skin was the dream — tattooists in training practised on pork skin. He was living the good life as a university student in America when the phone rang — "My dad called me back to handle the family business," he says gloomily, "My life was ruined. But then I decided to turn my favourite pastimes into a career."
Irezumi is a large, sparkling-clean facility located on College Road, that handles body piercings and tattoos. Tattoos are in the range of Rs. 2,000 upwards, and piercings are Rs. 500. His clientele ranges from 18-year-old college students to 65-year-old men. "Married women, divorced women, new mothers, old men, I get all kinds in here. It's a new idea so there's a lot of curiosity." And what about the pain everyone quavers from? "70 per cent psychological. It's like getting your eyebrows plucked. People scream and cry more before the actual tattooing."
As for how a person can enter this lucrative (a good artist can command 50 per cent of the payment per tattoo) career, Naveen says, "Go abroad. There is no good place to learn tattooing [in India] as of now, and it's a serious business that requires training. There are a lot of places in Chennai [that have been] opened up by people who don't know how to tattoo, teaching other people how to tattoo," he snorts. "Kind of like a jackass trying to teach you how to be a horse."
"The pain is 70 per cent psychological. It's like getting your eyebrows plucked. People scream and cry more before the actual tattooing."
Naveen is forlorn with the lack of creative tattooing in Chennai. A mention of the concept of getting your significant other's name tattooed on your body sends him into a sputtering rage. "I get a minimum of 50 to 70 of those morons a month! 21 years old, and they say we're in love, we want to get married. All rubbish, of course. I give them a whole bloody lecture but nobody listens. And obviously half of them come back in three months to change the tattoo. Once I had a girl who got the initial 'A' on her arm. A few months later she came back and asked me to change it to an 'R'. I said, honey, keep coming back every three months, I can do any letter of the alphabet!"
Naveen has encountered some strange tattoo requests, but never one as bizarre as when a man wanted an elephant's trunk tattooed on his privates. "I said no! Weirdos like that are the bane of every tattoo parlour." But when the tattoo is personal and artistic, then Naveen finds the artistic satisfaction he craves. "People will ask for personalised tattoos and we will work for days. It's very gratifying. Tattoos are extremely personal. A person should connect to the design."
Apoorva Dutt is a 21-year-old journalist in Mumbai, with the secret ambition of making it as a fiction writer. Apoorva has been published in DNA, The Hindu, and Platform Magazine. She likes travel, tattoos, writing about herself in third-person, and watching television. She does not, however, like auto-rickshaw drivers who overcharge.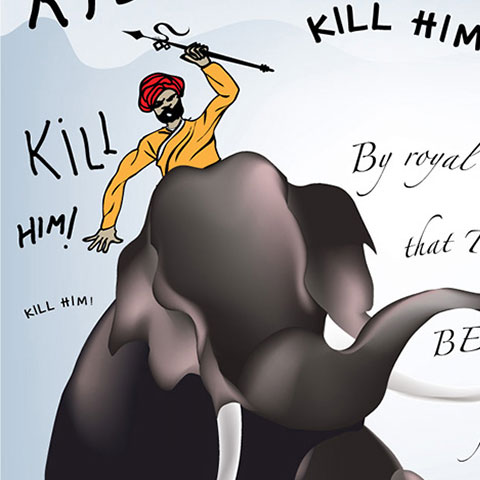 The Oracle of Tripe #1
What's Popular
Published on 05/07/2017

Published on 05/03/2018

Published on 11/03/2019

Published on 19/01/2016

Published on 20/02/2015