A few months ago, I got into a discussion about Bollywood with a film studies professor at my alma mater in Chicago. He was designing a syllabus for a class on Hindi cinema, and had asked to consult with me on the subject of women and sexuality in Hindi films.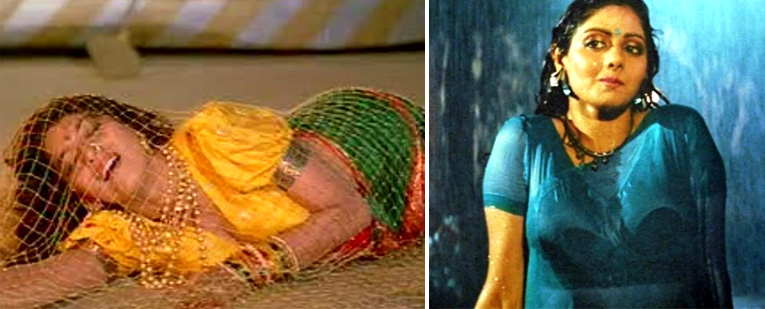 Madhuri Dixit in
Sailaab
and Sridevi in
Mr. India
.
Obviously, Sridevi and Madhuri Dixit were central to this discussion. After Zeenat Aman and Parveen Babi spent the '70s taking Hindi cinema where no actress had taken it before, Bollywood of the '80s continued giving us hitherto unseen glimpses of female sexual desire. Think about Madhuri in Sailaab, writhing on a stage, singing 'Humko aaj kal hai…', or Sridevi in Mr. India, dancing in the rain to 'Kaate nahin katte'. These songs are about little more than female desire at its purest. They are not directed at any man in particular (or are directed at a man the woman hasn't even seen yet), and are uncontaminated expressions of the woman's sexual craving.
There was, however, always a ploy within the film that justified this sexuality, and placed it in the realm of what was acceptable to the overall patriarchal structure of the film. In Sailaab it was made perfectly clear that the character Madhuri Dixit played wasn't really like the one we saw in the song, because the song is merely a performance. In Mr. India, similarly, it was okay for Sridevi's character to express unbridled desire because we, as the audience, knew something she didn't: the man she was singing to was the one we were rooting for, the one we knew she would fall in love with.
"Of course, that must have changed now," said the professor. "Hasn't Bollywood come a long way from a place where female sexuality and individuality needs to be justified, or contained in some way? Aren't Bollywood movies a lot more permissive now with female characters in general, regarding sexuality and social behaviour?"
My immediate impulse was to say yes, of course Bollywood is more permissive now. After all, the era of the simpering, wallflower heroine who waits in the wings, ready to don her damsel-in-distress hat, her perfect-daughter-in-law hat, or her only-my-husband-can-undo-my-chastity-belt hat is long gone. Female characters in Bollywood today have careers, they party with friends, they drink, and they aren't shy about their sexuality.
But does this mean Bollywood is more permissive with female characters than it was two or three decades ago? If you think about it, you will realise that the answer is no.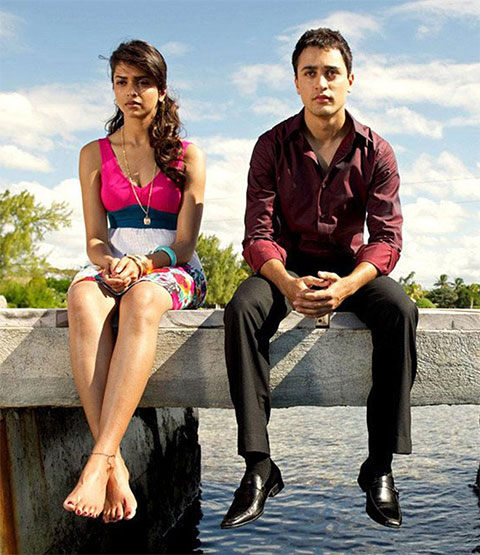 In
Break Ke Baad
, Aaliya (Deepika Padukone) breaks up with Abhay (Imran Khan) when she decides she wants to go abroad to study and forge a career.
Let's consider two recent films that are largely considered to be narratives about modern, non-traditional relationships, and bold, strong women: Break Ke Baad and Heroine. Break Ke Baad shows us the romance between a young couple that ends when the girl, Aaliya (Deepika Padukone), decides she wants to go abroad to study and forge a career. After some completely unnecessary and off-putting passive-aggressive drama, her boyfriend Abhay (Imran Khan) finally 'lets' her go, but then immediately decides to follow her to Australia, despite the fact that Aaliya has made it clear she no longer wises to be with him. The film works until this point as an interpretation of the complications of a modern relationship. Aaliya wants to try new things, and Abhay finds it difficult to let go of her. Sure, Abhay is annoying and out of line most of the time, but those major character flaws apart, it is easy to ignore him. I thought the moment in the film when Aaliya finally convinces him to leave her alone and return to India was a massive victory, something that would enable her to be truly free to explore her new life, and live it up as a young, independent woman. That would be a great ending, right?
Wrong. Sadly, the film doesn't end there. We learn that Abhay has returned to India only so he can organise his own wedding with—wait for it—Aaliya. He "invites" Aaliya to this wedding, and the film ends with her realising through tears of joy that this is her wedding. A wedding, I feel compelled to repeat, that was organised without her consent, without her knowledge, and with the assumption that if the men in her life continue to humour her crazy ideas about freedom and individuality, she will eventually come around to their way.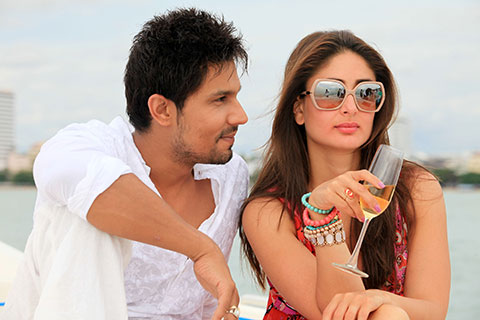 In the end, Mahi's (Kareena Kapoor) failures in
Heroine
have nothing to do with the fact that the industry she works in is rotten at the core or that the people she befriends are not trustworthy.
Heroine introduces us to Mahi (Kareena Kapoor), a rising star of the film industry. At the start of the film, every tide is turned in her favour—she is talented, she has the right friends, and she is deeply in love, albeit with a man going through a messy divorce. Like a lot of hardworking people, Mahi likes to bask in her success. However, she also likes to party and to drink, both of which are used as devices that turn what could have been a film about an impressive woman who learns how to play the game right into a dreary saga about how a celebrity loses everything because she can't hold onto the men in her life. The slimy veneer of preachiness spread all over the movie serves to connect Mahi's every supposed deviation—her self-made success, her preference to drink and smoke, her turning down a marriage proposal from a perfect man, and, most importantly, her sexual relationships with the men she dates—to her eventual downfall. In the end, Mahi's failures have nothing to do with the fact that the industry she works in is really quite rotten at the core or that the people she befriends are not trustworthy. No, Mahi's failures are entirely the result of her attempt to live her life on her terms.
Having watched these films around the time of my discussion with the professor, I decided to broaden the sample from which I was drawing these conclusions, and asked around for more recommendations on recent films that claim to deal with the complexities of modern relationships.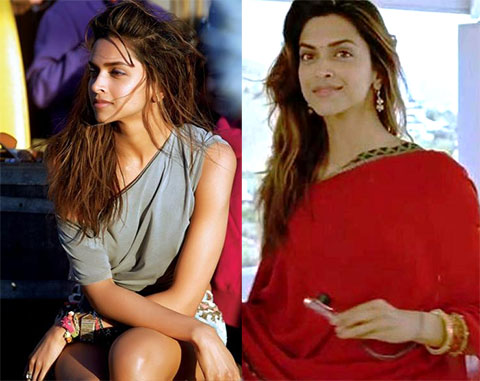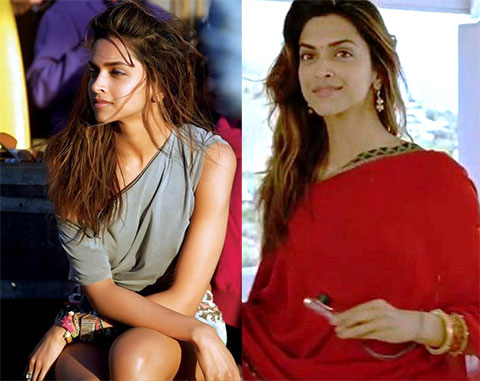 Veronica's (Deepika Padukone) transformation in
Cocktail
.
That's how I got to Cocktail.
To cut a long (and painful) story short, Cocktail is about how a spunky, independent, and very giving woman, Veronica (Deepika Padukone), gets swindled out of love by her best friend Mira (Diana Penty), and her boyfriend Gautam (Saif Ali Khan), both of whom practically survive on Veronica's generosity. Gautam lives at Veronica's place, sleeps with her, and has a fantastic time with her overall. But when his mother makes it clear to him that he needs to get married, he promptly falls in love with the meek and dutiful Mira, whose meek and dutiful habits he has relentlessly made fun of so far. It's okay, though—it turns out to be a good lesson for Veronica. As Gautam's uncle—a character sleazier than Gautam—explains to her, if she wishes to find a man, she needs to make herself worthy of him. Fortunately, Veronica is quick on the uptake, and immediately starts wearing Indian clothes, ditches her wavy tresses for boring, straight hair (when did wavy hair become indicative of deviant behaviour?), cooks Gautam's favorite dishes, stops partying, and starts praying (at the Hindu hotspot Mira put together in her apartment: clearly the fact that Veronica is Christian is unimportant).
To suggest that I was disappointed would be a gross understatement, but I always try to look at the positive side of things. Quite like Veronica, I too learnt an important life lesson from the film: if I ever hope to interest a man—even a creepy and annoying one like Gautam—I need to quit being an individual, pronto. I need to switch every item in my wardrobe for a salwar kameez, stop partaking of alcohol, and make a little pooja-cubby in my home where I can sit and pray everyday. Oh, and I need to wipe my sexual ledger clean, somehow.
Female characters in Bollywood today are witty, independent, sexual, and confident, but only because—and until—the men in their lives allow them to be that way. In Bollywood, bad girls may have started to have their share of fun, but it's still the good girls who get rewarded.