"We have one life to live. To deny ourselves art in that one life would be tragic." So believe the founders of Kulture Shop, a Bandra-based showroom and store that is trying to bring art, accessibility, modernity, and Indian-ness together under one umbrella.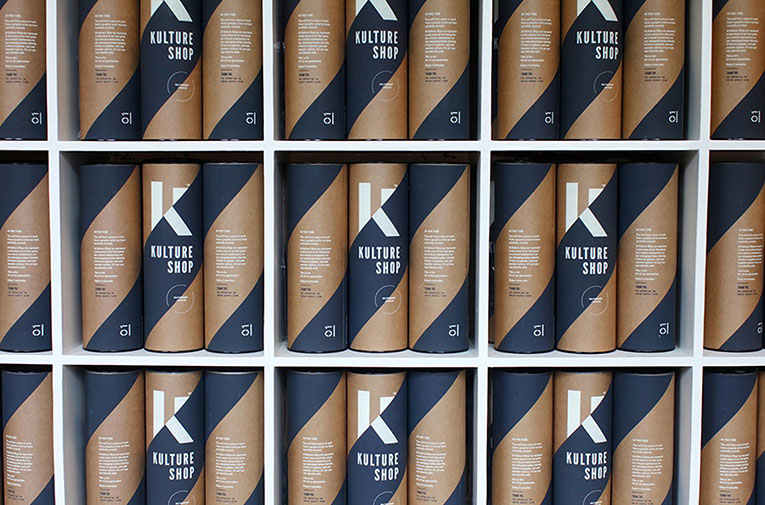 "We're building a community." Photograph by Arjun Charanjiva.
Based on what they call a "sustainable ecosystem", the founders of Kulture Shop—Arjun Charanjiva, Kunal Anand, Jas Charanjiva, and Rajeev Sathe—have built a platform through which the work of promising Indian graphic artists can be released into the public sphere. Each piece of art sold and promoted by Kulture Shop includes the artist's name and a short biography, and all artists involved are compensated fairly. According to the founders, by selling their art through Kulture Shop, artists could stand to make "more than they would at a regular design job".
The artists whose work is printed on Kulture Shop products are not considered by the founders to be people external to the business. "These artists were included [in the business model] from the start. It's a collaboration; we're building a community," says Kunal Anand, Creative Director of Kulture Shop. When the art is being printed on each product, he sends photographs of the production process to the artists wherever they are in the world; it is something to celebrate and be proud of for all of them. When asked whether being firmly on the side of the artists ever takes away from strengthening the Kulture Shop brand, Anand disagrees—according to him, the artists are "their own brands and sub-brands within Kulture Shop". Arjun Charanjiva, Kulture Shop C.E.O., says, "Our business model is based on various similar international models. [For a setup like this one] there are no fixed investments and therefore our costs are low. So in sustaining the artists, we are sustaining ourselves."

At Kulture Shop, art is used to explore identities, to embrace being multicultural, to find out who you are. Photographs by Sameer Tawde.
At its core, Kulture Shop aims to be "essentially Indian". But what does it mean to be Indian? How do one's experiences qualify as 'Indian' to a community that consists mostly of urban Indian youth? "People still have a closed, clichéd view of India, and perhaps because of that, people of this generation have nothing to connect with or hold on to," says Charanjiva. Instead of addressing an outsider's view of India, or some Indians' own notions of what the essential Indian experience should be or how it should be represented, the products at Kulture Shop showcase Indian artists from all over India and the world, addressing a range of subjects from everyday happenings and familiar conversations to youth and social issues. At Kulture Shop, art is used to explore identities, to embrace being multicultural, to find out who you are.
"In sustaining the artists, we are sustaining ourselves."
Another thing that Kulture Shop considers to be a part of its identity is the idea of depicting "the art of our times, on the canvas of our times". The people behind Kulture Shop believe that the role of art is to reflect the times, and this gives us a fresh, relatable, somewhat progressive understanding of art. Part of what Kulture Shop wants to do is to "challenge traditional notions of art". They believe that art in India should no longer be defined as it was in the past. "India has changed tremendously in the last 10 years, and the rate of growth is increasing," says Charanjiva. "We expect to see that reflected in the country's art."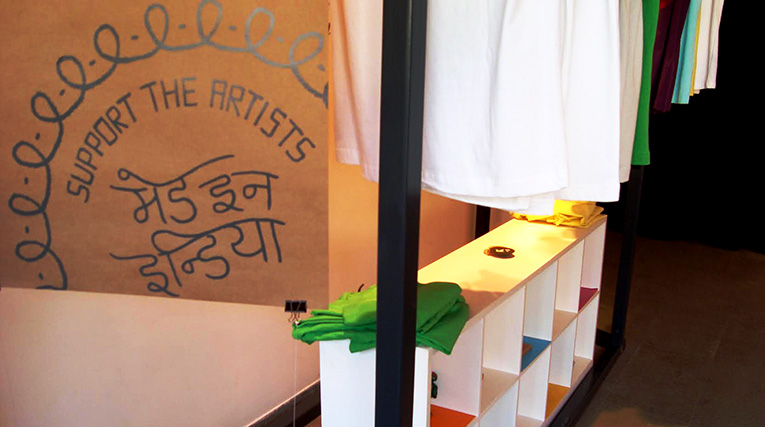 At its core, Kulture Shop aims to be essentially Indian. Photograph by Apoorva Tadepalli.
In a sense, through their work, the artists promoted by Kulture Shop are trying to change the way people see art. They believe that graphic art is essential to their definition of "the art of our times". They also believe that lifestyle products are some of the best canvases of our times; something that can be used and worn and shown to people and appreciated through ownership, which is why besides art prints, a lot of the art at Kulture Shop is printed on t-shirts.
While the founders of Kulture Shop believe that art no longer belongs behind glass panels in private halls, they also believe that it should not be free or all-pervasive (which is why all Kulture Shop products are created and sold as limited-editions). And despite popular emerging ideas of art as free and for public use and transformation, they are of the opinion that a distinction must be made between street art and art that is owned and paid for. At the same time, it is important to them to get art and design out into public spaces, for art to be seen and shared and felt (which ties in nicely with their range of products). Armed with the founders' vision, the minds behind Kulture Shop are hard at work from their quirky studio on Hill Road—functioning as a showroom and an office with movable and multi-purpose furniture—to build on a platform that alters perceptions of and promotes conversation about modern Indian art and design, and to find that elusive middle ground between accessibility and exclusivity.
More from Kulture Shop