Anonymous Asked: What Is Dating Like in Sri Lanka? And for You?
Poem by Rushda Rafeek • Illustration by Kamal Singh


You can do it. Accept that he isn't upper class diplomatic
or a refugee of war or lover turned killer.
Then you do places like militarised Galle Face: umbrellas
curl open ice-cream kithul finds a way to hold hands
longer than flavours. The ocean
milks the betting
arm of roulette Shangri-La
to play in 2015. Aiyyo salli (money).
She begged him to understand, her father wouldn't
stand this, "Let's settle one thing first."
She looks away, "Forget me."
The banyan tree yawns down locks of leather,
you'll find meaning and then you won't
know her if you're married to little tea shops
sipping un-cosy colloquy against limits that remind
you of her—deprivation as this namut (but)
aeyi? (why)
Elite oblivion teens make rich poems
say: for our last outing
to Bars never before had we laughed
got drunk gripping tight
to the joke, it rained
smoke rings, jazz music, hedonism.
Your trace
was hunger under silver cloches
this, a warm spell astounds
surely you muffled then:
"I just wanna cut and paste you
hold you, smell you, taste of you
is difficult to die
when you have a kind of gunk. Malignant."
Blog, share, click, it's important
to love and sign in,
log in, here's your ass just for him.
If your name begins with Mohamed or Fatima
all fears, past sweaty palms;
"You can't marry that boy (finger wagging)
you marry what I choose you hear? You better."
Still surely you swathe in silence, then people
keep eyes on you, walk your walk
talk to a ten on you carrying shame now the dead foetus.
If it's clearer, I throng with rage
memory thrills loss bunched together—
cradle it like a braid of who touched me
where and why
twist it into bangles breaking itself
in my hands are scars like myrrh I dazzle;
throw fists of cardamom pods renders bearable I
shovel knives riddled unto backs of betrayal,
ethnic minority ensues. I reign;
moor the craves, barb my archipelago
gather the huntress mauled
tears wash their own grief,
shadows, mirages, traces
some lives sail, others alone.

Rushda is comical, quirky, and mysterious, or so they say. She also likes India's big yellow taxis and hopes to drive one soon.

Kamal is a musician and illustrator from Bangalore. Better known as the guitarist of post-rock band Lounge Piranha, he also writes songs under the moniker of Hoirong, and makes a living making t-shirts and other things at Hypno Owl.
← Previous (Why Else Do You Think I Carry Bandages?) · Return to New Writing: Vol. 3 index · Next (Paper Cut on My Tongue) →
Past editions of New Writing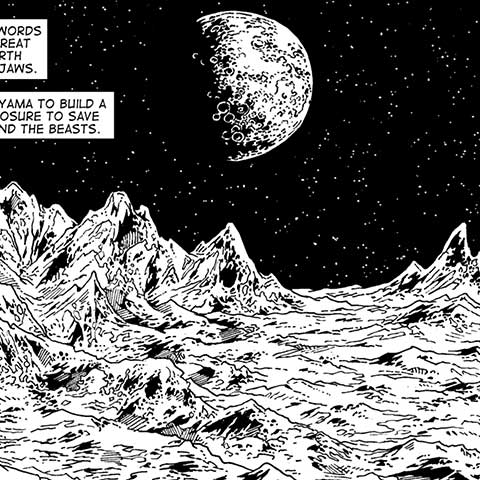 The City Speaks #6
What's Popular
Published on 05/07/2017

Published on 05/03/2018

Published on 11/03/2019

Published on 19/01/2016

Published on 20/02/2015