Located at the heart of the industrial belt of Uttar Pradesh, Lucknow is as famous for its adab and tehzeeb as its university politicians.
It is a burgeoning metropolis that reeks of filth and sweat during the day, but still manages to smell nice if you happen to take a stroll along the Gomti at night. A breeding ground for caste politics, where ambassadors with red beacons far outnumber policemen and their ancient jeeps. A culture that totters on an edge as it blindly embraces an alien cosmopolitan look while desperately trying to retain its wildly romantic medieval identity. A town that boasts of chaat stalls at every nukkad and kebab counters at every second one. A jealous lover who almost managed to kill me on one of its generously potholed roads when I was trying to run away from it.
Lucknow is, for the most part, a sleepy town. If Beijing has a bunch of C.E.O.s riding the bicycle to work in order to cut down on air pollution, I am sure Avadh has its fair share of environmentally conscious babus who paddle leisurely on deserted roads so that they have an excuse for reaching office late. Hardened veterans like me aren't so easily fooled by misleading names, like Shiraz-e-Hind or Constantinople of the East, that have been made popular by glossy tourist magazines. Bhai, Lucknow is Lucknow. What is this Constantinople business? I don't know what they are supposed to imply now anyway. Some long lost connection with the Ottoman Empire that even the Turks have forgotten about—that is my guess.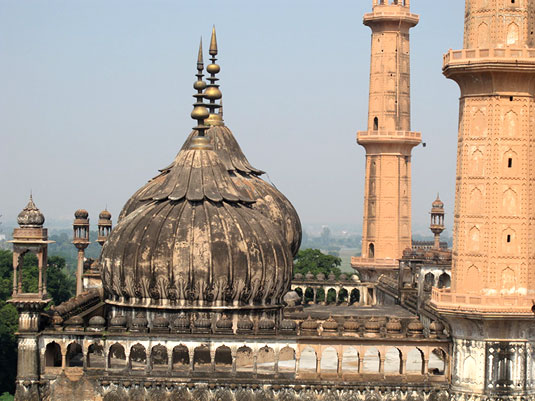 A culture that totters on an edge while desperately trying to retain its wildly romantic medieval identity. Photograph from
Flickr
.
This lethargy is contagious and spreads its evil wings most conspicuously during the interminable summer afternoons. Unpardonably efficient management executives in black suits, like the ones found behind the glass facades of conference rooms in Delhi and Bangalore, would probably drag their feet along the empty corridors while drinking bel juice, were they to find themselves in Lucknow on such afternoons.
You will probably say seeing is believing. Well, I think I am too lazy to argue otherwise. But I do know of a particular vegetable vendor who is too indolent to even bargain with his patrons. So much so that his stall at the weekly Chinhat Bazaar has developed something on the lines of a cult following. Even though his wares are second rate at best, I make it a point to buy my baingan from him. No matter what people say, I do play a key role in preserving the city's culture.
As if this pathological defect were not enough, the famed tehzeeb of the erstwhile Nawabs still clings to its denizens like a burr. Only yesterday, my mother was boxing a kid's ears for addressing his elder brother a tad disrespectfully. "Let his mother pull out his ears," I protested. "Kids, these days, I tell you," was all she offered in response, leaving me to wonder whether the sarcasm was intended for me or the poor brat who was still nursing his ear. I have also heard of katta-toting lafangas from Habibullah Hostel at Lucknow University who put a bullet in some poor guy's ass just because he was a "tu-tadaka" person.
I agree—such extreme measures might seem unwarranted. But though the influx of uncouth elements from the east has done little to harm the town's consolidated reputation, the younger generation no longer considers it fashionable to be either modest or 'cultured'. It dresses up in fluorescent Adidas sweatshirts bought at half-price from the footpath vendors at Janpath and does not give two hoots about the "pehle aap" routine. Bhai, that is their definition of culture. I must confess, Nawab Wajid Ali Shah is probably turning over in his grave right now.
But despite the stagnation of the place, or maybe because of it, change is managing to keep up. There is this new shopping complex close to home which seems to have become the one-stop destination for my mother's provisional needs—from Internet to raita masala, hair cuts to disposable glasses, betel leaves for puja to desi eggs for the yummiest omelets, and from Cetirizine tablets to mosquito repellents. Then there is the mall a little way off which, like a modern mela, is gherao-ed every evening by an alarmingly high number of Lakhnavis in halter necks, tank tops, and jeans. Often, there is a desire to become a part of the milling numbers and pay homage to a borrowed culture. But I try to reserve that opportunity for desperate times.
Contrary to what one might expect, this sluggish town does not embrace you with open arms. It tries you. Then tests you. And when you have failed in all of your ordeals, it smiles benevolently before letting you cross over to the other side. Growing up, I had my fair share of such trials and tribulations. And so did some of my friends. It made us saner people, if anything.
You will probably wonder what role a sleeping town could play in the evolution of 'mankind'. But what's a city if not its people, their ambitions, their fears, and the tale of their triumphs? One day, in between all the cursing at unrelenting traffic jams in 15-inch lanes, while snapping at the nearby scooter-walla for drawing in too close, and haggling with the vegetable vendor over a kilo of baingan, I realised that I had become such an integral part of the other that it had begun to effect changes in me. It was precisely at that moment that I contemplated falling in love with Lucknow, hoping my love for her would change me for the better. There was something pale, prosaic, and insipid about her. I sighed inwardly. The moment passed.
Lucknow has been home for the past 16 years. The city personifies a lot of things for me. My parents. My first victory. My numerous failures. My only crush. My several romances. My best friends. My silent afternoons. My fall from grace. As a foregone conclusion, my story is my city's as well. It lives and breathes in my toil, tears, and dreams. It has been a witness to my evolution, the wrenching out of all my desires, and a miracle of co-existence and acceptance. As both of us stake claim to an unknown future, we realise these bonds were meant to last forever. For each one of them has sculpted a facet of my personality, distinct and yet a part of the whole. Like all of hers, I feign nonchalance and think of moving on to greater and better things. But I shall remain hers, as before. And these invisible ties will keep drawing me back, just like the prodigal son, no matter how much of the world I have seen.