Sometimes, the right kind of waiting can yield a line, and at other times, a writer in waiting herself. Aditi Machado grew up in India, and currently lives in St. Louis, U.S.A., where she is pursuing an M.F.A. Her literary work has appeared in numerous publications such as the Guardian, Eclectica, A capella Zoo, and Pratilipi. She also edits the poetry section of Asymptote, an upcoming international journal of translation. She has won the Srinivas Rayaprol Poetry Prize and the Toto Funds the Arts Award for Creative Writing in 2009.
Aditi daydreams about friendships forged in bookshops, blogs about the books she stumbles upon in secondhand troves, films she devours and dissects, and the odd cooking spree at Blotting Paper. She's a conscientious reader, and a careful one. The 23-year-old talks to us about her writing, her chaotic method, and what the future may hold for her.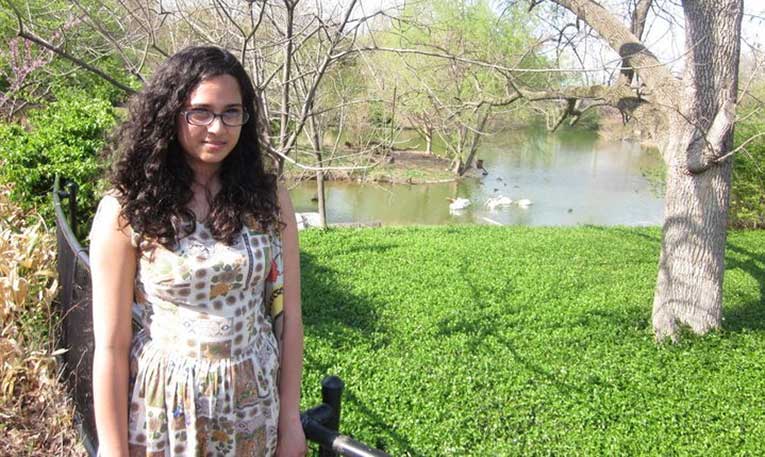 Aditi Machado: A writer in waiting.
Larkin once said, "I seem to have spent my life waiting for poems to turn up." Do you find that you go looking for poems or do they turn up for you?
Both. What seems most important, to go off Larkin, is the quality of the waiting. You have to prepare yourself for a good line, be able to recognise the promising from the trivial: a lot of work goes into the richness of that waiting. I try to read a lot. It helps that I'm in graduate school and am constantly taking classes and learning. I've been working on a series of poems that engage with various Christian mystics, so it involves a fair amount of reading and research. I suppose sometimes ideas for poems just happen and sometimes I sit down to create something from notes, but in both cases, I work for the poems I get.
"Writing is a muscle. You have to keep exercising it, even if you're just writing in your head."
Do you write in notebooks, loose paper, or laptops? Do you find that the choice is a conscious one? Does it have an impact on your writing?
I use all three and I do think it has an impact. Not that one method produces better poems necessarily, but this is how it works for me: since I'm working on a collection of poems for my thesis, I have a notebook in which I write notes and revisions, and collect ideas and books that might interest me. I don't always carry the notebook with me, so if I think of something away from it, I write on bits of reused paper, receipts, and things like that. Most of my actual writing happens on my computer (a laptop that I use as a desktop P.C., because I don't take it anywhere with me unless I'm travelling). The whitespace of a word processor page is very helpful. I can see what I'm thinking, if that makes any sense to you. I like to know that I have margins. But then sometimes when I'm making changes to a poem, it's hard to know my instincts while typing. So I rewrite the poem by hand. Then it's like my body knows what's necessary for the poem.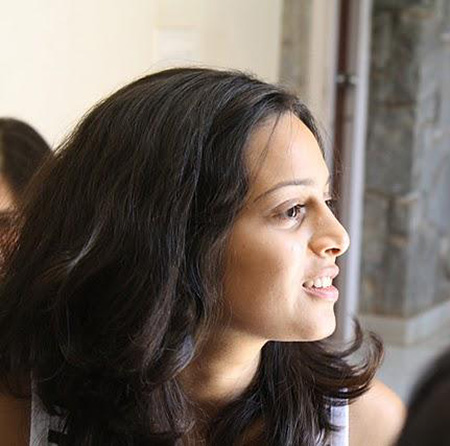 "What does it mean to take words seriously?"
In the movie Howl, Ginsberg says, "If you write all day you'll get into it, into your body, into your feelings, into your consciousness." Does writing more really help you write better?
Well, I don't have good feelings about that movie in particular or Ginsberg in general, but I would agree that writing is a muscle. You have to keep exercising it, even if you're just writing in your head.
Most writers will insist they have a strict writing schedule, that their mornings or evenings or nights are stashed away for writing and nothing else. Is there a writing ritual you hold sacred?
I'm very envious of these writers and their discipline. And I know it's true. A lot of my friends have schedules. If you're a novelist, you need it more. I go through periods of having a schedule and then not. It's either early in the morning or late at night, when there is a schedule. Most of my rituals are not time specific. They have to do with space. I need a certain amount of clutter around me. I write better sitting on the floor, with my laptop on a chair in front of me. Then, on the page, I work better with certain fonts than others. Living in the States for the past year-and-a-half, I've found it useful to keep to British spelling and punctuation. It's an old part of me that still needs to be there.
Do you believe in defining moments and triggers? Was there something that tipped you over into writing poetry?
Hmm. I haven't thought about this enough. I remember that at one time I used to write fiction as well and didn't necessarily think of myself as a poet. I was writing everything I thought I could. I think I was around 17 when I started to focus on poetry more. This might be because I'd spent the previous year 'writing a novel'. It was terrible and I realised I was no good with stories. I'm not sure I can pinpoint the moment I realised this, but I now know I'm better off as a poet.
It's sensory, it's visual, it's evocative. But you seem to plant your thoughts in things rather than people. Tell us about your subjects.
Things are often more interesting than people, don't you think? I don't always know what my subject is. Most poets seem to write about themselves at various degrees of remove. I think I probably write about myself too, but I find a less confessional way to do it. I used to write a lot of persona poems set in Bangalore, where each poem seemed to be about or in the voice of a character. I've also loved writing ekphrastics (poems based on works of art) as a way of seeing into an art object a way of thinking or experiencing the world. I like hypersensitive worlds, maybe because I am hypersensitive, so I like leaves and mud and the earth changing, being sculpted naturally or unnaturally.
"Things are often more interesting than people, don't you think?"
The Internet's bringing to the fore a generation of writers that may otherwise have slipped from notice. Instant publishing has changed the way we perceive writing and the world in general. But now every thought in our heads is documented at a click. Do we take words less seriously than before?
Perhaps. It's hard to be definitive about this: who is "we", for example? One would need to think of a very homogenous group of people to even consider answering that question. And then, what does it mean to take words seriously?
Does translation sometimes feel like writing at a remove? Does the desire to turn it into your voice ever creep in?
Translation can sometimes feel more like 'work' than other kinds of writing, but at the end of the day, translation is a kind of writing and has its rewards. It does feel sort of like one is channelling someone else, but since so much is at stake—at the level of the word and comma as well as in a global sense—I tend to feel even more enmeshed in the writing. The smallest of decisions can be a false step or a move that makes everything cohere. I don't translate all that much, but I am still working on translating some prose by Marguerite Duras. When I've tried translating poetry, it's been harder to allow for the author's aesthetic to survive; I keep wanting to change their similes into mine. For some reason, I don't have that problem with Duras.
What's next? For your writing and your work?
I'm not sure. I graduate with an M.F.A. in the spring of 2012. By that time I'll have a thesis comprising a book-length collection of poems. I hope to keep working on it, and since you asked, no, I'm not looking to publish it. The biggest mistake, I think, is to publish too early. And of course, no matter how much I'm convinced my collection is worthy, it's very hard to get a book published, especially a book of poetry. I'd love to get a few poems into respected journals and take it from there. Meanwhile, I plan to keep studying, though I've missed all the important deadlines. I'd like to do anything that would let me keep writing on the side. I also love teaching. I spent the last few months teaching a beginner's poetry writing class at Washington University in St Louis. It's easily one of the most rewarding experiences I've ever had. I have one more semester of teaching at Wash U. After that, a more permanent teaching job would be great.