The Bacardi NH7 Weekender is being touted as India's "happiest music showcase festival", and if the first edition of the festival was any indicator, that may well be true. Promoted by MotherSwear Entertainment, the festivals division of events company Only Much Louder, the much-loved festival is back in Pune for a second round, from November 18-20. We caught up with Vijay Nair, founder of Only Much Louder, for an exclusive interview about what goes into the making of a festival like the Bacardi NH7 Weekender and what festival-goers can expect this time around. Read on for excerpts—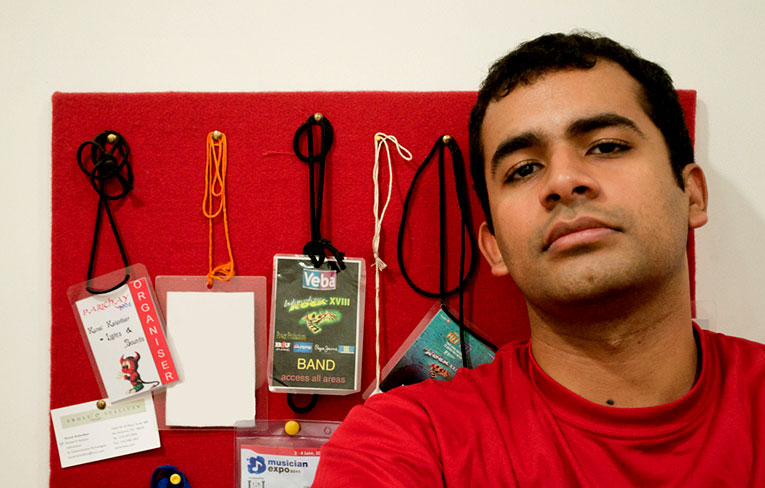 Vijay Nair is a veteran of the independent music scene in India. Photograph by Naman Saraiya.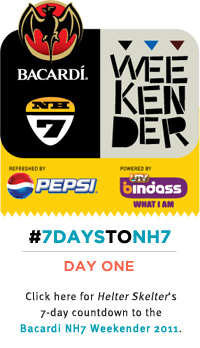 How would you describe the Bacardi NH7 Weekender to first-timers?
There are two kinds of first-timers—people who would know all about the bands, and people who are not familiar with the Indian independent music scene. I think it's going to be three days of absolute discovery for them—discovering the different kinds of music that Indian bands are capable of. Like we keep saying, it's basically the happiest weekend that you can have in a year. That's not just with respect to music-based content but the complete experience—something that people won't find in the country anywhere else.
What sort of planning and effort went into putting the Bacardi NH7 Weekender together for the first time in India?
We've (Only Much Louder) been around as a company for nine years, and it's fair to say that it probably took us that long to put together something like the Bacardi NH7 Weekender. I was very lucky to get to see a lot of festivals abroad in my early days as the manager of Pentagram, and I started thinking about doing a festival of that scale in India. But I think it's only in the last two-and-a-half years that we decided that we were capable of putting together something like the NH7 Weekender. I think by then we had enough experience of working with artists, venues, etc. to pull something like that off. NH7 specifically as an idea came about when I met [festival co-promoters] Martin Elbourne and Stephen Budd in the U.K. I pitched the idea of doing a music festival in India to them. We started from there, and it all came together eventually.
Was it tough to find sponsors for the first edition of the festival?
It was very tough. I think that I now have the liberty of hindsight and we're lucky that this time we have a bunch of sponsors coming and speaking to us about NH7, but last year we were trying to do something that wasn't done before. It was very hard to get sponsors until we met Bacardi and a leap of faith happened. They backed our idea all the way. Even Bacardi came on board only about 20-25 days before the festival. It was pretty crazy.
"The Bacardi NH7 Weekender is going to be three days of absolute discovery for everyone at the festival. It's basically the happiest weekend that you can have in a year."
Why did you decide to have the festival in Pune, considering that the music scene in the city is not as active as it is in some other cities in India such as New Delhi or Bombay?
I think you just answered your own question. Essentially, there are not too many gigs that happen in Pune; people have not done anything like this in the city before. For all those reasons, we looked at it as an opportunity. We didn't really look at it as a drawback. We also needed a big enough space for the festival as it's a multi-stage festival, and it's impossible to find that sort of space in Bombay. Organising the festival in Pune turned out to be a good move because it brought in a good, filtered audience for the music festival. So even people who came from Bombay to Pune drove down for the festival specifically, which means that they were a proper, hardcore audience who absolutely loved music, which is great.
The venue for the first edition of the festival (A.B.C. Farms, Koregaon Park) was perfect. What made you look at another venue this time around?
We had reserved a series of grounds for the festival last year. One of them has now become a tennis court and the other has become a gym. So it wasn't feasible to do it at the same venue anymore as there isn't enough space. Magarpatta City is just five kilometres away from A.B.C. Farms, and is very convenient for everyone. It's in the centre of the city, it holds a much bigger venue, and it's all part of one big space.
There seems to be a lot more promotional activity around the festival this time around than there was the first time around.
The first time around, the festival really only got confirmed about a couple of weeks before it was due to happen, when Bacardi got on board (laughs). There was a big question mark for the longest time, and once it was confirmed that the festival was on, we decided to focus all our energy on operations and make sure that we got every little thing right. I thought that if we got the production right, then everything else would sort of fall into place.
What was the best thing about the first edition of the festival for you?
For me, personally, the best thing about the festival was that it actually—touch wood—went off without a glitch. We've been organising concerts for a long time now, and it's an unwritten law that something is always bound to go wrong—but I'm happy with how we pulled it off. Another good thing about the festival was the kind of people who showed up for it. Everyone really came for the music and for the festival—there was no "Chalo party ho raha hai, let's go", you know? The bands had a great time because the audience was great, and vice versa. Everyone overall was really happy. That's something that really worked in the festival's favour, and hopefully we can retain that this year as well.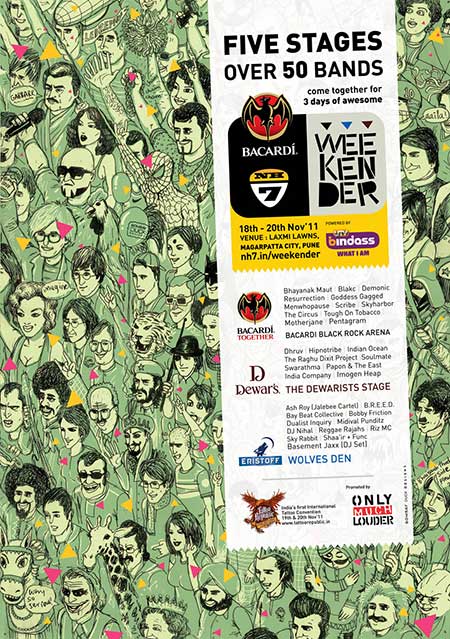 Bacardi NH7 Weekender: November 18-20, 2011, at Laxmi Lawns, Magarpatta City, Pune.
On what basis are artists chosen for the festival? How did you decide on Imogen Heap and Basement Jaxx as headliners for the second edition of the festival?
A very small group of us at Only Much Louder (two or three people) sit down together to finalise the lineup of artists, because the more people that are involved, the more opinions there are, which confuses things. We talk about all the bands that we'd like to see as a part of the festival, and go from there. This time around, we didn't want to repeat a lot of bands from the first year, so we had to sort of keep them aside, although we really wanted them in as well. We looked at some newer bands that we thought might be a good fit for the festival. As far as international artists go, Imogen [Heap] is someone that I really tried to get for the festival last year. But, as it turned out, there really wasn't enough time, since the festival was only confirmed about three weeks in advance, and it didn't happen. We've constantly been in touch after that—we know that she wanted to come and that we wanted to make it happen. Even with Basement Jaxx, there was a similar history where we tried to do a tour last year, but again, it didn't work out. So we decided that the Bacardi NH7 Weekender this year would be the best time for them to come to India.
A lot of people enjoyed the festival the last time around because they felt that you got a lot of little things right—everything from the lighting to the sound to the general atmosphere of the festival. What can people expect this time around? What's different and what stays the same?
A lot of things are going to stay the same. We are very conscious that we're not going to expand the festival in terms of, you know, we're not going apeshit and saying that this time there will be 150 bands, etc. We're focusing a lot on promotion, but on-site it will be the same small festival that people saw last year. It will probably be a bit more organised this year. As far as people are concerned, everything went perfectly last year, but we (the organisers) know all the different issues that we had to deal with in the background. This time, people can definitely expect many more elements apart from music. There's Tattoo Republic, a tattoo convention, and three or four other things that we'll announce soon. This is an attempt to promote alternative culture along with music at the festival. Apart from music, there are a lot of smaller art forms that are picking up in the country, and those need to be highlighted, which we're looking to do at the festival.
Do you have anything to add for people attending the festival this year?
Bring your friends! (Smiles)