Sit Down, Relax
Irreverent rap geniuses Das Racist first shot to fame with 'Combination Pizza Hut and Taco Bell', a track that repeatedly skips like a little blond girl across the line between "brilliantly experimental" and "stupid nonsense". Far from being a one-hit wonder, Das Racist proved with their subsequent two spectacular mixtapes (Shut Up, Dude and Sit Down, Man) that they bring all parts of themselves to their music: the college-educated, politically-aware minorities part as much as the stoned slackers part. Helter Skelter caught up with Himanshu Suri (Heems), Victor Vasquz (Kool A.D.) and Ashok Kondabolu (Dap) shortly after the release of their first full-length album, Relax. Read on as Das Racist gives you the zaniest interview you'll ever read.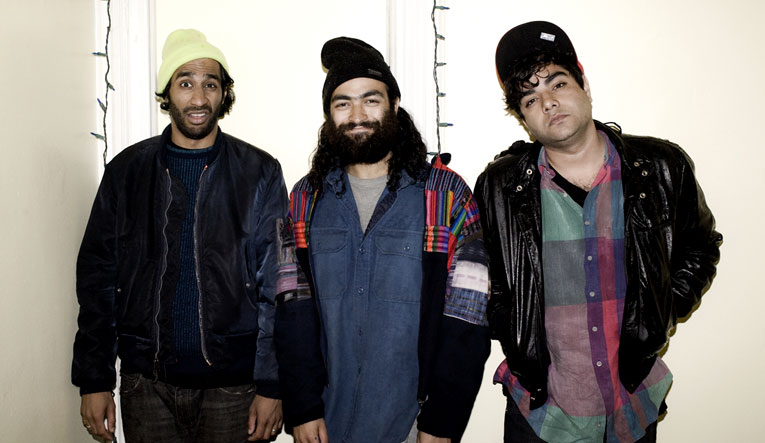 It pays the bills. Photograph by Brayden Olson.
How would you describe your music to someone who's never heard anything by Das Racist?
Heems: Rap.
Kool A.D.: It pays the bills.
Dap: I would talk to them about the weather and how busy my saloon was (if it was busy).
Tell us about the usual process of making a Das Racist song. What happens first: the references, the jokes, the beats?
Heems: The song.
Kool A.D.: We usually start by typing up the invoice.
Dap: LET SLEEPING DOGS LIE, MAN, SERIOUSLY!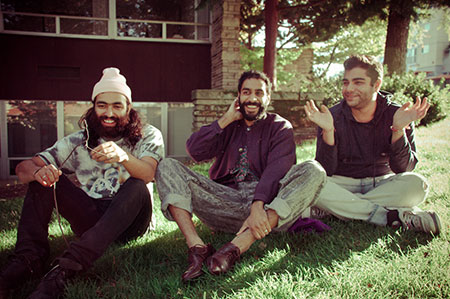 Irreverent rap geniuses. Photograph by Kyle Johnson.
Your two mixtapes Shut Up, Dude and Sit Down, Man were hailed as a new voice in smartass joke/stoner rap, but it's smart and politically aware, too. Why do you guys rap? You could as easily be putting your views and opinions into think-pieces somewhere.
Heems: We do that too.
Kool A.D.: We do write "think-pieces" sometimes.
Dap: Nobody's gonna knob off a writer, am I right? But no, seriously, I'm very sad.
Did you have any jobs before Das Racist made it big? Would you ever go back to your day jobs?
Heems: I was a headhunter on Wall Street. I wouldn't go back but I would go back to a job at an office again. Why not?
Kool A.D.: I had a lot of jobs before this. If this doesn't work out, I guess I'd get another job.
Dap: SAMEZIEZ.
The variety of Das Racist's quick references, and the fluidity with which they fit into your verses, have redefined rap for a lot of people. What would you say are the primary influences of your music? I don't just mean musical influences.
Heems: The variety of the Internet's quick references and the fluidity with which people surf the web has redefined the attention spans of today's people.
Kool A.D.: Cornel West.
Dap: Marvin Gaye.
Das Racist is sharp rap music made by irreverent, college-educated minorities. Who would you say is your audience, anyway?
Heems: You.
Kool A.D.: Cornel West and his "circle."
Dap: Laila Ali.
"Everyone is an Internet thug."
Relax is Das Racist's first commercial collection of songs. Has the musical process, or the resulting songs, been any different because of that?
Heems: We tried to make it better for other people and not to use samples that would get us sued.
Kool A.D.: There's a lot less Cornel West on this album but it wasn't a conscious decision.
Dap: They're very muscular in a way that's frightening. I feel like I'm trapped in the pet "sematary" when the album's being played, which has given me a second lease on life!
Relax features a killer track called 'Punjabi Song' that could rival the hippest movie song from the north of the Vindhyas. Do you have any India plans in mind?
Heems: I would love to perform in India as soon as possible.
Kool A.D.: I'm going to be a roadie for Cornel West's book tour of the Vindhyas.
If you had to pick just one song from Relax that you'd want our readers to listen to, which would it be, and why?
Heems: The title track.
Kool A.D.: 'Punjabi Song' because it could rival the hippest movie song from the north of the Vindhyas.
What is your personal plan for the zombie apocalypse? We're sure you have a plan.
Heems: I will be in Goa for the apocalypse.
Kool A.D.: Probably hide out in a Costco.
Dap: Immediate suicide. At the first unconfirmed mention of zombies I'll blow me brains out.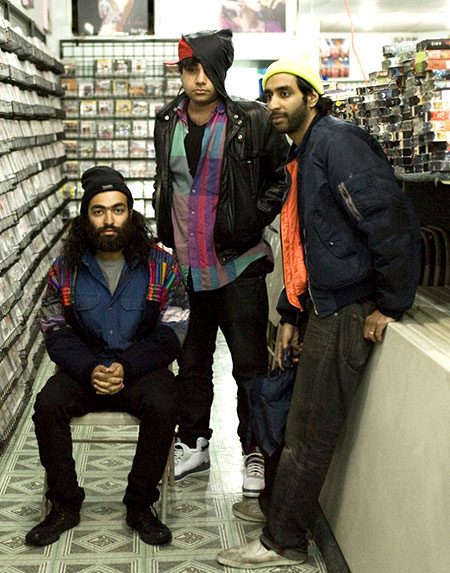 Unfazed by the prospect of a zombie apocalypse. Photograph by Brayden Olson.
What's the funniest joke you've heard or made today?
Heems: I laughed when Biggie said BOOYAKA on a song in the van on tour today.
Kool A.D.: Probably one of those Cornel West "zingers".
Dap: The zombie joke, second half.
What is an Internet thug?
Heems: Everyone is an Internet thug.
Kool A.D.: New Millenium Studio Gangster.
Name one artist that you really dig right now.
Heems: Purity Ring.
Kool A.D.: Aventura.
Dap: I'm in St. Louis right now.
Tell us one bizarre fact about either of you or Das Racist.
Heems: No.
Kool A.D.: Dap is a baby.
Dap: I died on the "true" millennium.
If you had to name one artist that you respect unconditionally, who would it be?
Heems: Guru Dutt.
Kool A.D.: Prince.
Dap: Any artist.
Name one artist that you would one day like to work with.
Heems: Rick Ross.
Kool A.D.: Ai Wei Wei
Dap: That dude is awesome.
And, because it has to be asked: Pizza Hut or Taco Bell?
Kool A.D.: It doesn't have to be asked.
Dap: That's just not relevant in today's modern world.
Heems: Taco Bell.
Neeharika Palaka enjoys indie rock, Internet memes, and random information with the pseudo-intellectual pretentiousness of a true Dravidian.
The Tap #9
What's Popular
Published on 05/07/2017

Published on 05/03/2018

Published on 11/03/2019

Published on 19/01/2016

Published on 20/02/2015