This book had my curiosity piqued at first glance. Tiny and an understated yellow, it looked like something to be devoured in just a few hours. I have a misguided tendency to judge books by their covers (although I really should know better by now) and I expected a light, easy read leading up to no extraordinary conclusion.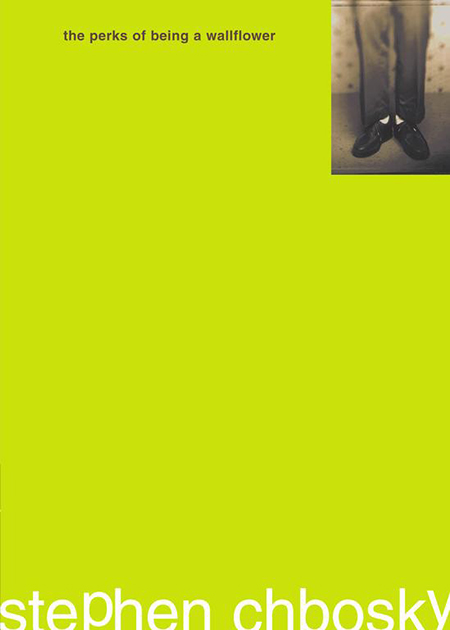 The Perks of Being a Wallflower
book cover.
"He's a wallflower. You see things. You keep quiet about them. And you understand."
The thing is, the protagonist, Charlie, really doesn't talk about anything very extraordinary. The Perks of Being a Wallflower taught me how a writer can lead the reader through the book based on not just the story, but rather how it's told. Charlie takes the mundane motions of everyday life and dissects them, burrows into them, and overanalyses them like nobody's business. He's torn apart between "participating" in his own life and the people around him and holding back as a spectator with his quiet observations—a wallflower.
Stephen Chbosky's protagonist writes letters to somebody whose identity is never revealed, and who is never referred to as anything besides "Dear friend" at the beginning of each letter. It is a wonder at all that Chbosky managed to draw the intrigue away from the mystery-shrouded recipient of the letters to involve the reader in Charlie's adolescent life. A coming-of-age story, there is something about this book that is wildly reminiscent of The Wonder Years—or perhaps it's just that haze that surrounded growing up in the '90s.
Charlie's observations and experiences are peppered with a quaint and striking innocence. His incessant overanalyzing and tendency to cry at the drop of a hat get irritating after a point, but the writer has managed to tie up the story in the end to accommodate these very well.
The book begins with the suicide of Michael, a friend of Charlie, and we see him pass through the stages of shock in an emotionally detached manner, with a little help from his family. The adventure for Charlie begins with his introduction to Sam and Patrick, siblings who introduce him into the world of high school parties, drugs, love, and the intricacies of friendship. Charlie's unrelenting love for Sam throughout the course of the book is an endearing quality, although there are plenty of surprises in this unassuming little fellow's love life along the way. His initial experiments with drugs are laughable and realistic, and at no point does he lead the reader to believe that he's pretentious or 'hardcore'.
The untarnished sincerity and honesty of the writing gives it a very real feel—it's almost like reading somebody's personal reflections as they struggle to come to terms with their past and the world around them.
One more thing that I absolutely loved about this book were all the pop culture references and mixtapes. When Charlie's feelings are described as "infinite" while listening to Fleetwood Mac's 'Landslide' in the car, I literally got goosebumps. The brilliant playlist in this book includes—
'Asleep' (The Smiths) ⋅ 'Vapour Trail' (Ride) ⋅ 'Scarborough Fair/Canticle' (Simon & Garfunkel) ⋅ 'A Whiter Shade of Pale' (Procol Harum) ⋅ 'Time of No Reply' (Nick Drake) ⋅ 'Dear Prudence' (The Beatles) ⋅ 'Gypsy' (Suzanne Vega) ⋅ 'Nights In White Satin' (Moody Blues) ⋅ 'Daydream' (Smashing Pumpkins) ⋅ 'Dusk' (Genesis) ⋅ 'MLK' (U2) ⋅ 'Blackbird' (The Beatles) ⋅ 'Landslide' (Fleetwood Mac)
The Perks of Being a Wallflower has a curious amalgamation of morbidity, intimacy, detached observation, and realism—with an unwavering foundation of simplicity—that makes the book so compelling.