I was four when I first got the taste of Bollywood. My version of 'Yeh Kaali Kaali Aankhen' from the box-office hit Baazigar sounded more like "Li Ka Li Ka Li Aankhen" and I sang it with a hilariously Anu Malik-like panache and confidence. From then, until now, there has been no looking back.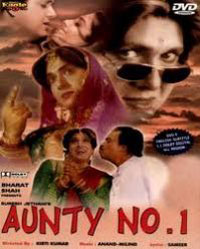 Aunty No. 1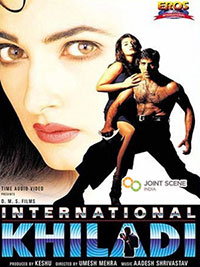 International Khiladi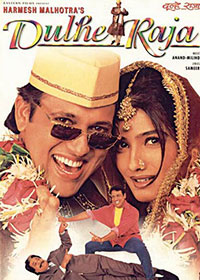 Dulhe Raja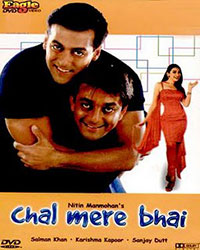 Chal Mere Bhai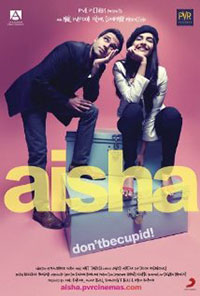 Aisha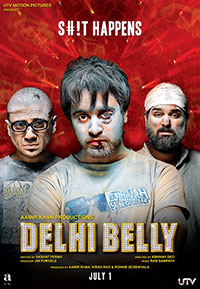 Delhi Belly
I come from a family of music lovers. My father, my grandfather, and all his five brothers are invincible at Antakshari. My mother, on the other hand, professes to prefer music to lyrics and is renowned for putting Javed Akhtar to shame with her unique motley of non-existing Hindi words which fit like loose underwear on the buttocks of an otherwise perfectly melodic tune. Having genetically inherited, by some fading measure, my father's knack of memorising lyrics and my mother's sweet voice, I took to Bollywood music like a thirsty fish to water.
Bollywood music has always had a way of making me feel alive and kicking. So, from a very early age I began demanding audio cassettes of Hindi movies from my always-obliging father. I recall that at one point I possessed audio cassettes of movies like Barood (the Akshay Kumar one), Dhai Akshar Prem Ke, International Khiladi, Dulhe Raja, and, hold your breath, Aunty No. 1. In fact, name any scary movie that you've watched in the '90s era, I probably have watched it too and have had the fortune of possessing its audio cassette. T-Series, Tips, and Venus records have profited through my father's hard-earned money and his daughter's incredible taste in music.
Having lived dangerously close to a movie theatre in my childhood, I remember watching every movie that hit the screens on the first day. Hence, I also have the distinction of having watched movies like Major Saab, Dillagi, China Gate, Chal Mere Bhai, and Aap Mujhe Acche Lagne Lage in actual cinemas. Yes. Comment not. People who know me well attribute my criminal state of mind to this kind of bringing-up.
Despite making fun of Bollywood, I cherish its very existence. Many an empty afternoon have seen fulfillment in its arms and every situation that life offers finds a complement in the wide range of music that Bollywood offers. Every—literally every—situation that life presents finds a soulmate in Bollywood music. Shopping equals Aisha, heart-break equals Rafi and more recently, Rahat Fateh Ali Khan, dancing equals Hard Kaur and our amazing collection of item numbers, new-age music equals Shankar-Ehsaan-Loy and Vishal-Shekhar, sheer versatility equals Kishore and Rahman, hilarity equals Jeetendra's 'dance' moves in Dhal Gaya Din and mellifluous slang equals our dear Ram Sampath of the Delhi Belly fame.
Just the other day, my cousin (another mad Bollywood enthusiast) and I were discussing how funny we find Saif Ali Khan's 'rockstar' image since we vividly remember his "Haathon mein aa gaya jo kal rumaal aapka…" moves with his bright jackets, long locks of lustrous black hair and red lipstick. And don't get us started on Salman Khan's macho avatar. Anyone remember 'Dil Deewana' from Maine Pyar Kiya? And Hrithik Roshan, I have one question for you: Mujhse Dosti Karoge… what happened there exactly? Was it prep for the role in Koi Mil Gaya? My cousins and I have spent afternoons watching these movies, laughing our lives out, only to realise that when a non-Indian criticises the same we get thoroughly offended and defend the same 'lame' movies with some astounding patriotic fervor! We can bitch about our movies, not you, firang!
Funny how 'Indian' one feels when it comes to Bollywood. Sometimes so much so that it borders on sheer embarrassment and chagrin at being connected to the likes of Love Story 2050 or Main Prem Ki Diwani Hoon. Yet, what can we do but still go to the cinemas to watch similar movies and curse the directors and producers for ripping us off—and yet hum the sordid item numbers while cooking, driving, or in the bathroom?
This kind of a 'blood relation' to Bollywood is why occurrences like Shammi Kapoor's death cast a shadow on our lives. It was a sad day for us as we watched Times Now play all of his famous songs. A look at Shammi Kapoor's soulful eyes in Tum Mujhe Yun Bhula Na Paaoge, and you know that he means it when he says it. And it is true. We can never get over you, can we? And it's true when people say that some of the Rafi and Shammi Kapoor combinations are unforgettable. Even today, young kids dance to 'O Haseena Zulfonwali', or 'Aaja Aaja Main Hoon Pyaar Tera', and heart-broken men croon 'Dil Ke Jharonkhe Mein Tujhko' and the happy-go-lucky lads sing 'An Evening In Paris' or 'Badan Pe Sitare'!
This filmy craze is evident in India. No shying away from that fact. We might as well take pride in our cute little obsession instead of trying to pretend it doesn't exist. While I laud the non song-and-dance films being made today, I know for a fact that I will be unable to survive without my share of the typical song-and-dance festive movies! After all,
You're in my Blood,
I just can't quit!
Infection!
Addiction!
You give me such a kick!
La-la-la!
So, Bollywood, keep shaking that biscuit, baby! We heart you in spite of (frankly, because of) what you are!