I'm sitting in a shared Scorpio heading from Mumbai to Pune, at 8 a.m. on a Sunday, with five people my age calling themselves the Khandala Beer Drinkers Association (K.B.A.). I'm accompanying them on their trip to India's first ever Beer Olympics, being held at the Doolally Beers micro brewery and Corinthians Club on the outskirts of Pune.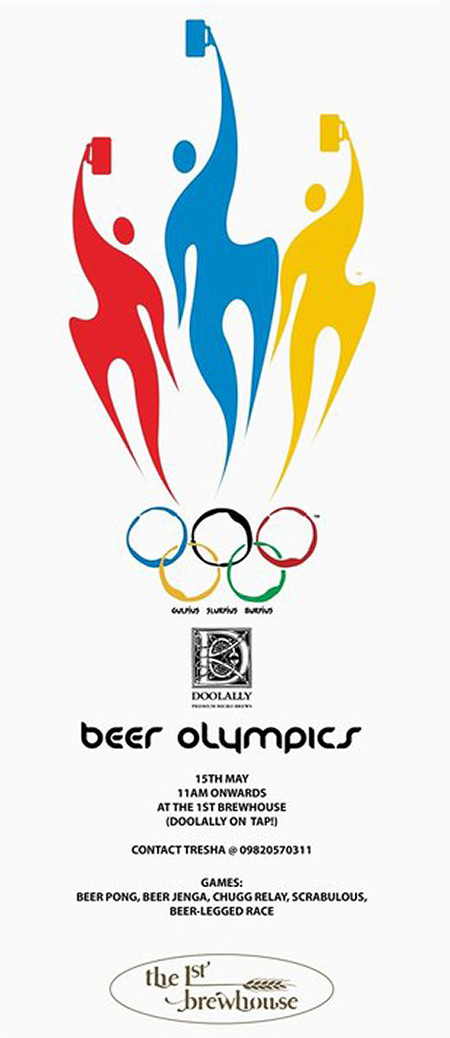 The first-ever Doolally Beer Olympics 2011.
The tournament is being conducted by Doolally Beers, who are no strangers to organising events. They conducted the first ever Mumbai Oktoberfest in 2010, which in turn inspired them to do something even bigger. People meet up with friends and drink on weekends anyway, so why not get them all together at the brewery on a Sunday for some fun, and an opportunity to try our a few games, win some beer, and be a beer athlete? And that's how the Beer Olympics came about.
Back in the car, the K.B.A. guys double-check to see that they're all carrying requisite age proofs and pour through lists of jumbled words—last-minute preparations for one of the five beer games at the event. The team consists of Melvin D'Souza, Nishta Sharma, brothers Ryan and Neil Valles, and Edgar D'Souza.
Veteran beer guzzler Melvin heard about the Olympics first, and recruited the rest of the team, looking at his friends's aptitudes and availability, finally bringing together old friends of his from days when they used to help organise youth camps at Khandala. They all have a special connection with Khandala—it's like their backyard, a second home, a home away from home. And then there's the beer. It's the nectar of the Gods for these guys. And they don't scrimp on it. They've been drinking the liquid sunshine all through their camp days. In Khandala. At the edge of valleys and under roaring waterfalls. Over the last decade. These are tough, simple, cheerful people, with nothing to prove, happy to take part in an event that lets them be who they are. This team exists for an ideal that is the combined joy of beer and Khandala. You could say they've been practising for this event for the last 15 years; they just didn't know it then.
They wonder what I—a whisky drinker—am doing travelling to a beer competition. I can't even stomach the stuff. I tell them I'm covering the event, and tell them I'd like to shadow them through the day, like embedded journalists in the Iraq war. Neil tells me that the Iraq war could probably have been avoided if they had just held a beer fest instead. These guys love their beer.
We arrive at the Doolally brew house around 11 a.m., and are one of the first teams to register. Each team member is given a free Beer Olympics t-shirt. Not that K.B.A. need them—they're the only team present with their own team t-shirts.
The eliminations begin. There are five separate events. The Bombay Elektrik Projekt (B.E.P.), a Mumbai-based organisation that conducts niche events with an underground vibe, like poetry slams, stand-up comedy nights, short films screenings, etc. is helping with the games administration.
K.B.A. tries Beer Pong first. Two members from opposing teams take turns throwing a ping pong ball into cups of beer at the ends of a long narrow table. If the ball misses, the opponent team gets to try the same thing. If the ball goes into a cup, the opponent team member has to drink the contents of that cup. The team that gets a ball into the most cups at the end of five minutes wins.
Neil and Ryan participate and win their initial elimination. K.B.A. move on to Scrabulous, where a team member solves a jumbled word, chugs a cup of beer, and the next two members do the same. Teams play for the best time. Nishta, Melvin, and Neil take this one, doing it in 28 seconds, an excellent time.
The venue grows crowded. There are all sorts of people here. Participants, supporters, students, I.T. professionals, lawyers, entrepreneurs. And they're all drinking beer like the world's going to end tomorrow. Energy levels have gone up. People are excited. Competitive, but well-behaved. Everyone seems to be getting into the spirit of the games.
We learn that a total of 30 teams have registered (12 from Mumbai), including an all-girls team. K.B.A. attempts Beer Jenga next, where two members from a team play against the clock for the best time, each team member downing a beer and moving a block, till they build up a certain number of layers. Melvin and Edgar participate, putting up a good time of 2:30, the second highest, we're informed.
And then it's the Beer Chugg Relay, one of the more popular Olympic games. Each team member has to consume 500ml of beer before the next team member can do the same. Teams aim for the quickest time. K.B.A. does it in a minute-and-a-half. Melvin and Edgar shine in this event by chugging their beers in five seconds each, setting a record of sorts.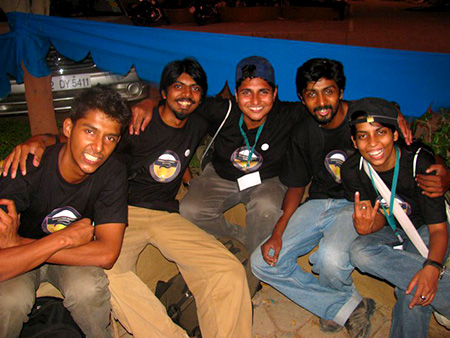 New highs for the Khandala Beer Drinkers Association. Photograph by Daniel D'Mello.
The Beer Legged race is next, and everyone gathers in the parking lot. Teams compete for best times. Four members from each team take part, two to a side. One pair finishes their beers, races across the lot, and the second pair does the same. K.B.A. is one of the first ones to compete, and does it in a respectable time. I like how well-balanced this team is. While Ryan and Neil are excellent at running, Melvin and Edgar excel at chugging.
It's getting dark now, and the scores are put up. K.B.A. have made it to the quarter finals of three (out of five) events—Pong, Jenga, and Scrabulous. The team is overjoyed. They feel they've already got their money's worth; everything from here on is just a bonus.
The Beer Pong quarter finals begin. It's K.B.A. in a face-off with 'Tipsy Tipplers'. It proves to be a long and difficult battle, with the Tipplers's team taking the lead and trying their best to psyche out Ryan and Neil. However, the brothers manage to tie the game in the last few seconds, and the scores remain steady for an additional extra minute, further taking the game into sudden death, where the guys manage to persevere and get one in, moving into the semi finals.
Meanwhile, Melvin and Edgar prepare to compete against the 'Pune Expat Club' (P.E.C.) in their Jenga quarter-final. They manage to hold it together, until the excessive beer takes its toll on Melvin, forcing them to quit.
The Scrabulous quarters are up next. K.B.A. faces off against their arch rivals, the 'Tipsy Tipplers', who beat them by half a second. It's a little disheartening; the guys really feel they could have taken this home, but their high scores keep them in the running for the overall tournament standings, and they're still in the race for Pong.
The Beer Pong semi final has K.B.A. playing against 'Beer Pinaland', and the brothers win with a clear margin, putting the team in the finals. It's almost too easy, and they can't believe their good fortune.
The finals arrive after another long break. It's 11 p.m. now. Many of the teams have been here for 12 hours, and this has turned into a kind of endurance, last-man-standing fest. It's 'Hangover 5' versus 'Why SUD We Have All the Fun' in the Scrabulous finals, with the latter winning. The Jenga finals end with 'Indigo Nation' defeating 'Drunkards'. K.B.A. are told that they've won the bronze in Scrabulous overall, due to their high scores, which gives them some joy.
And then comes the Beer Pong final. The opponents are 'ZE Dominators'; they've been strong till now, and K.B.A.'s only consolation is that their opponents are slightly drunk. Still, the Dominators lead right away, and maintain a lead throughout. The match comes down to the last minute, and then the last 10 seconds. It seems hopeless, but with just two seconds to spare, K.B.A. ties the game, taking the match into sudden death. The Dominators are not happy. It's a suspense situation. There's a crowd all around the open air table. And then K.B.A. scores. That's it. They've won the gold. People are jumping in the air, screaming. This team has made a lot of fans.
The older veterans S.P.D.P. go on to win the Chugg Relay, engineering students Why SUD We Have All the Fun place first overall, and K.B.A. places second overall in the competition, winning over Rs. 10,000 worth of beer cumulatively. It has been a team effort, and there are a lot of big smiles on the way back. The team has been up without rest and very little food for 24 hours, braving little sleep, cramped travel, intense heat, excessive alcohol, constant exercise, noisy crowds, and aggressive opponents. They came here with nothing to prove, to just have a good time, and are leaving with gold in an event they never thought they'd win, bronze in another, and silver overall. It's a day that none of these five can ever forget.