So, there was no Stan Lee to open the first ever Comic Con in India. Instead, we got Chacha Chaudhary, Wolverine, Spiderman, Zombie, Kalki, Crime Master Gogo, Batman, Harley Quinn, and Rorschach. They weren't exactly burning down buildings or fighting the bad guys or whatever it is that our super heroes do, but yeah, they kept eavesdropping and catching up with the audience.
India's first-ever Comic Con was held at the open space in Dilli Haat (February 19-20, 2011) with a big stage spread out for various workshops and talks by artists, publishers, graphic illustrators, etc. In all, close to 15,000 comic book fans turned up for the event, both in costumes and otherwise.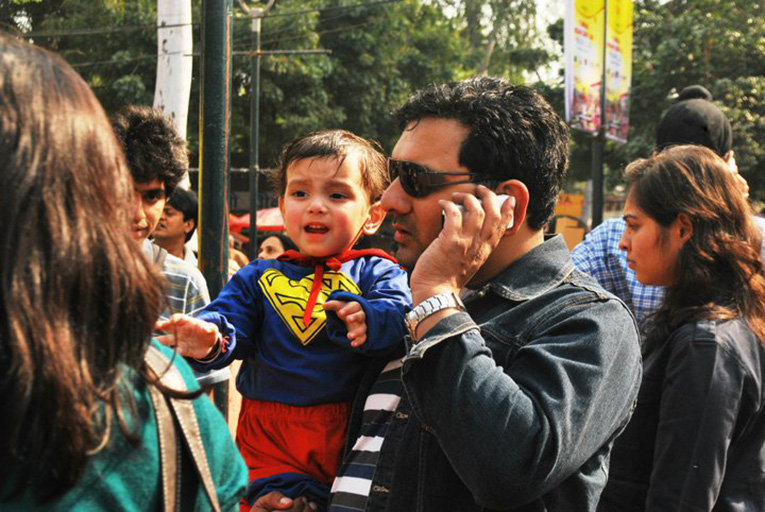 Super cranky. Photograph by Priiya Prethora.
Everyone from Magna to Marvel was present at the Con, along with the popular Indian brigade of Amar Chitra Katha, Vimanika, Diamond Comics, and National Book Trust among others. Also present were titles like Huckleberry Finn, Sherlock Holmes, Harry Houdini, The Prisoner of Zenda, Ravana, Ali Baba and the Forty Thieves, and other similar epics, in addition to mythology, history, folklore, and fables brought out in graphic novels by Campfire. Level 10 Studios introduced Level 10 comics and Comic Jump, and talked about their special-edition Comic Jump Independent that features content by independent comic book creators from across the country.
Among comics with Indian mythology and western influences intact, Manta Ray launched its debut graphic novel-in-mime, Hush—a story with no words. With quirky teasers and samples of the artwork was Adhiraj Singh's Udd Bilaw Manus (The Otter-Human), which deals with the nominal character fighting evil in post-apocalyptic Bihar. World Comics India (W.C.I.) ran a presentation on Grassroots Comics and democratising media through participation from the margins. W.C.I. is a collective of grassroots activists, cartoonists, artists, development journalists, and students that uses comics as a communication tool, as well as medium of self-expression through various workshops.
Overall, the Comic Con had intriguing stories of people who have created some of the oldest imaginary friends we all still have in common. The chance to meet so many lovers, artists, and revellers of this medium was really the carrot.
Gallery: Comic Con India 2011