"There is a fat person lurking in us all and when you eat on the highway like we do, that fat person bursts out with abandon."
Wise words spoken by Rocky Singh, who along with his co-host Mayur Sharma, partakes on a journey across the highways of India, to do what they do best—eat food and meet new people. Anyone who has watched their show on N.D.T.V. Good Times has felt their passion for their meals, laughing at their witty banter, and enjoying the sights they see along the way. It is with the same enthusiasm that the two have come out with the book, Highway on My Plate, which chronicles the roadside eating houses the duo have visited on their quest.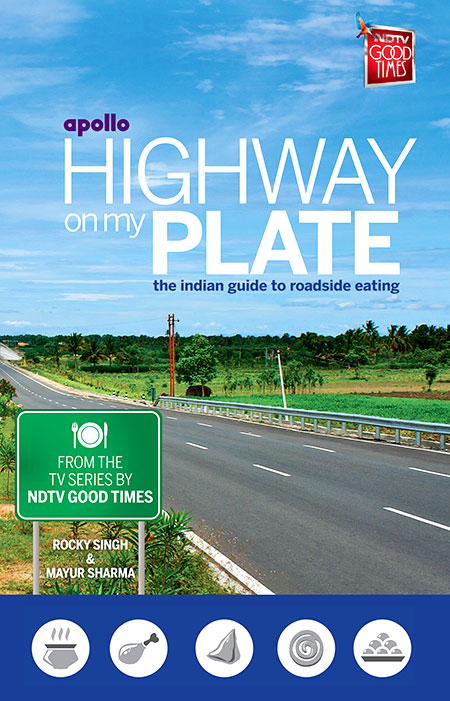 Highway on My Plate
book cover.
It is a handy book that can be carried by the domestic traveller who wants to be informed about good places to eat while visiting an area. Each chapter (with information about a particular state of India) begins with a simple map, trailing the eateries along the landscape. The chapters are further divided on the basis of the cities and towns, and the eateries visited. Each food joint is described in a very informal manner, making the opinion of the writers very relatable, as it is a genuine account of what they found.
An overview of the history of certain eateries is given, along with the method of preparation of their cuisines, which can be quite interesting. Though a few items mentioned might make those of you with sensitive stomachs queasy (like the "blood sausages" of Arunachal Pradesh), reading about them makes one feel like they have personally experienced the food. At the end of each eatery description is a rating of the quality of the food, the ambience, and the value for money, among other things. The famous dishes are mentioned, as well as how much one should expect to pay for them.
The book gives you a glimpse of how diverse the food culture in our country really is, and even if you are not a foodie, you are sorely tempted to ditch your sedentary lifestyle and drive around India, just to sample the various kinds of food across the country.
[Random House India; ISBN 9788184001365]
Click here for a chance to win free copies of Highway on My Plate signed by Rocky and Mayur!