Spicy Whole Cauliflower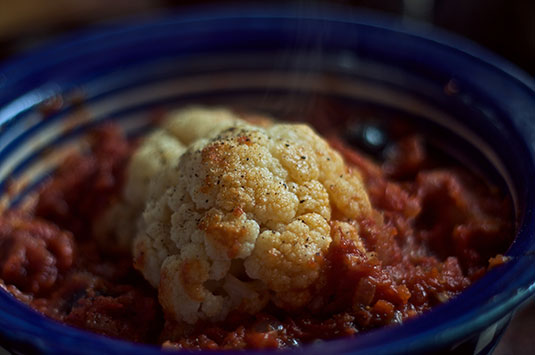 Whole cauliflower in spicy tomato olive sauce. Photograph by Aashim Tyagi.
This recipe is adapted from Jamie Oliver's whole baked cauliflower in tomato olive sauce. I have simply substituted some of the Mediterranean flavours for distinct Indian ones. What I love about Jamie Oliver's recipes is that he takes away the pretension and the intimidation from cooking and makes it fun and enjoyable. This is a fancy-looking dish, but trust me, it's simple to make and is guaranteed to win anyone over.
Let's do this
To begin, you need to find a medium-sized saucepan, which can easily hold the head of the cauliflower, with a little space to spare around the edges. It is important that the pan be of the right size. Heat the olive oil and add in the chopped onions, fry for a minute until it starts to change colour, and then add in the garlic paste and the green chillies. Mix the onions, garlic, and chillies and stir for about half a minute longer. Add the pitted olives and the cans of tomatoes and stir everything well. Next come the red chilli powder, ground cumin, and salt. Add a little water, mix well, and bring it to a boil.
Now gently place the cauliflower head in the pan, so that the sauce covers half of it (this is why you need to pan size to be right), drizzle some more olive oil on top of the cauliflower, and cover the lid. Let it steam itself for 50 minutes on low heat.
After it's cooked, add some lemon juice and freshly-ground black pepper to the dish. You can serve it right from the pan, or place it in a deep bowl and pour the sauce gently so you don't lose the lovely contrast of the colours. I really enjoy fresh chapatis or puris with this.
What you need
* One large head of a cauliflower (500g) with the stem cut out, so it can sit flat
* Two cans of chopped tomatoes
* Half a can of water
* A handful of black Greek olives (pitted)
* One chopped red onion
* One tbsp. garlic paste
* One or two finely chopped green chillies
* One tsp. red chilli powder
* One tsp. ground cumin
* Two tbsp. olive oil
* Salt (to taste)
* Juice of one lemon
Look and learn
Aashim Tyagi has recently quit his day job at the age of 28, squashing all his chances of an arranged marriage, and gifting his parents a permanent frown. He spends his days reading, taking photographs, cooking, and doing odd jobs.
ACK #7
What's Popular
Published on 05/07/2017

Published on 05/03/2018

Published on 11/03/2019

Published on 19/01/2016

Published on 20/02/2015