Stateless in India is a documentary which examines the human cost of preparing the National Register of Citizens (N.R.C.) in Assam.
The film aired on Channel News Asia last month and is part of 'Insight', the channel's ongoing investigative series on Asia. It combines analysis by experts, who weigh in on the intentions and impact of both the unwieldy NRC exercise and the recently-passed Citizenship Amendment Act (C.A.A.), with a close look at the facts on the ground. It follows the stories of people whose lives have been thrown into total disarray by what is for most an arbitrary, confusing and oppressive exercise. Through a reliance on the truth and the ground-level reality of a region reeling from the effects of several political and historical forces, Stateless in India points both at the wildly contrasting narrative maintained by those in power and the shifts occurring within the country even as it is believed and propagated.
In a recent conversation with Helter Skelter, the film's director and producer Sumithra Prasanna spoke about her experiences of filming through Assam as the state grappled with the repercussions of the N.R.C., the 1.9 million people who have been rendered stateless by it, the dreadful conditions of the detention centres where several have been detained, and the face of a changing India where people are recognised by their religion rather than their humanity.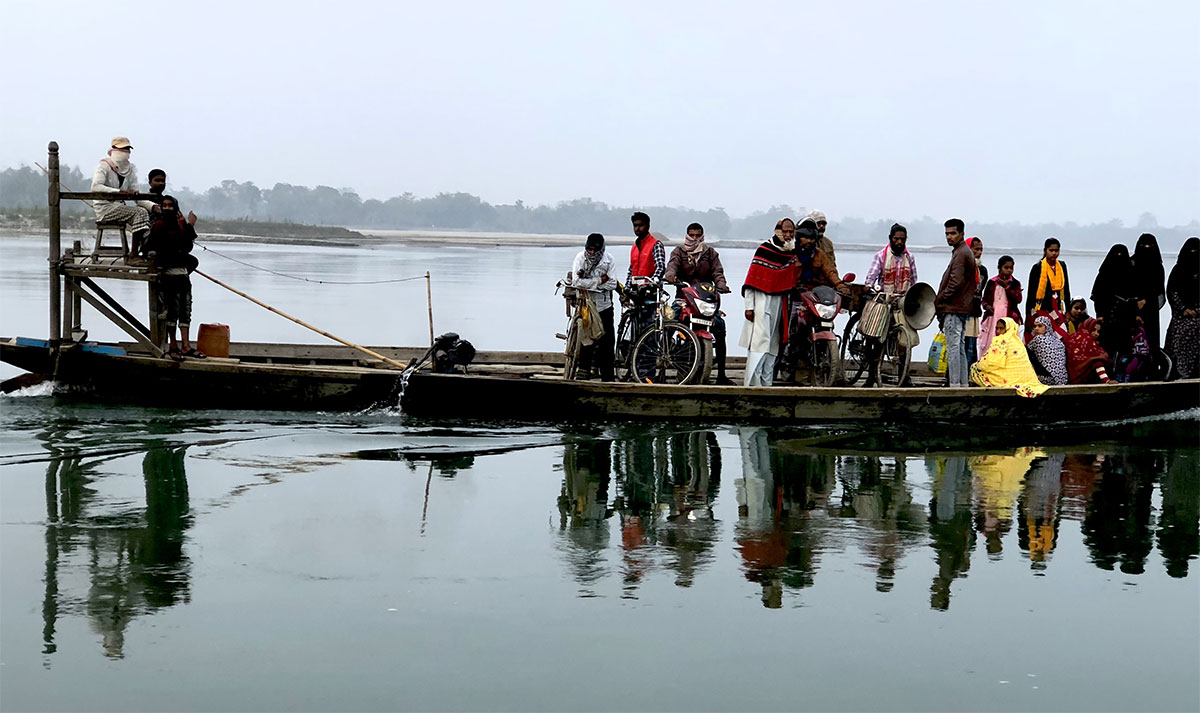 A still from
Stateless in India
.
Tell us about the kind of work you've been involved in at Channel News Asia (C.N.A.) and how this particular film came about.
I'm a documentary filmmaker and I have produced in different genres for C.N.A. In fact, I started making films for C.N.A.'s award-winning crime and investigation series, 'Undercover Asia'. One of my first films for the series was Maids Enslaved, where I explored how women and girls are trafficked from the north-eastern parts of India for domestic labour. I followed the story of a missing girl in Udalguri, Assam, and investigated with the help of an activist. We got some leads that helped us track the agent. Following the police interrogation of the agent and after strenuous hours frantically driving across Delhi, we managed to find the girl employed in an upscale locality in the Capital.
In Manufactured Orphans, tackling the orphan trade, I followed the story of a Swedish Indian adoptee in search of her biological mother and discovered the lies behind her adoption. This documentary won an award at the Rockie Awards (2018), Banff World Media Festival, Canada. In Kashmir: A War of Stones, I explored why militancy was intensifying amongst the youth and why young rebel recruits were more alienated than ever.
Currently, I'm producing for a weekly news hour 'Insight' where we investigate topical issues that impact Asia and the rest of the world. Stateless in India is part of this series.
What are the things that draw you to investigative filmmaking? What were your reasons for taking on a project such as this?
What draws me to these kinds of films is the fact that as a filmmaker and journalist, I can shine some light on issues that impact our societies. I'm deeply affected by the subjects that I tackle and it gives me tremendous joy and satisfaction to use the format of a documentary as a canvas to present the different dimensions of a story.
I make sure that there is space for articulation of different perspectives, which is one aspect that I was keen to achieve in Stateless in India, as the debate within the country is very polarising. As you'd notice, I've presented voices from both sides of the debate and stayed clear of pontificating or driving the narrative so that the viewers can make an informed opinion.
As a filmmaker, I've always been mindful of what Nigerian author Chimamanda Ngozi Adichie once called the "danger of a single story". It happens when people and situations are reduced to a single narrative or all you hear about an issue is a single story.
What I see unfolding in India—an 'Us Vs Them' battle—is deeply disheartening and worrisome because there is no effort on the part of the government or the supporters of the N.R.C. and C.A.A. to engage with the dissenters in a dialogue, where the merits and demerits of competing points of view can be considered and discussed. Democracy allows us to do this while setting aside ideologies, value judgements and caste and creed differences, but when the ideology itself is the root of the problem, what do you do? Then again, that's my point of view which you will not 'hear' in the film as I try to tell the story through what the characters in it are going through and hope against hope that it will make the viewers think and give them the fodder necessary to challenge themselves and their long-held views.
"I've presented voices from both sides of the debate and stayed clear of pontificating or driving the narrative so that the viewers can make an informed opinion."
I wanted to know about the practical aspects of making this film. What were some of the challenges you faced?
My aim initially was to look at the human costs of the N.R.C. exercise. But when I was in India, the anti-C.A.A. protests began. These were followed by curfews and internet bans in Assam and parts of the northeast. The reports that I was getting were scary, to say the least—there was some violence and because of the curfew, food and necessary supplies were in short supply and it was uncertain whether the unrest would subside or it would worsen. So I stayed on in Delhi and deferred travelling to Assam by a few days.
Fortunately for me, there were other things to cover in Delhi and I started covering the protests at Jamia [Millia Islamia University] and India Gate.
What people may not know is that we don't have budgets or time like some of the other international networks. I was in India for a stipulated number of days (10) and I had to film and get back to Singapore to deliver the programme for telecast on a date that had already been set. The constraint of time was itself a huge challenge, because for one, I had to alter the story to include the C.A.A. because otherwise it would be incomplete. The CAA as it stands today has huge implications for the 1.9 million people who have been left out of the N.R.C. For another, how do I complete editing this challenging documentary within 10-12 days to be able to not just deliver on time but also do justice to the issue?
That aside, moving around during the filming was not easy. There were constant checks and we were stopped quite a few times and questioned. Our local coordinator was detained for interrogation for over an hour and all our details were recorded while we were filming in one of the locations in Assam. This is a different India from what I know as someone who has been filming here for a few years now. There is a palpable fear for any journalist who works in India today.
There is a point in the film when Anara Khatun's family is at the detention centre to meet Kadam Ali and a man raises his hand at the camera after which the camera's focus drops to the ground. What happened exactly?
We couldn't film outside or anywhere near the Goalpara detention centre—we were shooed away.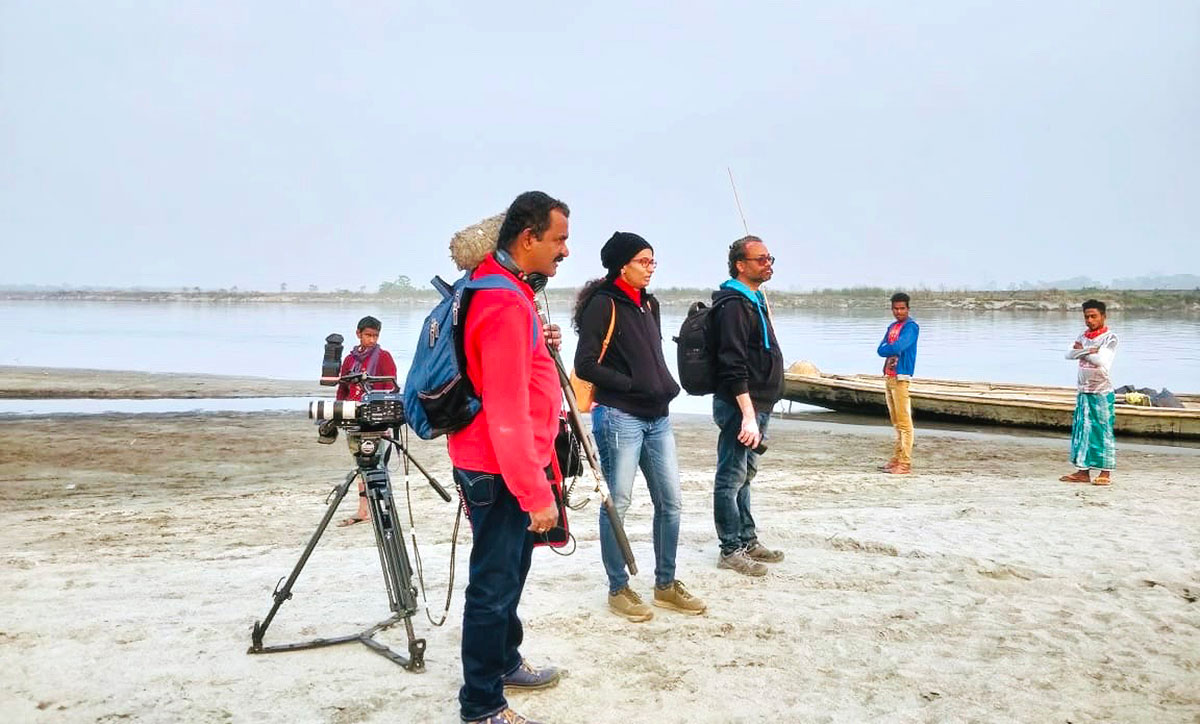 Besides Sumithra Prasanna, the
Stateless in India
crew includes Husain Akbar (cinematography), Vaidy Nathan (sound recording), and Shanthakumar (editing). Watch the film
here
.
You follow some narrative threads throughout the film and perhaps the most important among these is that of Anara Khatun. How did you come across stories like hers? Which parts of Assam did you visit during the process of filming? How many people like Anara did you speak to? And, have there been any changes to Kadam Ali's status and the family's situation since you completed filming?
Our local coordinator met several, probably around 10-15 families, during our pre-production research. I shortlisted and chose the stories that you see in the film. We were in Guwahati, Barpeta, Dhubri, Goalpara and little towns in and around these places.
There are no changes to Kadam's status and he is still in the Goalpara detention centre. It's extremely difficult for the family to secure the bail bond of two lakh rupees.
How did you go about selecting the commentators in the film? What were the things that surprised you the most about their takes on the N.R.C./ C.A.A.?
I had a long list and we started contacting people and asking for their time. I was in India for 10 days and all the interviews had to be scheduled within that time. So we recorded with whoever was available.
There were no surprises, to be honest. Because the experts were chosen for what their points of view were, as evident in their writings and appearances in the media. But invariably the supporters of the C.A.A. did not convincingly answer as to why the C.A.A. only included the three Islamic countries. If 'partition' was one reason, why did it include Afghanistan?
"This is a different India from what I know as someone who has been filming here for a few years now. There is a palpable fear for any journalist who works in India today."
In the film, Colin Gonsalves (Senior Advocate, Supreme Court of India) talks about the terrible living conditions at the detention centres. Were there other things that you learnt about them while travelling through Assam?
The food is bad, many people are cooped up in cramped cells and there are blatant human rights violations. According to Harsh Mander, former special monitor to the National Human Rights Commission (N.H.R.C.), every tenet of international law pertaining to human rights has been violated because the living conditions inside the centres are poor and the basic right of a day parole is not granted to the detainees.
While your film's central focus is the N.R.C. in Assam, there are mentions of the nationwide N.R.C. exercise. What did you learn about the latter and its repercussions in the process of making this film?
One of the things we have learnt of the N.R.C. is that this huge bureaucratic exercise is arbitrary and leaves who gets included or excluded to the whims and fancies of the officers who man the N.R.C. panels or Foreigners' Tribunals. There is no clarity as to what documents are required. Though there are List A and List B documents, in many cases, people have produced over 14 documents and they were still excluded like Shahi Meghna or Muzammil Haque in the film.
Home Minister Amit Shah said that a passport is not acceptable as proof of citizenship—would it then mean that for a nationwide N.R.C., every citizen in this country has to queue up to prove that he/ she is indeed a citizen? The burden of proof is on the citizen which is shocking, to put it mildly.
I asked some of the experts as to why we need more exercises like N.R.C., N.P.R. and so on, but I did not get clear answers. They kept saying that we need data or that there are many fake passports floating around, etc.
I asked Kanchan Gupta (Senior Fellow, O.R.F.) if a foreigner can get an Indian passport, for which he said, "We can give travel documents, although we are not signatory to that accord." When I pressed on and asked him whether I was Indian by virtue of holding an Indian passport, he said that only meant that I could travel using it because a passport is merely a travel document. I asked again, "Should I not think of myself as a Citizen of India because I have a passport issued by the Government of India?" for which he said, "You are a citizen of India not because of passport but because of your citizenship." What does it even mean?
"I asked again, 'Should I not think of myself as a Citizen of India because I have a passport issued by the Government of India?' for which he said, 'You are a citizen of India not because of passport but because of your citizenship.' What does it even mean?"
It's a circus, that's what it is, with so many players to support an ideology notwithstanding the fact that this ideology strikes at the very underpinnings of the Indian constitution and what India stands for. I have people asking me what's wrong with saying that 'India is a Hindu Rashtra', because it is one. So I think we are a very divided India where we are recognised by what religion we belong to, not by how human we are. Religion was never the basis of our identity and we are turning into a Hindu Pakistan.
The Indian government has not declared the modalities of a nationwide N.R.C. If it's similar to what Assam went through, we can already understand what a disaster it will be. An important question to ask is also what's going to happen to the N.R.C. process that was completed in Assam where the cut-off date was 24 March 1971. The CAA set another cut-off date of 31 December 2014. If the Assam N.R.C. remains and is not disregarded, you can understand that the excluded Hindus will get amnesty while the excluded Muslims will be asked by the Foreigners' tribunals to produce more documents failing which they will be declared as foreigners. Doesn't this clearly show that these exercises are meant to filter out Muslims from the population?
---
Click here to watch Stateless in India.