Catriona Mitchell's compilation of stories about, and more importantly, by Indian women is the book the world needs today, whether to allow those unfamiliar with India to gain some perspective on the lives of women in the country, or for Indians themselves to view their country in a clearer light.
Four years since Nirbhaya, the increasing numbers of cases of rape and abuse being reported, coupled with the seeming inactivity of those in power have made for a disillusioned population. The stories in Walking Towards Ourselves aim, somehow, to correct this disillusionment. It merges the voices of some of the women writers in this country, all speaking their own languages (translated, of course, into English) and from their own contexts, across the range of socioeconomic classes that pervade India. "What is the 'meaning of a woman'?" Mitchell asks in her introduction, and her selection of writing seeks to answer this.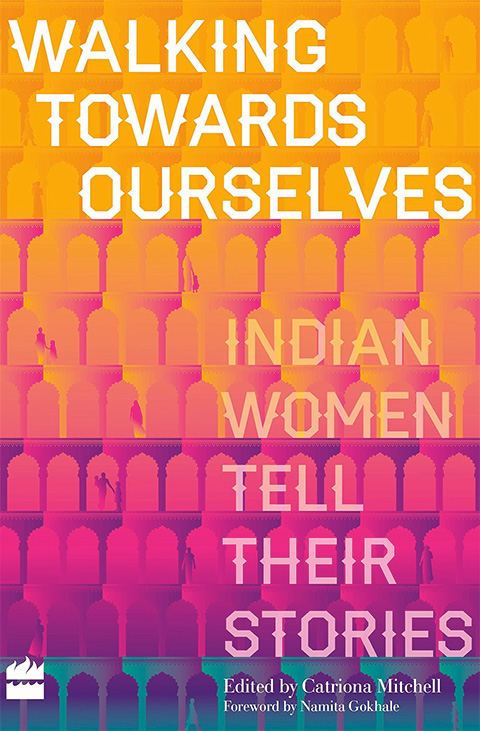 Walking Towards Ourselves
(
Purchase
)
The book does not discriminate. It does not see the struggles of women in the country as being too privileged, specific, or personal. All problems women face, the book seems to declare, are intrinsically tied to gender. The collection starts with Leila Seth's account of the aftermath of the Nirbhaya case, the recommendations of the Justice Verma cabinet and its failures. It answers the first questions that pop into any Indian's mind when a discussion of feminism in India is impending—what is the system doing to control the cases of sexual abuse being reported every day? Seth discusses the issue of women's safety both from a personal and a professional (legal) standpoint, and merges the two to give an account of what it means to be a woman in India who has the opportunity to make the lives of her fellow women safer. The issues of sexual abuse continue to permeate the stories in the book, from Tisca Chopra's experience on the casting couch, to the harrowing account of marital rape in Scenes From A Marriage (author unnamed).
Other stories in the book range from preoccupations with appearance—skin colour in Ira Trivedi's Rearranged Marriage and Rosalyn D'Mello's Black, the role of clothing in a woman's identity in Sharanya Manivannan's Karaikal Ammaiyar and her Closet of Adornments; to sexual and personal liberty and subverting conventions of femininity in Square Peg, Round Hole (Mitali Saran) and Margaret Mascarenhas' S/He Generis.
There are stories of inspiration that span decades and generations like Deepti Kapoor's homage to her grandmother in Mataji, along with stories of women who inspired other women, such as Nirupama Dutt's Two Sisters, Two Lives and Anjum Hasan's Home Girl: A Day in the Life of a Small-Town Social Worker. These are stories of women who forged their own paths, whose lives were fraught with difficulty and who soldiered on despite it. Another prominent theme in the book is that of education and financial independence, a right many women continue to be denied in India—you read about Annie Zaidi's struggle to break out of the mould of women-friendly jobs and Salma's struggle to make her voice heard despite an oppressive marital life in Beyond Memories.
Walking Towards Ourselves is an exercise in giving women their own voices, to allow for new interpretations of feminism and female empowerment and accommodating the contexts of women all around India in the emerging feminist narrative in the country. Debates will continue, but with this book, Mitchell has succeeded in giving a common platform to female writers from around the country, and in doing so, contributed towards the creation of a more complete and informed feminism for Indian men and women, including me.
[HarperCollins India; ISBN 9789351777922]