We name everything. It is an act of god.
This journey has a name somewhere. In the lexicon of romances, where there is a genus and a species for every type of connection, there is a name for this as well. Here, words (which are not simply words) are not built in alphabetical order but rather in a pyramid.
I take this journey with you every Sunday evening at 6 o'clock. It lasts for three-and-a-half hours as we leave this city for the big one to work. I have seen you often but you are always somewhere else—seated behind, waiting in line, boarding the next bus. On the days that I don't see you, I tell myself that I don't know you.
Perhaps I don't know you. But here you are by my side for the first time, sleeping with your legs stretched out even before the bus can start. Until the conductor asks for your ticket and you realise you have neither that nor your wallet. I buy you a ticket and you say, your next trip is on me.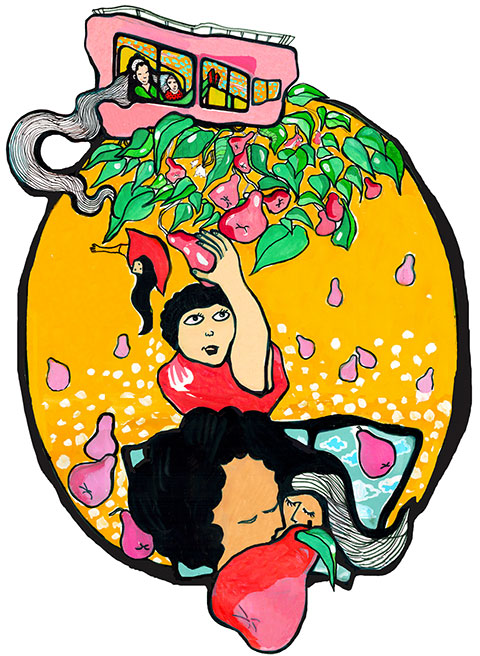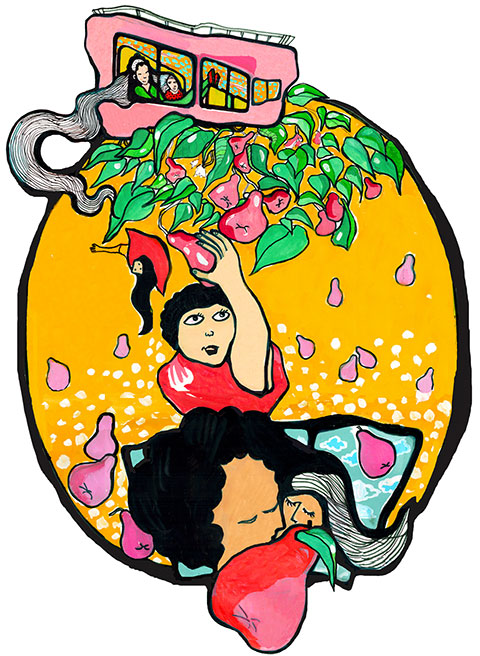 I smile back at you. You offer me some music in the form of earphones. Aap ki farmaish, you say. We share the earphones and there is a minor debate on which song to play. Audioslave, we finally decide. I'll wait for you there like a stone; I'll wait for you there alone, you sing softly.
I have a memory of you back from when we were teenagers.
I was leaving the city in four days, and you, who had proclaimed to the entire class that you loved me, were now avoiding me. You walked with a determined distance from me. On the day before I left, I was on a swing and you came and sat in the swing next to me. We went up and down. You were ahead and looking back at me or just following my swing, missing me by the seconds. There were moments when our rhythms matched, and our feet, with a muddy shoe or two, were up in the blue sky together.
I run into a grove of rose-apples in the corner of the school yard and you chase me. White flowers are scattered on the ground. Sunlight flits between the leaves above. There is soft pink fruit on the branches. I take some fallen rose-apples, fruit like pink bells but neither roses nor apples, and am about to bite into their evasive sweetness. The caretaker shouts at us from a distance and warns us to return to class or else. I stuff some pinkness into my pocket and we run. We are running. In class we sit in our respective separate places. When I left, you say, you had many women. So angry, I say. So much longing, you reply.
No, you won't recollect this. I hold it. I don't need you to. My life remains with me. I hold all that is my own.
What is it that we do? We vow that we shall remember each other's memories. You would remember some things and I would remember the rest. We patch, arrange, assemble and fit so that when the amnesia days come between the seconds, we still have a repository of life between us. Remember that time? When the umbrella flew away? When we fell from bed? When I left? I can remind you. Even if you choose to forget. I would have spoken to you of some memory and you would have replied saying close your eyes, forget it. From that point onwards, it would have been your memory to bear.
There were moments when our rhythms matched, and our feet, with a muddy shoe or two, were up in the blue sky together.
Somewhere above, an ocean heaves and rain splashes on the bus. An hour out of the city, the mountains rise and the valleys emerge. Every seat in the bus has a person. The journey began sometime back for all of us. The driver has switched off the lights and with nothing much to do, everyone has fallen asleep. If there are bumps on the road, a cushioned seat, a pleasant view of the shimmering valley, and some cool air should hopefully save you. You are either on the expressway speeding without a thought or you are not.
Please spare me the emergency exits.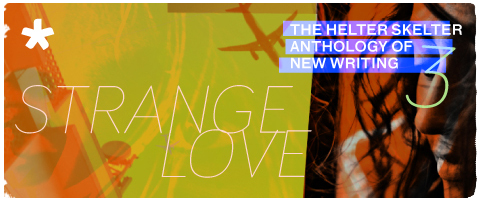 A mild mist settles on the road and we are swathed in it. A secret wisp enough for the senses. I could never travel comfortably in a bus and so I am quietly curled up. Pink shoes on the ground. Below are the crowded lights of the valley. You have the window seat and you are looking at a reflection of me on the window pane. You push back the armrest between us and draw me closer. You kiss me and whisper in my ear that I taste like petrichor, a whiff of wet earth on parched land. You kiss me again. Does the scent of rose-apples escape if you bite too hard, you ask? We fall into the valley of lights and the mountains crumble away.
You could miss the lights. There is so much noise that you could miss the lights. If you knew I was leaving, would you want me more? If you knew I was leaving, would you want me less?
I am not sure if in that place of fallen bells and rose-apples, if I was that girl and if you were that boy. But there we are, in that same pink feeling. Come back with me, you say. You are every man I ever met and you are every man I never met, I reply. Sit on that swing. Swing with me.

Benita is a freelance journalist and content creator based in Mumbai. Her column Silver Lining appears in The Sunday Free Press Journal and she currently blogs for Dharavi Biennale.

Dyuti is an illustrator, graphic designer, and comic book artist based out of New Delhi. She graduated in Visual Communication Design from Srishti School of Art, Design and Technology, went on to write her own experimental graphic novel Flaw, and is now freelancing.