Golden brown, roasted to perfection, seasoned with salt. Yum. I feel like the perfect grilled pomfret after three days of living in the water at Gokarna. If you aren't looking to get toasted, tanned, and slightly wrinkly, Gokarna is not for you.
A tiny haven in Karnataka for those weary of the constant activity at Goa, it's about five hours away and a world apart. The two completely contrasting avatars of this town will take you by surprise. On one side, conservative locals and temples make up the holy town, believed to be the birth place of Lord Shiva. However, a 20-minute drive through green, winding Ghat roads, and you arrive at Om beach. Resplendent with shacks dressed in Rasta colours, serving beer, sea-food and trance music, the beach gets its name because it's shaped like an 'Om', and you can see this clearly if standing at a height.
This part of town is essentially three beaches, each catering to a different kind of water baby. Om is the biggest, most popular, most inhabited and the only one accessible by road. Kudle is also fairly large, accessible by boat, or via a half-hour trek through jungles and a cliff (apparently not as crazy as it sounds), not as touristy and great waves. Paradise is small and rocky, accessible by boat, or an extremely long trek through jungles and multiple cliffs, frequented mostly by foreign tourists.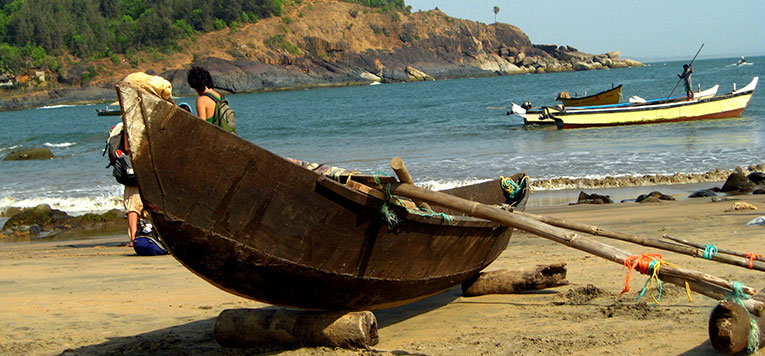 Boats at Om Beach. Photograph by Malavika Bhattacharya.
Accommodation on the beach is available in the form of shacks, and Namaste Guesthouse at Om is the biggest and most popular of these set-ups. They have single, double, and air-conditioned rooms, as well as their own café. It has the bare essentials, and I swear by this place every time I visit. The café, however, is quite brilliant. Situated right on the beach, you can choose to sip something frosty and stare out at the sea for hours, or plonk on the sand and play with the friendly beach dogs. Their menu has quite a selection of sea-food, mostly continental style. What stole the show completely, though, were the banana fritters. Crispy and red-brown on the outside, gooey on the inside, and generously drenched in chocolaty Nutella, these plantains will drive you bananas.
Now, the reason I had such a whale of a time here, is because of the long hours I spent in the water. The only possible activity is swimming, and the sun shines strong through the day, so be prepared to slowly transform into lobster-like shades. I've attempted an analysis of the three strikingly different kinds of waters I experienced and how best to enjoy them—
Om, the Infinity Pool. Literally, treat this place like your private pool. There are practically no waves, there are snacks and drinks two steps out of the water, and it's perfect for non-swimmers. It's the ideal place to float on your back, feel the sun on your face, and let the occasional current bob you up and down. Also perfect to swim down the long stretches between shacks and work up a big appetite.
At Kudle, take a walk on the wild side. I had the most fun on this beach, though I was red-eyed, bruised and had a salty respiratory tract for a while after. We boarded a rustic, wooden boat at Om, and set off. With almost 90-degree tilts on the choppy waters, and a boatman who decided to show us a good time by manoeuvring through some unpleasant looking rocks, those 15-minutes couldn't have felt longer. Upon arrival, we tested ourselves a little more, however, by jumping into the most gigantic waves I have ever seen in real life. The beach here is even and very shallow, even a long distance from the shore, and you can easily walk into what seems like the middle of the ocean. The currents are mild, but the waves are big, beautiful, and temperamental. Jump at the right moment, or be pulled under, tossed upside-down, and force fed salt water. It took us a while to master the art of 'riding the waves', but once we did, there was no looking back. No swimming is possible here, and non-swimmers shouldn't venture in too far.
Paradise is no man's land. This rocky little cove is more conducive to bumming it than swimming. The currents are strong, and the swimmable stretch is short and rocky. Sit close to the shore and let the currents drag you all the way, it's strangely fun. The last boats leave by sunset, so don't miss your ride back.
All in all, I'd vote for the water at Kudle, the food at Om, and the views at Paradise. Take a trip, and you decide what floats your boat.
Getting There
* Via bus from Goa (Madgaon)/Bangalore.
* Train to Hubli Junction (regular trains from Hyderabad, Bangalore) and then via bus to Gokarna (direct), or via bus to Ankola (Rs. 100), and then bus to Gokarna (Rs. 30).
* Take an auto to Om Beach from Gokarna town.
Gallery: Gokarna