No Nasties is a young t-shirt company from Bombay that aims to promote awareness about fair trade, organic products, and sustainable business practices in India. Started by Diti and Apu, the company is contributing to better living conditions for farmers in India through their line of fresh and quirky designer t-shirts. The founders spoke to us in an exclusive interview about the company and its way forward. Read on for excerpts—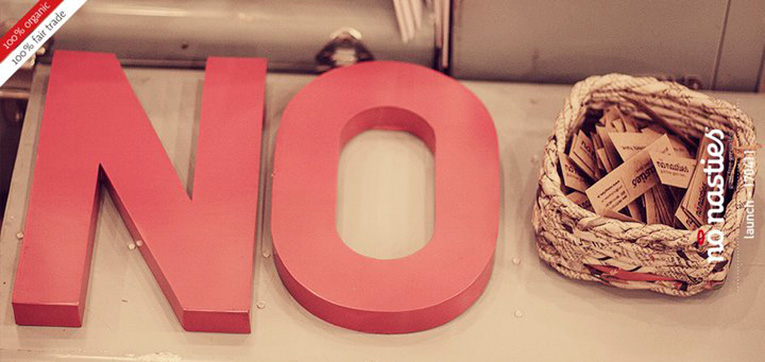 No means no. Photograph by Mangesh.
How did the idea for No Nasties come about?
Apu: I've been wanting to shift careers from technology for a while. I wanted to find something which was more meaningful and satisfying at a deeper level, not just financially. When I was abroad I was reading a lot about the plight of cotton farmers here in India. The original cotton belt of India has now been renamed the 'suicide belt'. 750 farmers committed suicide in Vidarbha last year—that's just one district. This is happening in a lot of districts in multiple states. It's ridiculous, and there seems to be more awareness about this abroad than in our own country.
"Farmers are given dying wages, not living wages. They live in poverty."
There's some good work being done here—there's an organic cotton movement, companies, products. There's fair trade as well in India. But all those products are primarily been sent abroad—in the U.S., in Europe, you see a lot of products that are made in India, that are 100 per cent organic, 100 per cent fair trade, but those are terms which people over here don't even know. It was this idea, of trying to help the situation, that led us to thinking about No Nasties. It wasn't about, like, 'Let's make t-shirts!'. It was about helping out farmers, and the end result is that we've come up with a t-shirt product which consumers can buy. It's not a lifestyle change for them, but they are helping to make an impact. That's the appeal. There are N.G.O.'s and even eco-friendly brands that push you towards changing your lifestyle, such as something like P.E.T.A. that encourages you to convert to vegetarianism, etc. We thought it would be better if people could have their way of life be the same, but at the same time, [encourage them to] make a conscious decision to buy more organic products. We're offering a designer, premier product, where people are buying the t-shirt for what they see, and not because it's organic. That was the concept, and we've been working on it for about six months.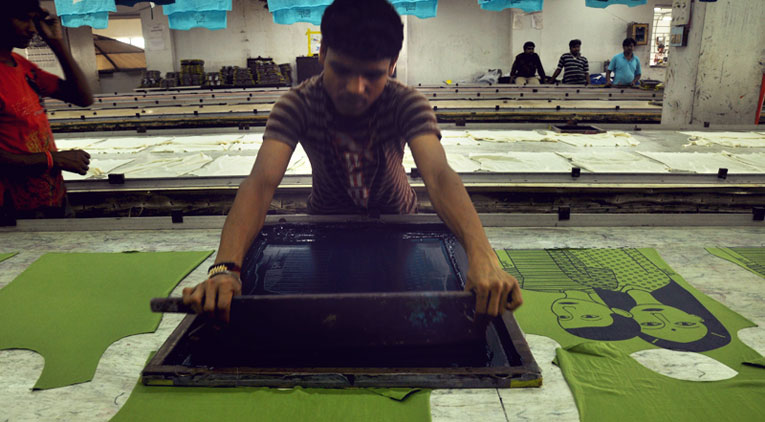 No Nasties t-shirts being produced in a factory in Calcutta. Photograph by Diti.
You talk about fair trade and refer to a 'slave trade economy' on your web site. Could you elaborate on that and talk about how what you're doing can help better the situation?
Apu: The conventional trap which farmers face is that those farmers who do not use organic farming techniques rely on pesticides. Most of these pesticides are banned in the West. Farmers have to take huge loans for these synthetic pesticides, which are sold by big multinational companies that do a lot of marketing at the village level. At the end of the season, due to these pesticides, the farmland is depleted in value. If it's a good season for everyone, then prices of products go down because of extra supply, and farmers don't make enough money. On the other hand, if demand is high and it hasn't been a good farming season, farmers don't make money either. Also, since the farm land is depleted, they have to buy a higher grade pesticide for the following year. Farmers are given dying wages, not living wages. They start living in poverty, the entire village suffers from a health perspective. The children don't go to school because the farmers need more help.
The slave economy part of it comes in because these companies start hiring underage labour, paying low wages, and generally exploiting farmers at every level. This is the challenge that fair trade is trying to solve by guaranteeing a minimum amount and paying them 50 per cent upfront. So the farmers know what they're going to get in a season, no matter what. There is a guaranteed living wage for the farmers. Fair trade also promises a 15 per cent premium price on top of the minimum price, which is dedicated for social upliftment. The farmers themselves get together and decide what to do with the 15 per cent. A lot of them build schools, or use the money to educate other farmers about organic farming, or to build hospitals.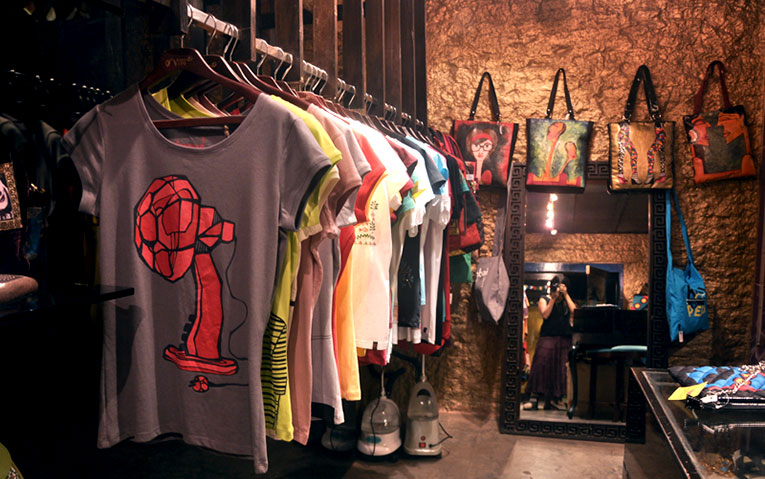 No Nasties t-shirts displayed at Bliss (Bombay). Photograph by Diti.
Doesn't fair trade also mean higher costs for consumers?
Apu: I think that depends on the company's pricing. What happens typically is that consumers are paying different price points, and the way to lower the prices is to exploit farmers, which is what fair trade is against. In a typical model, the farmers will get Rs. 20 on a Rs. 1,000 t-shirt. With a fair trade model, the farmers will get Rs. 100 for the same t-shirt. Our t-shirt prices are comparable to some of the other brands available. Maybe our t-shirts are slightly more expensive than some other popular brands, but we feel that the money goes a long way.
Who do you see as potential consumers? A typical college student might find the t-shirts beyond his/her budget.
Diti: We haven't really defined a target audience at all. Ideally it should be for everyone, because we want everyone to know about organic products and fair trade. We are being exclusive in terms of where we're stocking products, though, because we want to position ourselves as a premium brand.
Apu: I think the people who would buy our t-shirts are people who are conscious and who care—not just about the planet, etc. but about styling as well. They care to look good, they make an effort to look good, and are willing to pay a certain price for it. Having the premium factor is more about creating that brand—you know, that this is a company that people can trust, and it's not mass-market, which can sometimes cause the product to lose value in consumers's eyes.
Diti: We want to keep our entire language and tone very casual—we don't want to be preachy. We know that there is a lot of preaching out there, and there are a lot of t-shirts with messages on them. We want consumers to buy the t-shirts for the design, for the fit, for the quality, and by the by, learn about organic products and fair trade, etc. We also collaborate frequently with people, with causes, with designers.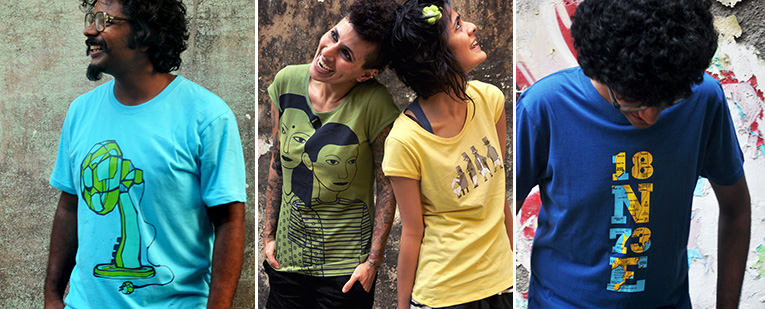 No Nasties designs: 'I'm a Huge Fan', 'Mulga Mulgi', 'Chacha', and 'Where You At, Mumbai?'. Photographs by Diti.
Do you have a particular design philosophy as far as the t-shirts are concerned? Are there certain kinds of designs that you prefer over others?
Diti: There's no philosophy, really. We just feel that the design should reflect the designer. It's entirely up to the designer and what he/she wants to create. We accept a lot of personal designs as well—for example, there's this girl who went on a backpacking trip to South America, so we picked up something from her sketchbook. The designs do need to be of a certain standard, though. And they have to be unique—we want to avoid the whole popular Bollywood-inspired designs or the kitsch, all the stuff that's overdone. What's important is that we want the personality of the designer to come through.
Apu: Long-term, we also want to explore getting designs and art from other sources. We want to have kids design them. We'd love to work with an orphanage or a similar smaller group of children who give us their artwork, which we transform into t-shirts. The proceeds will, of course, go back to that school or orphanage. I think it would be beautiful to see the work that comes out of that as well.
"We want consumers to buy the t-shirts for the design, for the fit, for the quality, and by the by, learn about organic products and fair trade."
How did you come up with the name 'No Nasties'?
Apu: (Laughs) Alright, here's the secret story. For three years, the name of the company was Green Tee.
Diti: And we both loved the name!
Apu: I even registered the web site greentee.in. Shweta, my wife, and I were sitting somewhere and talking about promoting organic products. She happened to be drinking green tea at the time, and she said that I should call the t-shirt company 'Green Tee'!
Diti: Later, we came to the realisation that it is very common for any organic company to be called something like 'Green Tee'. Our friends also told us to change the name—they said that they didn't want any 'green' in the name.
Apu: We had a brainstorming session, and thought about whether if this brand was a person, what would he/she be like? We came up with words like fun, quirky, young, etc. Eventually, over the course of the evening, we landed up on 'No Nasties'.
Diti: Also note that 'Nasties' is not spelled as 'Nastees'.
Apu: I registered the web site immediately. That's NoNasties.in. NoNasties.com is, I think, some kind of pest control company in some part of the world. We've preserved 'Green Tee' in the tagline, though. We are No Nasties—guilt-free green tees.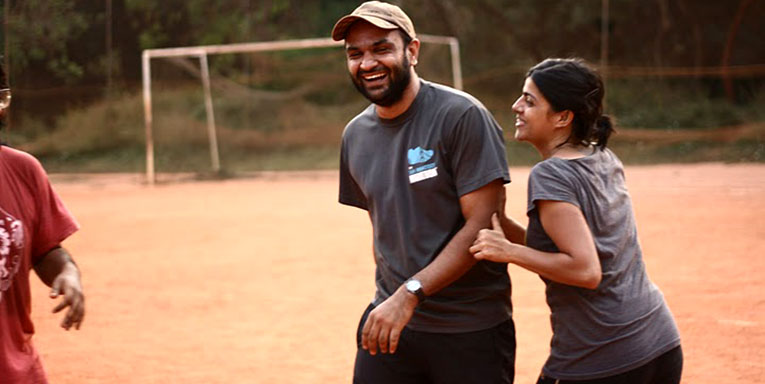 No Nasties founders Apu and Diti. Photograph by Mangesh.
Any final words for our readers?
Apu: One thing that we want to make sure your readers know is that the designer community we work with consists of individual designers. In the company, it's just Diti and I. We want to work with different designers constantly, to maintain the freshness of our designs. If any of you has anything in mind, send us an email, let's see what we can work on, even if you don't have a professional design/creative background. We do give our designers a lot of recognition—on each t-shirt we sell, there is a tag for the designer. It's not just a sticker, it's a proper printed tag, and includes the designer's web site URL. We features designers prominently on our web site as well. We're trying to do right by our designers by giving them the recognition and rewards that they deserve.
— — —
Besides their online store, No Nasties t-shirts are also available at the following locations in India—
ATTIC 5/5 Grants building, Arthur Bunder Road, Opp. Café Basilico, Colaba, Mumbai 400 005 • Tel.: +91 22 6565 0444
ATTIC Bir Sagar, End of 17th Road, Next to Santacruz Gurudwara, Santacruz (West), Mumbai 400 054 • Tel.: +91 22 3216 9292
BLISS 180, Aram Nagar 1, Near Legacy of China, Seven Bungalows, Versova, Andheri (West), Mumbai 400 061 • Tel.: +91 22 2633 2111
OUR LIL BIT 8A, Beach Queen, J P Road, Versova, Andheri (West), Mumbai 400 053 • Tel.: +91 22 2637 0011
MASALA CHAI 11 Second Street, Dr. Radhakrishnan Salai, Mylapore, Chennai 600 004 • Tel.: + 91 44 4210 9990