In this age of constant communication, discovering your own style of expression is not always easy. Talent is a prerequisite, true, but persistence and dedication are what makes an individual stand out from the crowd, and create an exclusive niche. And this is what Anjali Sinha has managed to do in a short span of time.
Indie abstract painter Anjali Sinha was born in New Delhi, to parents who encouraged her to spread her wings and fly. In January this year, she showcased her latest work, An Epilogue… and We Start Again, at the India Habitat Centre in New Delhi. Working out of her own studio at home, Anjali has sold her work to patrons across the world, from Eastern Europe to Latin America, from New York to London, and from Geneva to Boston.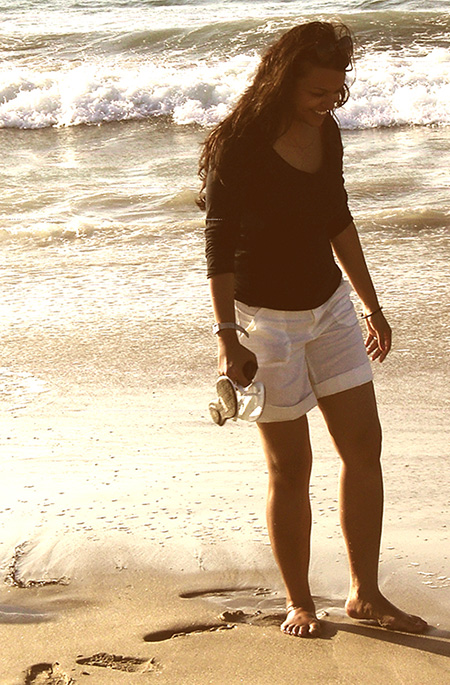 Artist Anjali Sinha.
Anjali works with acrylic, oil, charcoal, and on various textures. All her paintings, varied as they may be, carry one single message—the beginning. With her infectious smile and her joie de vivre, Anjali Sinha is a breath of fresh air and a source of hope and inspiration for the young, creative souls of this country. Besides painting, she writes, travels, acts, and dances.
All your work talks about a new start, a new life. Let us begin at the beginning, then.
I was born here, in New Delhi, but my parents were constantly travelling. We lived in London for a short while, after travelling through Europe and Africa, and finally, we settled in India. From a very young age, I was exposed to a multitude of cultures and people, across the world, and across this country, especially rural India. My parents never stopped exploring, whether it was food or literature. I guess my passion for the arts was cultivated at a very young age, but, of course, I never realised it till much later.
When did you realise your calling? Were you trained for it?
I always had an attachment to the arts, especially visual arts. It was the environment that I grew up in, I guess. My mother was into theatre, big time; and my father would sketch a bit. My maternal grandfather encouraged me to paint, and taught me the importance of various strokes. I named one of my collections after him—Mihir Soleil Oceanique—it was my first professional exhibition. My mother taught me the importance of colours, and my father taught me the importance of understanding one's creation by spending some time with it, and feeling it. My mother enrolled me in art class, Tie & Dye, when I was in school, and I became the President of the club. I was the head for the Wall Magazine, in school again, and a group of us had to put up content on the notice boards. I supplied the cartoon sketches. I was also involved with the fund raising committee of the Interact Club, for whom I made a lot of posters. However, I was never professionally trained for the arts. I love colours, therefore I paint. In fact, I cannot remember when I wanted to become an artist. There was no defining moment. I always roamed around with loads of rough paper and colour pencils that my father would get from his travels abroad.
Did you doodle all over the place?
Oh, yes! I had this restless energy as a child. I hated studying, so I would doodle all the time. Everywhere, on napkins, paper, clothes, and even my on my skin! The minute I lost interest in what was happening around me, usually in class, I would doodle images, sketches, illustrations, cartoons, or even words. I was caught once, for drawing a Calvin and Hobbes illustration, when I should have been paying attention in class. The teacher threw me out of class, but kept the sketch. I was most upset about the loss of that particular sketch. Doodling remains a therapeutic activity for me. Some people write diaries. I doodle.
"What really gets my goat is the lack of sincerity and respect towards art and the environment, and I hope to do something, however small, to change that."
Were you a good student? Do you think the education system in India makes sense, or do you think, in retrospect, that a vocational school would have made more sense?
India has one of the best education systems in the world, and I think that this education is very important. It helps you to move forward in life, teaches you how to live in society. Education does not hamper a person's abilities or talents. It enhances them. Having said that, I also wish there were some more art schools in India, like the ones they have abroad, so that art as a career option is less of a risk and more of an exciting journey. The trend has changed, and more and more people are open to the idea of art becoming a profession, as opposed to a hobby or passion, but the consequential financial insecurity is very much the same.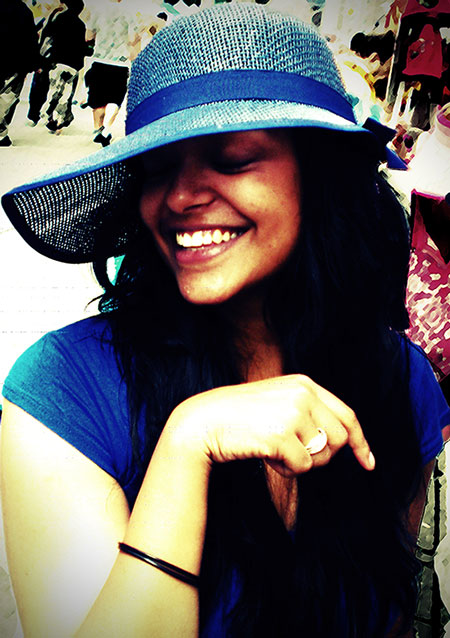 "I am a happy person, and I hope to reflect that in my work."
Do you think you should have gone to an art school? Would it have perhaps accelerated the process of appreciation and recognition?
Like I said, I hate studying. To each his own, I guess. Some people like to know the basics and to study the subject before finding his or her own style. I prefer to experiment and push the boundaries of my creativity—that journey is my learning. Recognition and appreciation are all about persistence, and not so much about where you learned your art from. What we artists really need is support, in terms of finances, opportunities for alternative ideas and spaces, and respect, especially for the beginners. We also need more support from our peers, parents, and society. I consider myself very fortunate to have a family and friends who pushed me into exploring my abilities as an artist. They boosted my morale and self-confidence, although it took me three to four years to discard the security of a job and to plunge headlong into making my passion a full-time profession.
Most artists are portrayed as morose, reclusive people, almost always depressed. Do you think an artist can never really be a people's person, that he or she cannot lead a normal life, given the inevitable self-absorption?
I do not agree with that. Most artists in history never received the support and appreciation they deserved. Many of them were ahead of their times, and were often misunderstood. They did not become loners by choice. An artist is a human being, who may have more mood swings than those around him, but he still needs friends to appreciate him and advise him. I am lucky to have the friends I do, and the family that I was blessed with. They may not always understand my art, but they support me unconditionally. I feel pain, love, joy and happiness, as much as the next person. I believe I am as normal as any other girl of my age. I like to party, to hang out with friends, and I love shopping. The latter is not something I can indulge in too much these days, given that I do not receive regular paycheques! I am a happy person, though, and I hope to reflect that in my work.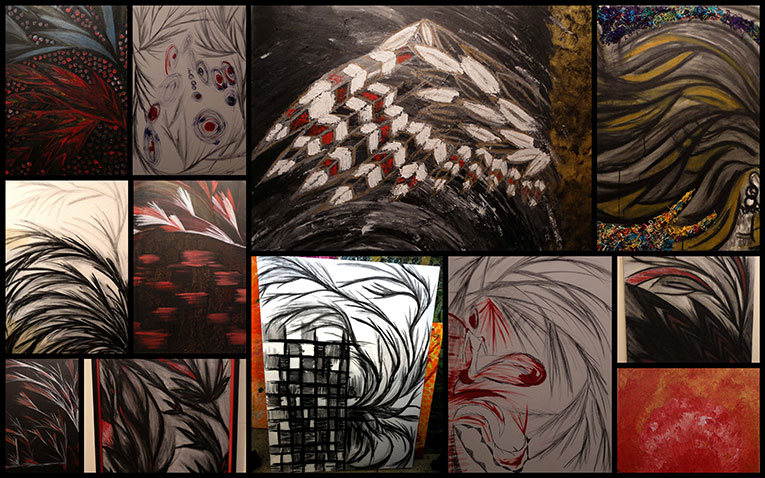 An Epilogue… and We Start Again
by Anjali Sinha.
Do you plan a series and then begin work on it? Or do you just paint as and when the mood sets in?
I never plan. I keep away from the canvas for long intervals, during which I travel, read, and meet a lot of people. I do not pick up a brush till the itch to do so sets in, and when it does, ideas keep flashing through my system. I become obsessed, and I cannot stop till I have created the beginning of something pure and unadulterated. I shut myself in my studio, and I explore these ideas till I am worn out, over a period of weeks, months, or even years. Once my mind is exhausted, I realise that I have created a new series or a new set of paintings, to be showcased.
"I cannot remember when I wanted to become an artist. There was no defining moment. I always roamed around with loads of rough paper and colour pencils that my father would get from his travels abroad."
Your consistent theme, besides 'beginnings', is hope. Tell us a little about your works so far, especially your last exhibition, An Epilogue… and We Start Again. Where does your inspiration come from?
Most of my paintings are inspired by my travels, and the people I meet, as well as the environments I visit, the books I read, the movies I watch, and the music I hear. I am an experimental nomad. I do not go looking for inspiration, which is why I find it in the unlikeliest places. Most of my work is about the newness that I experience, the beginning. It can be death, too, but in reverse, like my painting of the Phoenix rising from the ashes. One of my favourite muses is the Whirling Dervish of Turkey. Traditionally, he wears white, but I have painted him in different colours—black, for example, when he is dancing under the stars in the middle of the night.
The five paintings of the Moon series are visualisations of the juxtaposition between the different phases of the moon and the five elements. Mythologies of the Hindus, the Greeks, the Christians, and the Native Americans, to name a few, are always an inspiration. Another favourite muse is Buddha, the one who enlightens. An Epilogue… is the beginning of the journey of my new works on tribal people and tattoos. It concentrates on the lives of different tribal groups of India. The response to this collection was quite amazing. A lot of people were quite intrigued by the paintings, and they kept revisiting the show. I had some very interesting interactions with these people.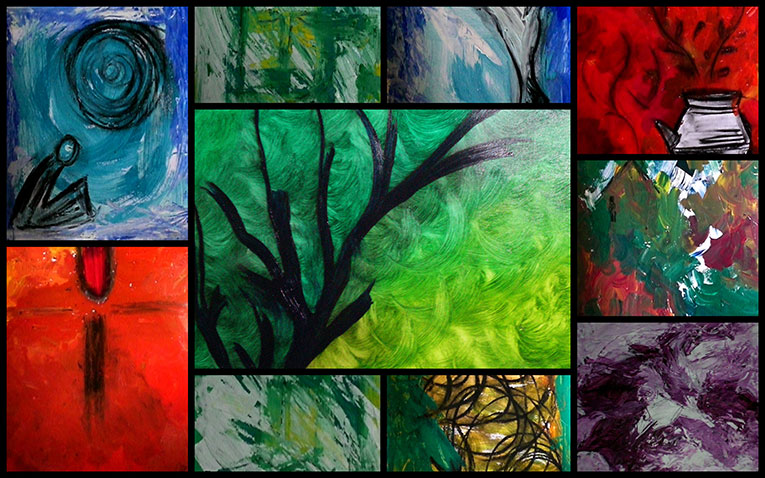 Paper and Me
by Anjali Sinha.
You tag your work under the label 'abstract'. Who is your typical audience, either targeted or unintentional?
Although I call myself an abstract artist, the main objective of my work is to reach out to people. Art is a form of human expression, a communication of one's deepest fears, desires, thoughts, hopes, fantasies and so on. The person who expresses is an artist, irrespective of the media he works in—be it film, photography, theatre, etc. This communication is interpreted differently by various people. I consciously label my paintings with titles that do not have hidden meanings, and are therefore open to individual interpretation. Each of my exhibitions has attracted different types of people. A mixed bag of people, really. Old, young, students, housewives, and, of course, art patrons, so it is difficult to specify.
What is your take on the art scene in India today? Any collaborations in the pipeline?
The art scene in India is growing, but it has so much more potential, so much more to express and experiment with. I look at the development of the New York art scene, and I marvel at the variety that is showcased, thanks to the multicultural environment there. And then I wish that India, with its colourful mix of cultures and environments, could be expressed in more spaces, more often. I enjoy the works of S. H. Raza, Kundo, and Jackson Pollock, amongst others. I would love to collaborate with musicians, tattoo artists, and local craftsmen, to be able to do some interesting work together, and also with organisations that deal with social development, in forwarding causes, through a display of artwork. What really gets my goat is the lack of sincerity and respect towards art and the environment, and I hope to do something, however small, to change that.