It has been pouring for hours and I've just come home after a long day of work. I'm drenched from head to toe. Needless to say, I am really not in the best of moods. I am hungry. What I want is something simple (but filling), and quick to cook. What I do not want is to get involved with complex spice pastes, slow marinades, and hour-long preparations.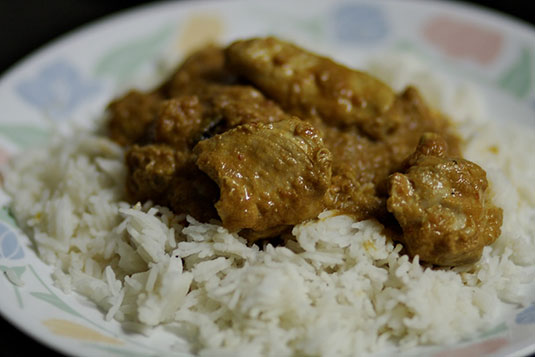 Curried Chicken with Tomatoes. Photograph by Aashim Tyagi.
As I turn the water heater on in the shower, I take the chicken out to defrost. I normally plonk the sealed ziplock bag in a bowl of lukewarm water for about 20 minutes, which is perfect because that's how long it takes me to have a shower and start getting the rest of my ingredients in order.
Tomato Chicken Curry
What I am cooking tonight is Curried Chicken with Tomatoes. This is one of my favourite things to eat and cook—the sauce is a lesson in simplicity. It is hearty but not rich. It relies on ground onions rather than cream or yogurt to give it body, while the base consists of spices you find in most pantries. What I love most about this dish, though, are the pulpy tomatoes that add just enough tartness to the curry.
There is a magical transformation that happens when you are a spectator of the falling rain, rather than being caught in it unwillingly. The curses, coupled with the weight of the wet dirty clothes, are turned into hope and optimism by the comforting smell of curry bubbling away in the kitchen. And all it takes is 45 minutes from stove to plate.

What you need
* One kg. chicken pieces on the bone
* Two medium onions—ground
* Two tomatoes—chunky chops
* Three garlic pods and one thumb of ginger—minced
* Half-inch cinnamon stick
* Five cloves
* Half tsp. chilli flakes
* Half tsp. turmeric powder
* One tsp. red chilli powder
* Two tbsp. coriander powder
* Salt to taste
* Water, approximately 300 ml.
* Three tbsp. vegetable oil
Let's do this
* Heat the oil.
* Add the ground onions and fry till they start to change colour.
* Add the ginger/garlic mince and add a touch of water to blend with the onions. Fry until it melds together and you get a dark brown color.
* Keep adding a little water in case it starts to dry or starts to stick.
* Add the cinnamon, cloves, and the chilli flakes, and fry for another couple of minutes.
* Add the tomatoes and let them mix well with the paste.
* Add the other spices (no salt) and blend with more water—you want a thick, saucy consistency.
* Add the chicken pieces and mix well so that the sauce coats all around. Fry the chicken for a couple of minutes until the pieces start to brown in patches.
* Pour enough water to rise just above the chicken and add salt. Stir it well.
* Bring the sauce to a boil.
* Put the lid on, turn the heat down to the lowest setting, and let it simmer until the chicken is cooked (around 35-40 minutes).
* Serve with rice or crusty baguette.
Look and Learn