Your Name Is a Room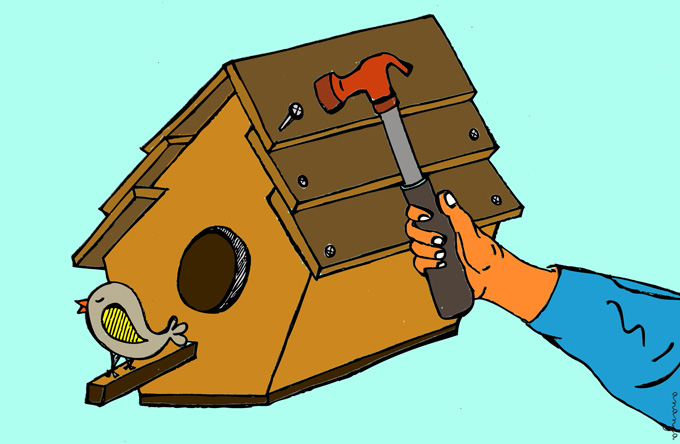 Your name is the only room I need.
Just the room—the solid walls and a space of air,
devoid of all curtains or windows.
The plain sound of your name is a clear message beep
that carries into the living air,
each syllable travelling its life time,
to the thick space
between raindrops
or to the yellow throat of the sparrow
who cannot sing its last sorrow.
What I'm saying is that your name is a room,
a quiet beep, a giver.
That this very moment I say it,
a beautiful man in worn-out jeans is hammering nails to a birdhouse
with a phone heavy in his pocket
and a woman looking up at his radiant face,
who may or may not exist.

Namita is a student from Kerala who enjoys writing poems with mathematical terms and strange analogies. Her awards include a commendation in the Foyle Young Poets Award 2010 and the Saarang Writing Award for Poetry 2012. She is cofounder and editor of youth magazine 'The Crocodile' and works as a contributing writer for 'That's So Gloss!'

Ananya is a design student and dog lover. When she's not busy drawing odd faces, she loves munching on some grape-flavoured Tang while keeping her stationery intact. She has a weakness for fine-nibbed black pens and
handmade books.