[Workshop] Writing Comics: A Practitioner's Guide
On Sunday, July 6, Helter Skelter will host a three-hour-long workshop in Mumbai about writing for comics and graphic novels. Conducted by Jai Undurti, creator of Hyderabad: A Graphic Novel, the workshop will focus on reading and decoding comics, the mechanics of writing comic books, and picture languages in general, all from a practitioner's point of view.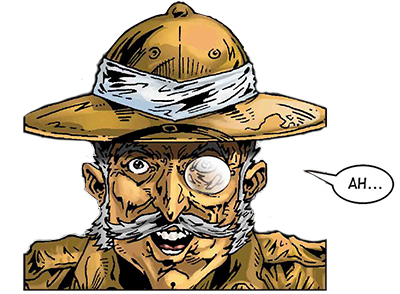 As part of the workshop, Jai will also show participants how to create your own superheroes: designing costumes and superpowers, discovering the arch nemesis, constructing a cover identity, and bringing to life the love interest.
Recreating the Vanished City
The workshop will be preceded by a short talk by Jai, during which he will take participants through the pages of Hyderabad: A Graphic Novel, and talk about the making of the book: working through interviews, descriptions, paintings, lithographs, and archival photographs, and recreating a city long vanished in the graphical medium.
You can also purchase signed copies of the book at the event.
---
Event Details:
Venue: The Hive, 50 – A, Huma Mansion, Opposite Ahmed Bakery, Chuim Village Road, Khar (West), Mumbai, India (Phone: +91 98 20 998790) – (map)
Date: Sunday, July 6, 2014
Time: 4 p.m.-7 p.m.
Participation Fee: ₹300
---
Registration
There is a limited number of spots available—a maximum of 50 people can participate in the workshop. Please register for the workshop using the form below, and we will confirm your spot via email/phone.
Registration for 'Writing Comics' is now closed.
---
Click here to download the high-resolution version of the event poster. Please feel free to print it out and put it up in your neighbourhood. Help us spread the word!