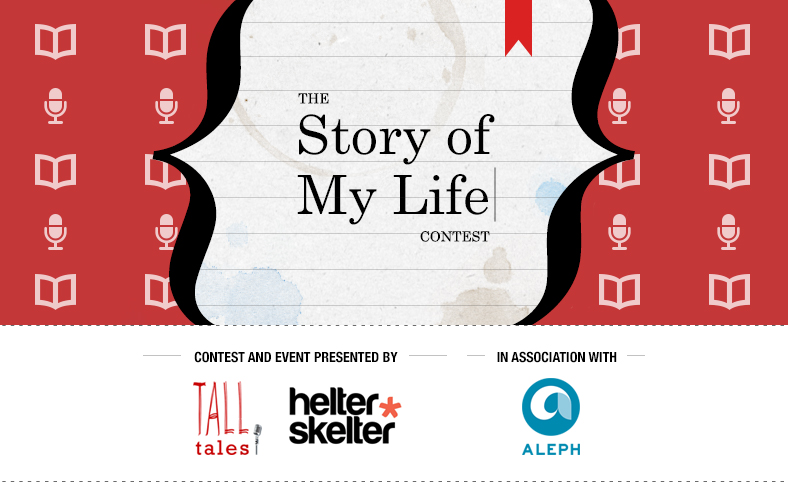 Join Tall Tales, Helter Skelter Magazine, and Aleph Book Company in January 2014 for The Story of My Life, a special night of live storytelling at Studio X in Mumbai.
This will be Helter Skelter's first-ever live event, and we'd love for you to be a part of it. Each one of us has at least one great story to tell: it could be about an unforgettable childhood incident, the story of the one who got away, that New Year's Eve party where you made an utter fool of yourself, or the one time you got stuck in an elevator with a stranger—anything at all. Tales of survival, tales of camaraderie, tales of adventure, tales of love, and tales of guilt: there are certain stories that are ours alone that we love to narrate over and over again to our friends, acquaintances, and loved ones.
We want you to share your stories with us; these stories of your lives. They could be happy, sad, funny, scary, or just plain cringe-inducing. All we ask is for the stories to be true, personal, and about things that have happened to you. The narrators of the five best stories will get to tell their stories live in front of an audience on January 24, 2014, at Studio X in Mumbai. Wait, there's more: in celebration of their first anniversary, Aleph Book Company, the publisher of such acclaimed titles as Em and the Big Hoom, The Wildings, The Taliban Cricket Club, and The House of Blue Mangoes, will give away free book hampers to each of the five winning storytellers.
Here's how you can be a part of the event:
1. We're looking for great stories, and not necessarily great writing. If you have a great story, but don't have the best writing skills, don't worry—send us your story and we'll work with you to make it suitable for narration.
2. Email your story (or stories) to ttstories@helterskelter.in on or before January 12, 2014.
3. Emails should be sent using the subject line 'The Story of My Life' and should include a photograph and a short bio of yourself.
4. All entries must be sent to us as email attachments in Microsoft Word (.doc or .docx) format only. Do not send us documents in PDF, TXT, or RTF format. Do NOT paste your entry in the body of the email. For those of you sending in multiple entries: please attach all your stories to the same email.
5. Submissions should not exceed 2,000 words in length (to ensure that each story can be narrated in under 15 minutes).
6. Please ensure that you can be in Mumbai (at your own expense) during the period of January 15-February 4, 2014.
Visit the Tall Tales website to listen to audio clips or watch videos of past storytelling events. If you have any questions about the event or the submission process, please email us at ttstories@helterskelter.in or call +91 97 69 725776 / +91 99 20 455171.
---
Event Details:
The Story of My Life—presented by Tall Tales, Helter Skelter Magazine, and Aleph Book Company.
Venue: Studio X, 4th Floor, Kitab Mahal, 192, Dadabhai Naoroji Road, Fort, Mumbai 400 001, India (Phone: +91 97 69 725776 / +91 99 20 455171)
Date: January 24, 2014
Time: 7 p.m. (doors open at 6.30 p.m.)
Entry Fee: ₹500 (refreshments included)
Subscribe to our newsletter or join us on Facebook and/or Twitter to stay updated about the event.