Bhaskar Hazarika has spoken about how it was the sight of two people eating KFC chicken and the sense of their tacit connection forged through the food that first gave him the idea for Aamis, his second Assamese-language feature which premiered at the Tribeca Film Festival earlier this year.
The film develops as a quiet and gentle romance between a young PhD scholar who is researching meat-eating traditions in northeast India and a married doctor as they meet and bond over a shared passion for meat. Careful to avoid one kind of social taboo the two hurtle towards another kind of transgression, finding themselves in increasingly murky territory where desire and hunger become interchangeable. "I hope your palate is adventurous," one character says to the other early on in the film. It is a statement Aamis seems to direct as much to its audience.
The film offers meat in its many unusual and audacious forms as a way to connect for the lovers who, fearing judgement, cannot avail of the more conventional expressions and displays of affection used in society. It is interesting then that the only time in the film that they do touch, an act the film teases many times but does not allow until the very end, is when society, appalled and uncomprehending, turns away from them.
Hazarika's National Award-winning first film Kothanodi (2015), which adapts Assamese folktales drawn from the Lakshminath Bezbaruah-compiled Burhi Aai'r Xaadhu (Grandmother's Tales) into four distinct and yet shared narratives about mothers, also encapsulates themes of greed, sin, punishment and even transgressive food, along with elements of body horror. A sense of the eerie takes hold of the film right from the start as a man digs deep inside a forest at night, a baby lying bundled up next to him, and with a spine-chilling soundtrack accompanying this secret act. Moreover, the film's pre-colonial, rural setting, one-dimensional characters typical of folktales and unmistakably dark stories, despite their realistic treatment, give it a slightly stylised, distant character. In contrast, Aamis's contemporary, urban context and familiar, relatable beginning draws the viewer in instantly, so that when the film exposes its true potential for horror, the sense of dread is brought straight into our homes and onto our plates.
In a recent conversation with Helter Skelter, Hazarika spoke about the overwhelming and somewhat surprising emotional response to Aamis, the film's possible place within a genre that combines the bleak with the beautiful, and how for both his directorial features realistic portrayals helped to convey their underlying horror with more effect.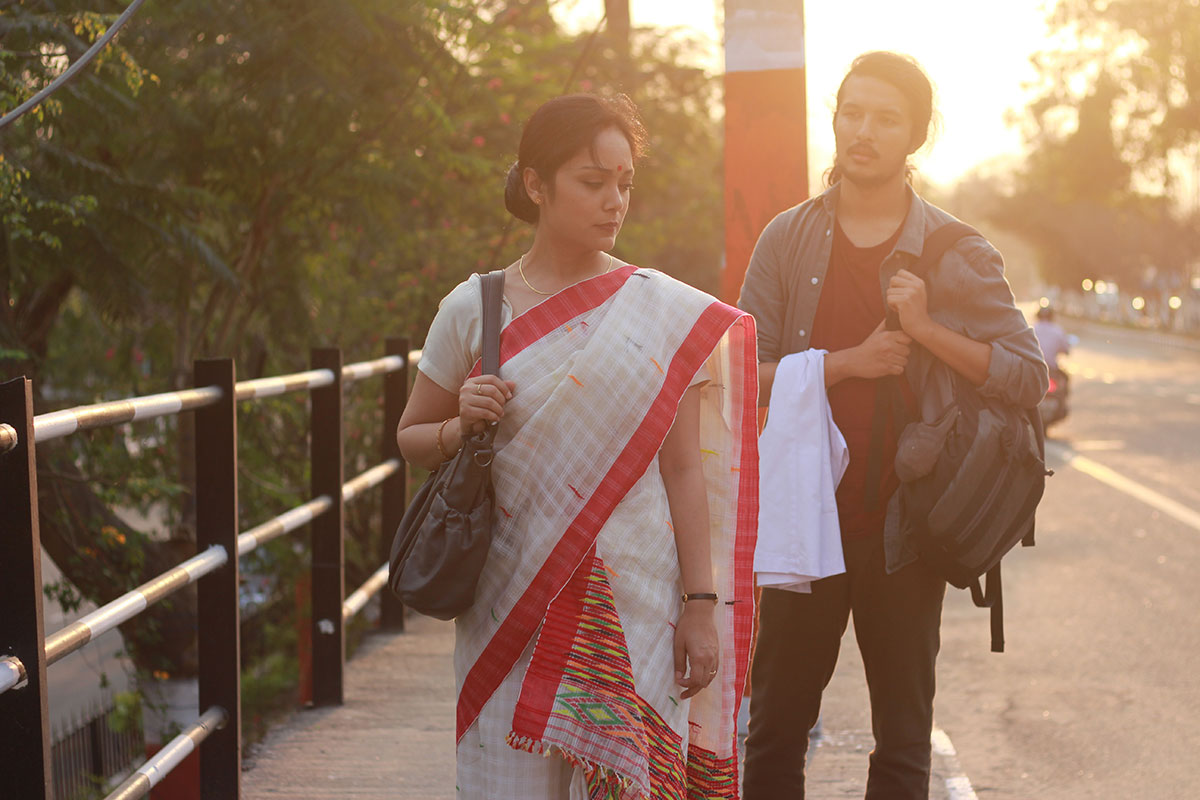 A still from Bhaskar Hazarika's
Aamis
.
Tell me a little about the beginnings of your interest in cinema and when you decided you wanted to be a filmmaker. How did your very specific interests in a certain kind of cinema develop?
I vaguely knew as a teenager that I wanted to make films someday, and if not make films, then write books. Horror was a staple part of my literary development. I read a lot of Edgar Allan Poe, H. P. Lovecraft and other niche authors out of the U.S.A. And of course, there was Stephen King who really influenced me in how to develop a story. So, it began like that but now when I am working as a filmmaker at a professional level, I do not restrict myself to only one genre. I would not like to, either, because it is not good for my career. You know, if you're thinking of filmmaking as a job, just as you think of banking as a job. So, I do all kinds of stuff and I have interests in all kinds of genres.
Which films have you felt most inspired by?
There are too many to list. I really don't know what to say because I feel that if I say one name I will do injustice to the others. Like if someone asked you which is your favourite book, you would also be stumped, right? I really don't know, but I like the work of directors like David Cronenberg, Werner Herzog, and Gaspar Noé, among contemporary filmmakers. I look out for these directors and try to see their work whenever I can.
Given that it caters to specific tastes as genre films often do, even the ones that subvert expectations, did you expect the kind of reception Aamis has had?
I expected abuse. It was a provocative film, so I knew people would get provoked. But I was not expecting the kind of understanding the film has received. It is quite overwhelming. People have reacted so emotionally to this film. I have personally received messages from people who have said that they did not sleep all night, that they went back to watch it 3–4 times. I don't know what that says about the times we live in. Mostly it's been good feedback.
"We used the word 'sadcore' to describe the mood of the film. There is a genre of music like that where everything is pretty but the mood of the song is very depressing. I would say that the film belongs to that kind of a genre."
The film screened in several theatres across the country recently and it has also been rather uniquely released through MovieSaints. With more mainstream audiences gaining access, has the experience of the past few weeks been different from the film's run in the festival circuit where audiences tend to be more receptive to unconventional cinema?
In festivals, there is a cinema-literate audience, so I have rarely met people who failed to understand the film. So, say out of 100 people, 90 would love the film in a festival and 10 would hate it because they wouldn't understand it, or whatever. I thought that that proportion would jump to 70–30 when it's releasing [for a mainstream audience] because we are talking about a lay audience here, but surprisingly the proportion stayed more or less the same. And of course we keep entering festivals and we keep getting rejected by festivals. Aamis has been rejected by so many film festivals. That's when we realised that this is not a jury film; this is an audience film. So we kind of expected people to understand the film, but not to this extent. I thought maybe there aren't too many people like us—the guys who made the film—but apparently there are!
Horror interests you as a genre. While Kothanodi belongs to it more directly, I was wondering where you would place Aamis. Do you have a name for this genre hybrid?
We used the word 'sadcore' to describe the mood of the film. There is a genre of music like that where everything is pretty but the mood of the song is very depressing. I would say that the film belongs to that kind of a genre.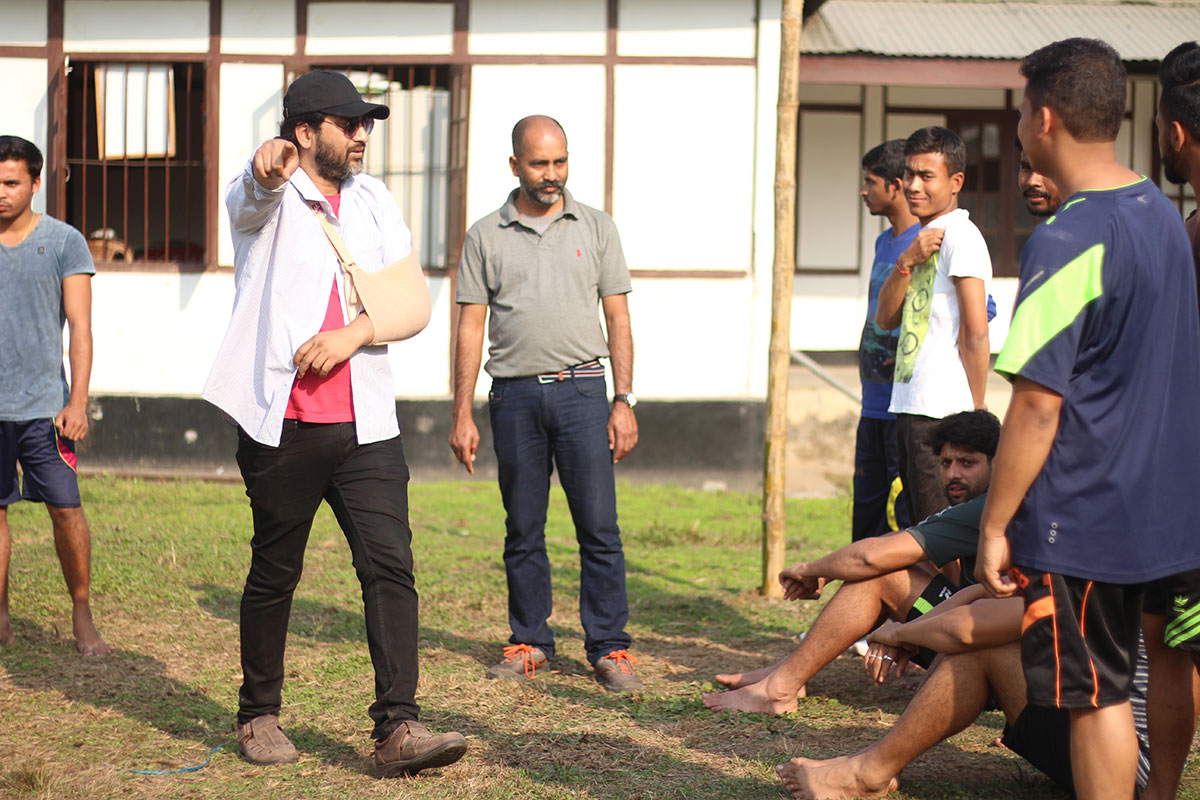 Bhaskar Hazarika during the making of
Aamis
.
Do you think Aamis's placement within a familiar, realistic, romance format, at least in its first half, enabled its subversive core to be presented with more impact and to wider appeal?
So that is one common thing between Kothanodi and Aamis. They are very realistically portrayed. In Kothanodi, it is not like I had modified the stories or made them more horrific than they already were. They were exactly as they were shown in the film. It is just that people have for generations depicted them as dance dramas and theatrical plays so the horror of it goes away. But if you just present, shot by shot, what must have happened in these stories, the horror comes out more starkly. It's the same thing with Aamis. It is deliberately situated in a universe that is very similar to ours, to the spaces we inhabit. It is very believable. These aren't stereotypes of criminals who belong to low-income groups or are desperados. It was shot in a realistic way so that it makes people feel that this could have been us. [Our intent was] to make it immediate so that it was more scary.
What are you working on now?
I am doing several things. I have written a road film which will be produced by my studio Metanormal Motion Pictures. I won't be directing it. It is a young film by a young crew. And then there is my own film which I am trying to develop which I think will be shot by November next year. And, what else does a director do in his free time? — Try to pitch web series!
Both Kothanodi and Aamis are currently streaming on MovieSaints.