A picturesque and bumpy bus ride from Palakkad leads to Pallassena, a village proud of its temples, traditions of celebration, culture, and above all, simplicity.
From the toddlers to those with shivering hands, everyone from this village takes immense pleasure in celebrating all the festivals for their gods. Divided into East Pallassena and West Pallassena, the village has occasions to rejoice throughout the year. Karivela and Vela commemorate Vishu in April (the New Year of Malayalis) followed by Kanyar Kali (folk dance of Palakkad district); Sri Krishna Jayanti in August which is accompanied by Saptaham (seven days of Krishna katha in temples); Neraputari (rejoicing the arrival of new crops), Onatalla, and Avitatalla following Onam in September; Navaratri for nine days in October-November, and Ayappan Viluku praising Lord Ayappa in December.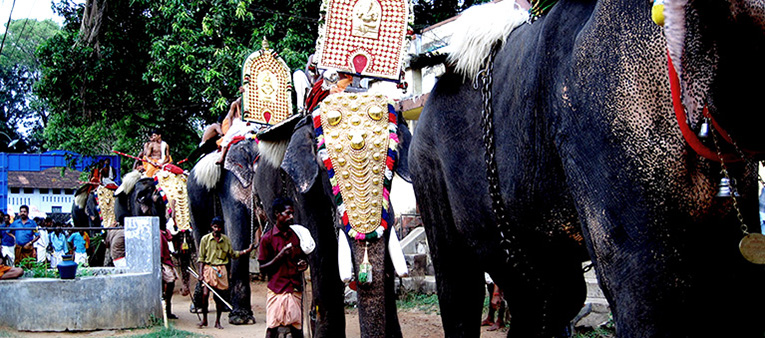 Decorated elephants are a highlight of every procession. Photograph by Vandana Kanak.
A procession of decorated elephants is led by a group of localites—the group consists of 12-year-olds to 60-year-olds playing five different instruments, called as panchavadyam (timila, maddalam, ilathalam, and idakka are all percussion instruments, and kombu is a wind instrument).
Pallassena is alive throughout the year, and villagers from all age groups make all the celebrations colourful with encouragement and participation.
Gallery: Pallassena