Amruta Patil sketches her stories — literally. Her debut novel Kari unfolds itself delicately (and hardly ever completely) through stark black and white drawings interspersed with sudden bursts of colours. Reading Kari makes you want to have Patil for a friend — she promises some great ideas and conversations. We caught up with the author over email for a little chat about herself, Kari and the future of graphic novels in India.

Kari
book cover; courtesy of Amruta Patil and HarperCollins Publishers India.
Tell us a little about your early years. What do you think inspired you to become a writer?
My early years were idyllic — outdoorsy family, seaside small-town upbringing (albeit a cosmopolitan one because my father was in the Indian Navy). Childhood pleasures weren't store-bought — my parents encouraged us to fashion our own toys and games. This made us less "cool" than kids that had remote control helicopters and Malibu Barbies, but it paid off in the long run. I'd been drawing since I was a toddler; and once I read The Diary of Anne Frank at age nine, I started writing and never stopped. I sometimes feel sorry for urban kids whose lives are so busy — their extra-curricular activities are like an office job. No time to daydream, or be solitary, or geekish. No chance to groom an inner life.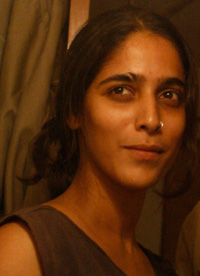 Amruta Patil. Photograph by Luke Haokip.
What draws you to the illustrated form of storytelling? As an illustrator and writer, how important do you feel is the presence of illustrations for any literary piece of work?
I happen to share Alice's vein of thought ("… and what is the use of a book," thought Alice, "without pictures …", from Lewis Caroll's Alice's Adventures in Wonderland). Pictures are so alluring; people of all ages like to look at them — and yet we force them out of our reading realm because they aren't highbrow or grown-up enough. Why? While I don't think all stories need to be told with pictures, quality literature of lasting worth can be told in pictures and words as well. There needs to be no dichotomy between story-stories and graphic-stories. The only thing that is imperative is that the storyteller be masterful.
Honestly, I found it difficult to slot your book; to completely understand everything it had to say. How do you describe Kari? What made you choose to tell Kari's story?
Why would you want to slot the book? Thank God you couldn't and didn't! Let a story say different things to different people, let there be layers that may be slowly unfurled in re-read. This is one of India's innumerable realities — one that is shared by a growing number of brave, solitary youngsters in urban India. Kari also offers a counterpoint to the hyperfeminine stereotype or the jaded Bridget Jones stereotypes that exist in fiction.
Kari's story talks about a lot of things — urban living, sexuality, the environment, love and loss, conflict with traditions. How did all these blend into one narrative?
Kari is about the usual preoccupations of youth — love, sexuality, death, individuality versus family. A confluence of these things is the fibre of life itself, no? Over and above all, I see Kari as a story about friendships. "Friendship" in various forms — Kari's "twinship" with Ruth, the prickly protective connection with Angel, the strained sisterhood of Crystal Palace, the camaraderie with Lazarus, the unlabeled affectionate ties with Kusumtai and Alexa.
"There needs to be no dichotomy between story-stories and graphic-stories. The only thing that is imperative is that the storyteller be masterful."
There are many allusions to mythology in Kari — Angel, Lazarus, the Ark, the boatman. What inspired such character sketches?
The most fundamental, timeless lessons have been sent our way curled up, like the tip of a fern, in myths. I'm attracted to the continuity of the storyteller's tradition, the way so many things that ring "true" are an ode to an older truth spoken before. It is a connect I would always like to retain in my writing — like information in the DNA.
Graphic literature is dominated by men (Alan Moore, Frank Miller, Stan Lee, Jeff Smith, and closer home, Sarnath Banerjee). Women graphic novelists are few and far between. Does it make a difference to be a woman and a graphic novelist?
There are fewer women than men in most professions — barring education, perhaps — so this isn't surprising. Also, for a long time, the themes comics dealt with ensured that it was boys writing boys's stories. That is changing. You have women from around the world — Marjane Satrapi, Rutu Modan, Alison Bechdel, Posy Simmonds, to name a few — that are strong, individual voices telling different sorts of stories. They are auteurs — they write and draw their stories. It's great that there is a growing representation of female voices — it makes the medium richer. But that said, a good story counts more than the gender of the storyteller.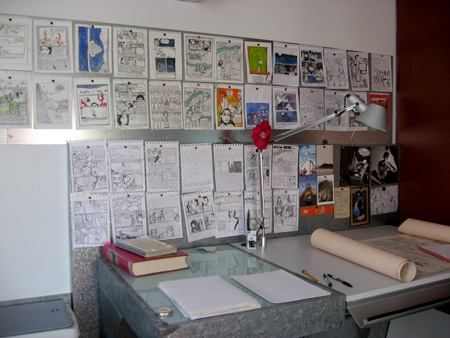 Where it all comes together. Photograph by Amruta Patil.
The last few years seem to have witnessed a sudden spurt in graphic novels. What do you think is its potential in India, a country which doesn't exactly have a tradition or culture of comics?
It is often an advantage to not have a tradition, and to come to something anew. You start off with no stifling boxes. Your readers are not jaded by expectations. It's a great opportunity to create a new language, new grammar, find new, indigenous solutions to narrative dead-ends, to find context-specific ways to communicate. Indians are clever readers, adept at handling complexity — this offers much possibility to people who want to tell a story. One cannot overemphasise the need to nurture and guard that fragile thing that is the original voice.
Tell us about your association with Mindfields.
Mindfields is a quarterly print journal about ideas and education, which I co-edit along with Luke Haokip. It hopes to contribute — in whatever tiny way it can — towards bringing some spark and self-esteem into the school system and school staffrooms in India. We bring ideas and essays from around the world; we interview imaginative teachers/educators/entrepreneurs who are already working in the field of education in India. People keep on harping about the abysmal state of things. We profile the good things that are going on, and put ideas on the table that could possibly spiffy things in other areas.
Who are your favourite authors? What are your favourite books?
The Mahabharat, in its various editions and forms. The Bible, for its inimitable voice, and bounty. V. S. Naipaul's Miguel Street, Saint-Exupéry's The Little Prince, J. M. Coetzee's Waiting for the Barbarians, John Steinbeck's Tortilla Flat, Jeanette Winterson's Weight, Frank Herbert's Dune, Virginia Woolf's Orlando, Coleman Barks' translation of Jalaluddin Rumi's work, R. K. Narayan's Malgudi series. Among so many, so many others.