Before the fateful summer of 2010, I'd never really thought about Bhutan. On the other hand, I knew a fair bit about all our other neighbouring countries. Pakistan, obviously. Sri Lanka and its Elam. Bangladesh's history. And even Nepal, Tibet, and Myanmar. So, when I received an email about the Mountain Echoes Literary Festival that was soon to take place at Thimphu, it made me think about why I hadn't bothered to find out more about Bhutan.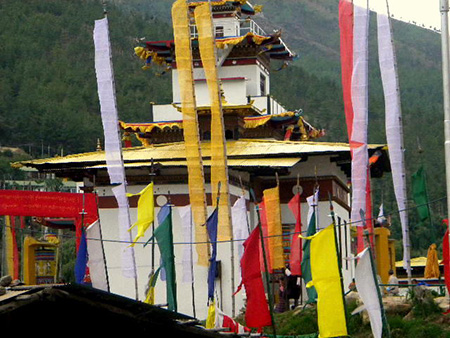 Dzong at Thimphu, Bhutan. Photograph by Saudamini Kalra.
I felt a little guilty, as though I'd been at a dinner party, talking to everyone and completely ignoring one of the guests. I would have assumed it was just my ignorance, but after taking a small survey amongst friends and family, I realised they didn't know much about the country either. So, what is it about Bhutan that made us completely overlook it in our travel shows and our Sunday newspaper supplements? Is it a certain lack of glamour in their lifestyle? Or is it a deliberate attempt by the very mysterious nation to keep pesky foreigners away?
Sadly, no amount of Google-ing would help me find those answers. I did, however, find some useful tidbits about my soon-to-be exotic vacation. I was rather alarmed by the same recurring warning everywhere: "Bhutan doesn't like too many tourists". Rather odd policy for a developing nation in this day and age, I thought. What country would want to keep its fair share of lovely tourists, or at least the lovely currency they bring, at bay?
My bundle of questions only grew with more research, until I could wait for the answers no more, and decided that I needed to visit Bhutan. So, with a few friends, I set off from the New Delhi Railway Station, survived near-death stampedes at the platform, to say nothing of the lengthy delays, and finally reached the bustling Howrah railway station in Kolkata. The nearest major railway station to the Jaigaon-Phuntsholing border (named after towns on either side) is actually at New Jalpaiguri, but since our trip was spontaneous, we managed to get tickets only till Howrah. The Bhutanese government does run direct buses from Kolkata to Phuntsholing; running at 7 a.m., three days a week, but our belated train caused us to miss the bus and our connection train to New Jalpaiguri as well. Fortunately, we could get unreserved tickets to another train passing through Howrah going to New Jalpaiguri, and it happened to be the same train our friends from Chennai had boarded.
Every good story has a drunken fight
As fate would have it, boarding this train turned out to be a very, very bad idea. When our "super fast express" finally did start (after being held up for five hours due to a freight derailment), we though the worst was behind us. Little did we know that the cursed train was also carrying ticketless travellers who got into a fight with some drunken good Samaritans trying to get them off the train, resulting in a huge train feud. All night, we heard loud Bengalis cursing and shouting, as the two parties literally chased each other up and down the train. We were told a little while later that all trouble had been dealt with. We were misinformed.
As we snoozed away, the lower berth was suddenly visited by the aforementioned mob. Before we knew it, some of the ladies in the berth pointed to one of my friends, the men beat him up until he bled, and all we could do was watch. The police took an hour to get there, the poor guy received no medical aid at all, and no one from the Railways even apologised to us. To say that we were glad to get off the train when we reached New Jalpaiguri in the afternoon would be an understatement.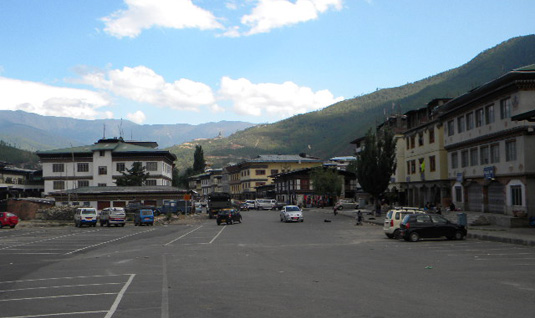 Thimphu, Bhutan. Photograph by Saudamini Kalra.
From here, we needed to take the road to Siliguri, which became impossible due to local Adivasis announcing a bandh. They were on the road, we were told, armed with bows and arrows. We bravely decided to catch a train to New Alipore, a town four hours away, which was closer to the border and free from trouble. We finally arrived in Bhutan from New Alipore at 4 a.m. The eventful two-and-a-half-day journey made the arrival a lot more rewarding.
India and Bhutan share a "soft border", so you don't need to carry a passport if you can prove your nationality. Officially, only passports or voter's cards are permissible. But here's a tip: The officials at the border have been known to accept driver's licenses, P.A.N. cards, and college identity cards too. The catch is that once you cross the border, to go further into Bhutan by road, you need to have a permit. The permit office, located at a short distance from the border, issues a permit upon display of your passport or voter's ID. In case you don't have these, get in touch with the office of the Indian Embassy there, and they may accept your request to issue a special letter.
On our comfortable bus to Thimphu, we saw grand Himalayan giants along the way. Two hours into the journey, big, cottony clouds emerged all around us, and we could even feel them in the biting cold air. My favourite part of the journey was when we began to enter Thimphu. It was as though the entire picture changed from rustic mountain roads to slick world city in seconds. Thimphu is one of the most organised and well-planned cities I've ever seen. Fancy cars and pick-up trucks moved through the traffic with Zen-like calm. Silly as it may sound, I really felt the Buddhist vibe throughout my stay.
S'more inebriated men and arrows
We had book some rooms at the Pedling Hotel, a beautiful hotel right in the centre of the city, which offered us free Internet access, some polite hotel staff, and a lovely marble bathtub! Our train fiasco caused us to miss the first two days of Bhutan's very first literary festival, which meant we missed some talks of interest from the likes of Chetan Bhagat, Pavan Verma, and Jai Arjun Singh. We did attend sessions by Gulzar, Tisca Chopra (who spoke about the adaptation of books into movies), and a reading by graphic novelist Sarnath Bannerjee. The limited time meant that I had to choose between sightseeing in Thimphu and attending the lectures. Eventually, the actual mountains, rather than longs talks about them, got the better of me.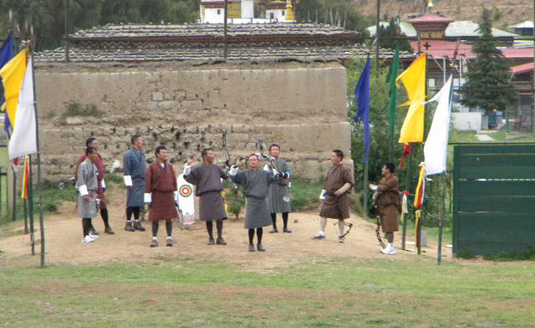 Drunken archery. Photograph by Saudamini Kalra.
Bhutan is both stunning and interesting. The streets of Thimphu are lined with largely three varieties of shops: Antique gift stores, restaurants, and archery shops. Archery happens to be Bhutan's national sport, and unlike our national sport, hockey, it's a sport that the Bhutanese actually play and enjoy. We walked into the small city stadium one morning to witness a live match. It's interesting enough that a nation governed by the tenets of inner peace has a national game that is played with hunting instruments, but watching the real game breaks even more stereotypes about monks. The game consists of two teams of five or six on either side of the stadium, at a distance of about 500 metres from each other. Each team has a target near them and the other team's players have to take turns trying to hit it. Seems simple enough, until you realise that all the players have had one too many drinks and soon begin dancing, screaming and doing just about everything else to keep their equally wasted opponents from hitting the targets. In the 30 minutes of the game that I saw, they mostly missed. But, hell, was it fun!
Chillies, cheese, and the Divine Penis
Thimphu also boasts of a large number of restaurants serving exceptional food and drinks at reasonable rates. A traditional dish called datshi, which involves veggies or meat served with melting cheese and mild chillies, really stole my heart. The red rice, the pork phaksha paa and toetse rice were also pretty damn good. The cheap and easy availability of all major brands of beer at all restaurants put Thimphu right up there in our books. The Bhutanese currency is Ngultrum and one ngultrum is equivalent to one Indian Rupee. Most shops, however, do have a strong preference for notes of Rs. 100 or lower and very often reject Rs. 500 notes. Another warning: Smoking in public and the sale of tobacco is banned all over Bhutan.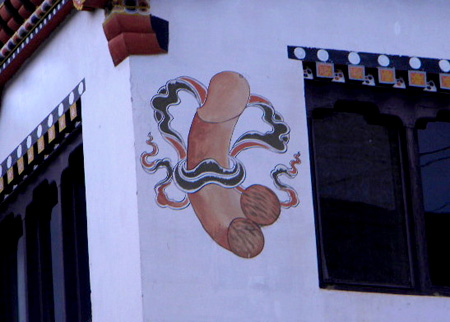 Divine penis. Photograph by Saudamini Kalra.
Thimphu enjoys a moderately cold summer, and it rained on some days. The buildings in Bhutan are all made in traditional style, by regulation, and they all have beautiful hand-painted symbols on them. Interestingly, one of Bhutan's major cultural symbols is the phallus, which is plastered across many walls and is a beloved talisman against evil spirits. The people of Bhutan are just as colourful as the walls. The government strongly encourages them to wear the traditional attire every day, which is a silken long sleeved jacket called kho, worn with tights, for men, and a long-sleeved blouse paired with a long wraparound skirt called kira, for the women. The city has a good mix of both, the traditionally dressed, as well as the Prada-clad hipsters.
To the west of Thimphu, about an hour away, is the Paro district. The country's only airport, the Druk Airways airport, is located here. In keeping with its restrictive tourism policy, Bhutan allows for travellers to fly into and out of Bhutan only on its own State-run flight, Druk Airways. The flights aren't cheap, and if you're a non-Indian traveller, the travel isn't either. All tourists (apart from Indians) must book their trip through a travel agent and the daily costs of food and stay under these packages are on the upper side of $200. Being Indian was never so gratifying.
My trip to Bhutan may have been short, preceded by more than a few road blocks, and tightly budgeted, but the country — often called the "last Shangri-la on earth" — made up for it. A traveller once described Bhutan as the Johnny Depp of the world — "reclusive, a bit odd, but endearing nonetheless". I find that description, though smacking of a little occidental bias, still quite apt. When in Bhutan, you may be a little taken aback by their clean roads with no traffic signals, impeccable English and Hindi, and their strangely simplified lives. However, if you're lucky like me, a few hours of getting into the groove of things, and you'll find yourself being held in the warm embrace of the unassuming, tradition-loving nation. When this side of the Himalayas gets too sultry for your own good, Bhutan is your perfect getaway.