Terribly Tiny Talkies
Terribly Tiny Tales is a storytelling platform that publishes tweet-sized stories everyday, written by an eclectic mix of individuals. Started by Anuj Gosalia, who was later joined by Chintan Ruparel, the project has garnered a not-so-tiny following of over 350,000 readers in close to two years. This month, the duo has just launched a new, related initiative—Terribly Tiny Talkies—through which they plan to feature short (five-minute-long) films by independent filmmakers across India.
The first set of Talkies was released on YouTube on Valentine's Day, and includes five films that were all created around the theme of 'love'. We spoke to Chintan Ruparel about both Terribly Tiny projects, and to the five filmmakers whose films are part of the first set of Talkies.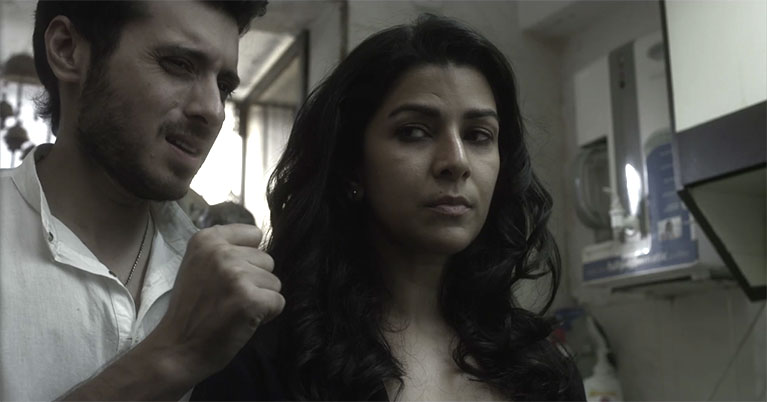 A still from
El'ayichi
, one of the five films featured in season one of Terribly Tiny Talkies.
What do you look for in contributions to Terribly Tiny Tales?
Voices. And stories, of course. I think they are the backbone of Terribly Tiny Tales. Finding fresh and unique voices in varied storytellers was the aim when we started. It still remains the same. Once in a while, we put out a word to our ever-growing community of readers and writers. And you should see the number of interpretations we get in each round! They run into thousands, and we find the best ones that go on to the page.
The project has seen a large amount of growth in the past year or so. What do you think that can be attributed to?
The fact that we respect attention spans plays a part. Also, the stories as images have worked quite well for us. And then there is the phenomenon of one story a day, which brings a kind of consistency to the whole thing.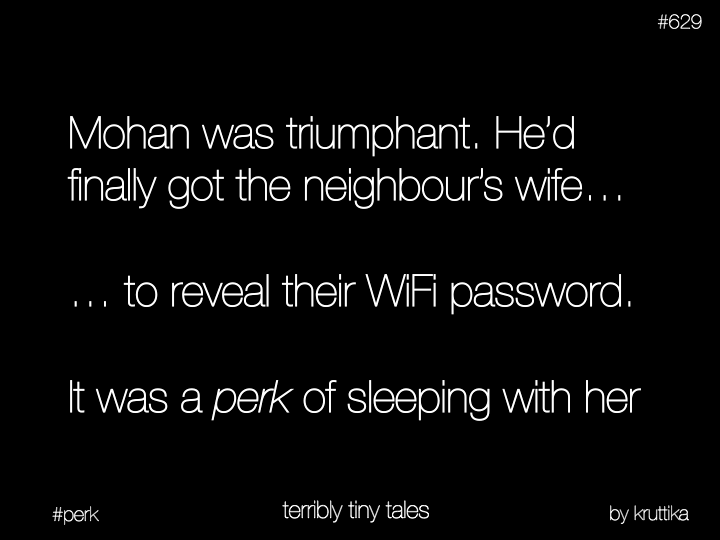 Terribly Tiny Tale #629, written by Kruttika Nadig.
You have recently started to sell Terribly Tiny Tales merchandise as well. How have people responded to it?
It's been quite good, in spite of us not pushing it too much. We mainly sell stuff through stalls at college fests and our online store. So far, we've had a really good experience. There is immense love for the brand among the readers. It's a moment of joy to see their eyes light up at the sight of a simple 'ttt' printed on T-shirts, or just about anything.
For how long have you had the idea for Terribly Tiny Talkies in mind?
We have been contemplating it for more than six months. Extending the third 'T' to 'Talkies' and doing bite-sized videos was a natural decision. We had a lot of college students and production houses pitch ideas and scripts to us at that stage. One college group even went ahead and shot one of the tales as a video. But it wasn't a right brand fit, in terms of production quality and storytelling ethos. So we wished them luck. The challenge here was not to convert a Tale into a Talkie, but to find the right format that would have a life of its own.
Is anyone funding the initiative?
The first edition of Terribly Tiny Talkies was funded by us. We run an ad agency on the side that helps fuel the business. But the aim is to make it a well-oiled machine that opens up newer avenues of filmmaking, talent-scouting, and storytelling.
"The aim is to make it a well-oiled machine that opens up newer avenues of filmmaking, talent-scouting, and storytelling.
What sort of challenges did you face while starting Terribly Tiny Talkies?
Oh, there were lots of challenges. Once we zeroed down on the format, we had to choose the writers and directors, get them on board, green-light the scripts, understand the legalities involved, thrash out contracts, figure out the packaging and mandatory guidelines, strike deals for the camera equipment, arrange for the venues for the two exclusive premieres, figure out the guest list for the screenings, etc. After that we have to market and promote the content, and make sure it reaches the right audience. It's been a roller coaster. But we can't wait to go again.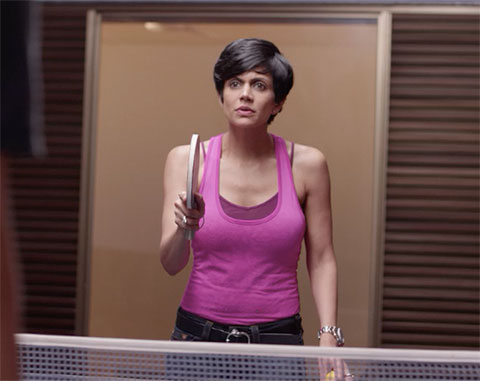 Mandira Bedi in Chintan Ruparel's film
Deuce
.
How did you decide on the first five filmmakers for your first batch of Talkies?
Some of them were a natural choice. Devashish Makhija, for instance, has been a writer for Terribly Tiny Tales. But we also knew about his love and passion for filmmaking. It is reflected in his persistence with the field for many years, and we could see it in his work. Adhiraj Bose is a dear friend. His first short film Int. Café: Night won its share of acclaim at various festivals, and when we bounced off the idea of Talkies to him, he couldn't wait to make his.
Vasan Bala has been an ardent follower and admirer of Terribly Tiny Tales for a while now. We've seen his work and met him a few times, and he was pretty kicked to pitch in with his film as well. We knew he would bring something fresh and edgy to the table. Shlok Sharma was recommended to us by none other than Vikramaditya Motwane. And when we looked him up, we found gold. He's been a pro at making short films. Bombay Mirror, one of his shorts on YouTube, was good enough to convince us. And he's such a humble guy!
I've made my film debut with this edition. And though I'm an outsider in some sense, I've been on several sets in the capacity of a writer during my six-year-long stint in mainline advertising. Being a part of the entire process makes you fall in love with the medium. This wasn't missed by Anuj, my partner, who pushed me into giving this a shot. And although I was nervous in the beginning, I was confident of pulling it off eventually.
"The best part is that none of the films are cheesy love stories. All of them slice through love in their own unique way."
Why did you choose the theme of 'love' for your first batch of films?
It was a tactical decision, since Valentine's Day was just around the corner. But the best part is that none of the films are cheesy love stories. All of them slice through love in their own unique way.
Are you going to release films based on themes in the future, or will you have one-off releases as well?
We're contemplating both options.
How are you planning to release future Talkies: via YouTube, or your own website? Will you be looking for releases in theatres as well?
YouTube is the main platform as of now, but we won't rule out mutually beneficial alignments as and when we find the right partners/platforms.
Young people in India are increasingly relying on the Internet to watch films, instead of T.V. or movie theatres. What are your views on this phenomenon? What can it be attributed to?
It's great. It's where the action is. And it's a level-playing field. This is just the beginning. We'll be the generation that saw the birth of YouTube, and the explosion of content. The best part is, the Internet doesn't judge. Not so far, at least. In an environment like that, content and voices are naturally going to flow in abundance.
---
The Tales Behind the Talkies
We spoke to the five filmmakers whose films are part of the first set of Terribly Tiny Talkies—
Devashish Makhija
Devashish Makhija's short film El'ayichi, starring Nimrat Kaur and Divyendu Sharma, is a humorous take on love, death, and the afterlife.
On working within the short film format: "I was one of the original writers for Terribly Tiny Tales. I quit after a year of writing for it. The short format seems to be the future for storytelling, and five minutes is a decent length for a short film. The challenges were mostly finance- and resource-oriented. Short films generate no revenue so you've got to work around people."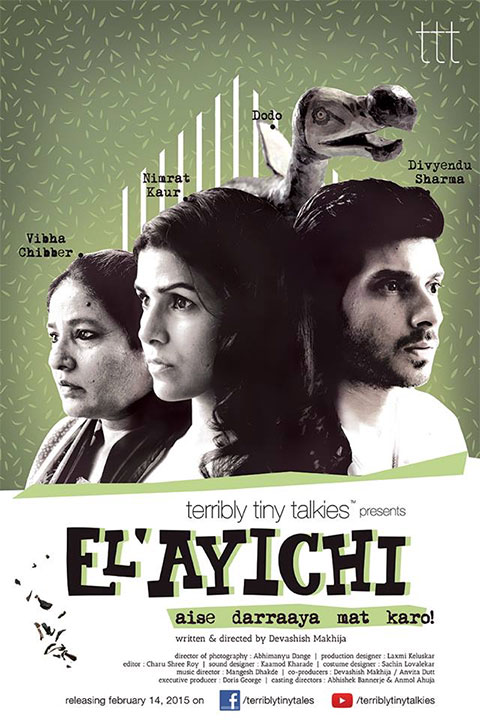 On El'ayichi: "I have certain themes that I work with, death being one of them. I wanted to show death in a lighter and more human way. People are a little scared and skeptical when confronted by death, so I wanted to convey death in a less misunderstood fashion. I've had themes like this in my mind for years, but I wrote this film in just one night. Shooting and post-production took one month.
"The film has four characters: the husband and wife, the helper, and the dodo. Three days before shooting I saw the dodo at a friend's house and I loved it! So I decided to incorporate it in the film. In fact, it represents the theme of death beautifully. While we were rehearsing for the film, I introduced Nimrat (Kaur) and Divyendu (Sharma) to the dodo. They were surprised since it wasn't in the script. But their acting showed a difference after bringing in the dodo. Their performances moved into a surreal zone. So it works because of them and the dodo.
"It wasn't difficult to find a crew to work with. One of my other films was in pre-production for three months, so that film crew was ready and roaring to go. It's not easy to get people for films. It's easier to write and paint than get people in order to make a film. You need people—at least 20 people on a crew—to cover the basic departments."
On his upcoming projects: "I'm working on 35 projects simultaneously. About six to seven scripts are ready. Two films might go on the floor this year. One of them features Manoj Bajpai as a Marathi policeman. The other, which is based off the first short story in my book Forgetting, might feature Nawazuddin Siddiqui."
---
Adhiraj Bose
The Last Day by Adhiraj Bose, starring Namit Das and Tahir Raj Bhasin, introduces us to two roommates who've known each other for eight years on the night one of them moves out.
On working within the short film format: "What I find exciting about this format is that it pushes and challenges you to write a story and break the boundaries while taking into account the audience's attention span. When you have to work within the time span, you have to plan everything in advance and interpret the theme. There's no chance of going overboard and there's no high budget."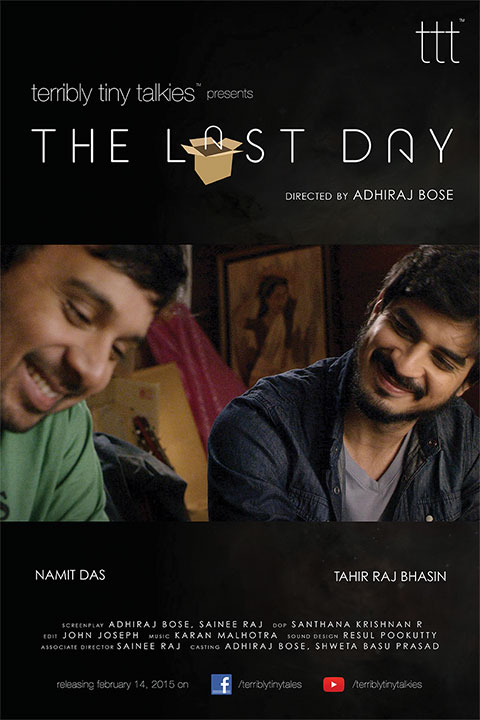 On The Last Day: "I had recently made a short film called Int. Café: Night, which stars Naseeruddin Shah, Shernaz Patel, Naveen Kasturia, and Shweta Basu Prasad. It's been doing the rounds at many international festivals, so it's not online yet. As a result of that, I had my crew in place. The journey from writing to final product took about one-and-a-half months. I was also working on Vishal Bhardwaj's next production in Delhi, so there was a lot of to and fro happening.
"The Last Day is a story about two guys who've known each other for eight years. In reality, the two actors didn't know each other, so we got them to go for lunch, and made sure that they got acquainted and became friends. It was also a fun experience to shoot in an office. The casting director Mukesh Chhabria offered us his office space and we changed the space to make it look like a living room.
"The idea was to not do something clichéd. Love is one of the most overused, overexploited themes right now. And I didn't want to do a girl-boy thing. After brainstorming a lot, we struck upon the idea of two guys who are roommates. Two guys seen onscreen would be seen as homosexual so we wanted to break that boundary as well. Also, guys aren't good at expressing emotions. So it was interesting to show that."
On his upcoming projects: "I recently did Vishal Bhardwaj's next production Talwar and I will slowly start writing my next project."
---
Vasan Bala
Vasan Bala's Bunny, starring Sayani Gupta and Sunny Kaushal, features the shenanigans of a runaway couple.
On working within the short film format: "I don't like the short film format. I'm not comfortable with squeezing information into this format. But it is good to stand up to the challenge and great to be in the spirit of it. It's a good experiment in how to adapt to the format. Also, I never thought I'd write a romantic film."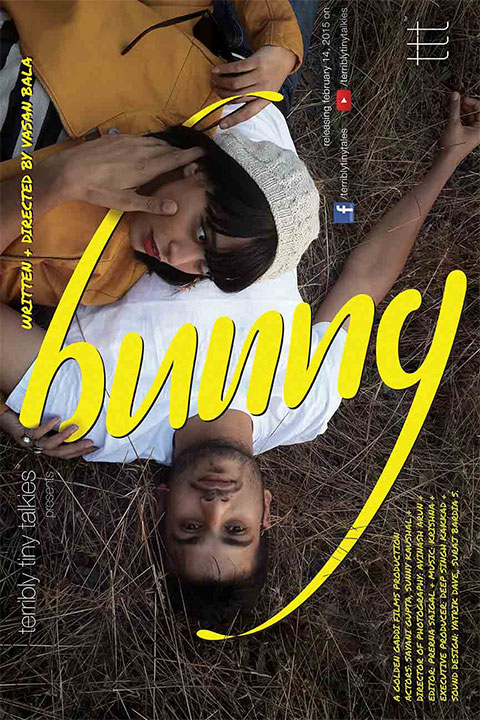 On Bunny: "I had seen a documentary on the real Bonnie and Clyde. The F.B.I. had released records about them, which were featured in the documentary. I saw similarities between Bonnie and Clyde and the boys and girls of today. They would take images of themselves, they would pose—they were like the selfie generation of today, only 60 years before. The story interested me as well as the theme of true romance.
"It took me a day to write the film, and the budget for it was ₹50,000. It was not a big budget, but even so, we decided not to shoot the film in a room. We went into it with as much ambition as we could. We drove around to about 150 to 200 kilometres outside the city. There was no recce. We found a spot at Mahad and shot there day and night. There was a sense of adventure in the making of the film. We didn't think about the logistics.
"When there is no budget, you must think of the biggest film. Though there is a higher probability of failure, what got me excited was that we didn't think about the logistics. The actors probably had a good time as well."
On his upcoming projects: "I'm currently writing for a few features."
---
Shlok Sharma
R.I.P.: Romance in Peace by Shlok Sharma, starring Shiv Subramaniam and Tom Alter, shows the reactions of two men to a matrimonial ad.
On working within the short film format: "Time is always a concern. And that incidentally is also the most exciting thing about Terribly Tiny Talkies. When you are out to tell a story, you anyways have challenges in a lot of ways—whether you have to make your point in two minutes or two hours. This was no exception."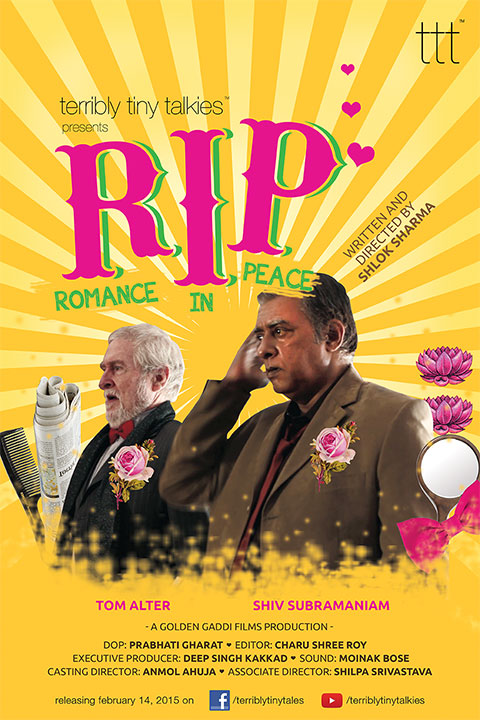 On R.I.P.: Romance in Peace: "I see old people around me, and their need for constant attention, for somebody to listen to them, for keeping themselves occupied. For this film, I wondered what it would be like if they also started hunting for love? To what extreme would they go? And I wanted it all to be with a pinch of salt.
"Since it was a small budget we were working with, getting a good crew was a challenge. But by God's grace, it all fell into place. Tom Alter and Shiv Subramaniam came on board for zero fees—it was due to their pure passion towards cinema. My friends stepped in, helping me with all my execution. My executive producer, Deep Singh Kakkad, never let me feel that we were working with almost no budget. We finished the film in a week's time, from conceptualisation to execution.
"I can say that all of us, throughout the shoot, were very star-struck by both Tom sir and Shiv sir. It's strange when you've grown up watching these veterans and then one fine day, you are directing them. It was a very humbling experience for me. They both go back a long way, having done several plays together, and their chemistry shows. They'd keep pulling each other's leg constantly. Their child-like enthusiasm and their energy was so, so inspirational."
On his upcoming projects: "I'm working on a lot of things, but most are still in the pipeline. I'll keep sharing details with you as and when they happen."
---
Chintan Ruparel
Chintan Ruparel's film Deuce, starring Mandira Bedi and Rohan Shah, shows a mother-son relationship play out during a game of table tennis.
On working within the short film medium: "The fact that I could interpret the theme in any way I wished to was liberating. Also, there were no producers with claws or whips, so to speak. Plus, telling a story in five minutes is as exciting as it is challenging. Also, while making the film, I had to let go of the 'ad guy' in me and focus on telling a real story with characters that weren't trying to sell anything. There are certain tricks that being in advertising accustoms you to. Superlatives, penny-drops, sudden twists, and convenient characters had no place in this new world I was trying to explore."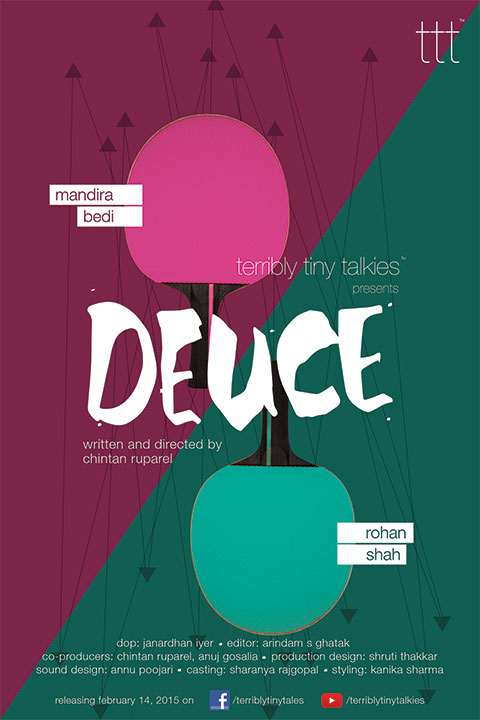 On Deuce: "I could write a small book on this. Although it seems like a simple setup, I thought it was pretty challenging to have a conversation around an ongoing game. After sharing the idea with a few trusted people, I narrowed it down to this narrative of an intense match between a mother and a son that starts near the end of the game and the endless to-and-fro that happens between them. How love gets tossed around. How conventions get buried. How everything doesn't need to have an end.
"Before zeroing in on Deuce, I had at least 20 other ideas. Writing this film took me more than a month, but production was finished quite quickly. We shot this in a night, and edited it quickly as well.
"I remember going to Mandira's house to narrate the script. I was very nervous, since I had a feeling she would turn it down. However, when I finished reading, she had a very sincere look in her eyes, and only one question: 'When are we shooting?' I couldn't believe it. Then, on the day of the shoot, her son had to be rushed to the doctor for health reasons. I thought she wouldn't turn up. But she came on time, gave stellar takes, shot through the night, and was thoroughly professional. Finally, on the day of dubbing, she met with a small car accident on her way to the studio. Again, I was afraid she'd bail out. But she arrived with a smile and did her part exceptionally well. There are many more stories that I could share. Maybe I should write that book!"
On his upcoming projects: "Currently, we're discussing the next season of Terribly Tiny Talkies."
———
Visit the Terribly Tiny Tales website here.
Aadya's favourite things to do include writing and photography. And when she's not too busy enjoying good books, cinema, music, and food, she tries to figure out the dialectics of cake. She writes a blog
here
.
The Tap #9
What's Popular
Published on 05/07/2017

Published on 25/04/2016

Published on 02/08/2016

Published on 19/01/2016

Published on 20/02/2015