Film Review: Pune 52
Nikhil Mahajan's debut feature film Pune 52 invites viewers into the world of Amar Apte, a private detective who lives in Pune's Karve Nagar neighbourhood with his nagging wife and mother-in-law.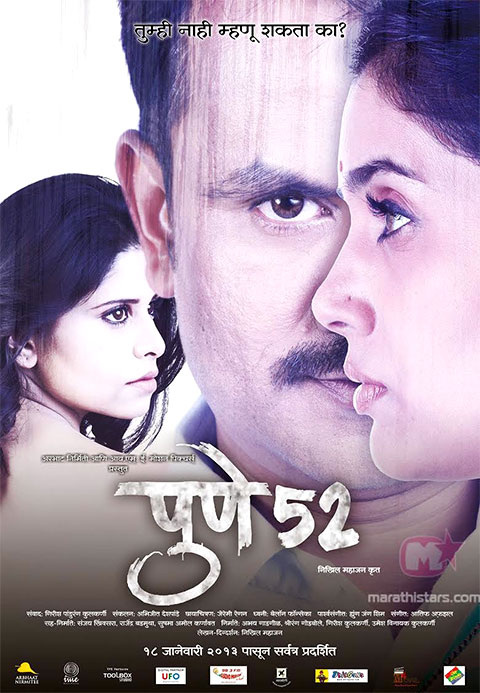 Nikhil Mahajan's
Pune 52
Played by Girish Kulkarni, Amar is a frustrated man who dreamed of becoming a detective as a child, but whose reality has failed to live up to his expectations. His investigations as a grown-up, real-world detective mostly revolve around adulterous wives and husbands. While his wife Prachi (Sonali Kulkarni) loves him, she is quite vocal about her opinions of Amar's unsuccessful career, and accuses him of being a loser in bed as well. When the sexy and enigmatic Neha (Sai Tamhankar) enters the story as a client looking for evidence to use against her cheating husband, Amar takes on the case and soon falls for her. The two of them can't resist each other, and Amar is soon torn between his relationship with his wife and his attraction towards Neha, and struggles to deal with all the resulting changes in his life.
Largely regarded as India's first Marathi neo-noir film, Pune 52 has all the elements one has come to expect from unconventional cinema in India. There is a nonlinear plot structure, shaky, hand-held camera movements, and a period setting that is brought out by the use of radio broadcasts and conversational references about the disintegration of the Soviet Union and liberalisation of the Indian economy. While the timeframe of the early '90s isn't quite integral to the plot, the typewriters, landline telephones, scooters, and Maruti cars are an interesting touch.
All three main characters manage to hold the audience's attention throughout the film, and while the performances of both female leads are laudable, Girish Kulkarni steals the show. There are no six-pack abs or chiseled features on show here; just an exceedingly convincing performance that proves his versatility as an actor.
All in all, Pune 52 does a great job of telling the story of a middle-class man who wants to be a hero. It is a bold, thrilling movie, and one that will hopefully set a precedent for more powerful and unconventional Marathi cinema in India.
Kaartikeya is a final year journalism student and editor of The Bombay Review. His work has previously appeared in publications such as Tehelka, Reading Hour, and Sahitya Akademi's Indian Literature journal.
Testimonial Comics #4
What's Popular
Published on 05/07/2017

Published on 25/04/2016

Published on 02/08/2016

Published on 19/01/2016

Published on 20/02/2015